Race/Nationality: White/American
I live in Chicago in the Pilsen neighborhood.

What quote do you live by?
I took a painting class with the artist Tim Lowly last year. He often talked about his goal to put love at the center of everything that he did, in both his life and in his art-making practice. I guess that's not a quote, but more an idea about how to live and work.

What are you most proud of about your work/life?
I'm happy to be surrounded by people that I love and that inspire me. It's amazing to be able to play music every night with friends and family.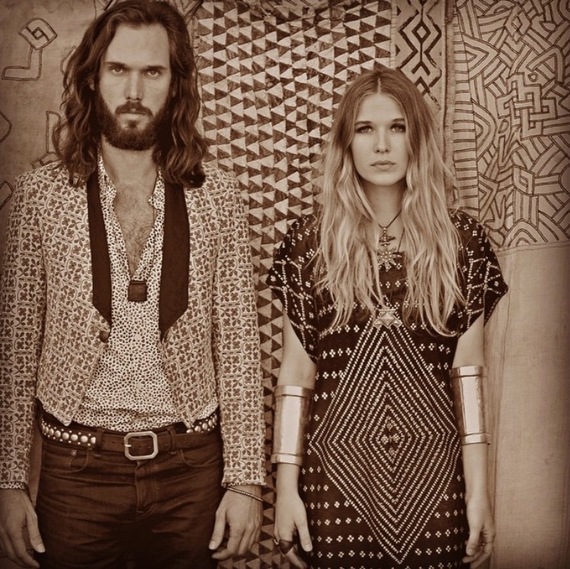 What is the biggest challenge you face in your work?
Discipline is always a challenge. Our schedules as musicians put us in a state of constant flux. Being on the road is a challenge physically, mentally and spiritually and finding some sort of consistency is all of that can be really hard. When I'm home I love to have the space and time to create music and art. It usually happens in a fairly organic way and I tend to work on whatever project I'm most excited about at the time. I'd like to find some ways to keep things a bit more structured, and make the work happen in a more consistent way.

Why do you think we have such a problem with gun violence in America?
We have a lot of romantic notions about guns. It's tied up in the story of how the country got started, and then perpetuated with all of the cowboy mythology. We have a very violent history. It's going to take a few generations to write new stories, but I see lots of young people who are looking clearly at those violent parts of our history and understanding the social and spiritual impacts of those past crimes.

What do you think is the biggest misconception about why we have such a problem with gun violence in America?

I'm not sure about what is most prevalent, but often times when I hear talk about the "need" for guns, fear and racism seem to be the thinly veiled problems behind the issue. I think that racism and gun violence are uniquely intertwined in this country, and until we can treat the sickness, the symptoms won't disappear.

Do you think there a law that the government could enact that would really make a difference in reducing gun violence and building safe communities?
I'm not sure that there is a single law...I'm still very much a student on these issues, and trying to get up to speed on all of the conversations. I do think we could use much more regulation on guns of all sort, and let's get rid of assault weapons.

What are three things the average American citizen can do to "Raise The Caliber" of their community?

Talk to your neighbors. The simple act of knowing the people who live around you really can change the feel of a block, neighborhood and community. People can do so much when they come together. We're all wired as creative beings and when there is dialogue and conversation, it changes things. I always love this quote from Margaret Mead: "Never doubt that a small group of thoughtful, committed citizens can change the world; indeed, it's the only thing that ever has."

Work with children. We've done some teaching in schools and it's always one of the most rewarding experiences. I'm excited about Guitars over Guns. They have been doing amazing stuff in Miami for the past 10 years and just started in Chicago.
Support the Arts! It's tough out there! Go support your local band! Buy a record and a t-shirt. Buy some art from kids in art school. I see more and more people turning to crowd funding as traditional means of income dry up. I'm not sure what the future looks like without support for artists.
REAL LIFE. REAL NEWS. REAL VOICES.
Help us tell more of the stories that matter from voices that too often remain unheard.