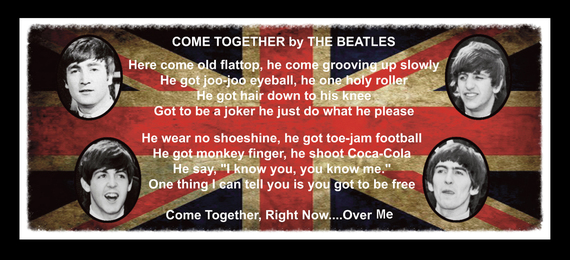 I was lying in a hospital bed. I'd had a massive stroke 3 days earlier. I was unable to speak and the left side of my body was pretty well paralyzed. La and I were having a "bed-in" in the ICU. The place we were staying in wasn't the Amsterdam Hilton! There was no press hanging about in the lobby.... just the 2 of us, but in my "fight for life" state, my mind kept drifting back to that infamous John and Yoko scene on their honeymoon at the Hilton in Amsterdam. I chuckled to myself thinking back how much water had passed under the proverbial bridge since then. AND how I wished I could be there instead of here!
I was transported back. It was December 1965. I was at the Hammersmith Odeon in London that'd been converted into a concert hall. A typical cinema, it had an upstairs (cheap seats) and downstairs (pricier) and I was about to witness a touch of history. I was 15 years old, and I'd snuck out earlier from my parents' home in Esher Surrey (12 miles south of London) and was going to watch my favourite group, The Beatles. I gave my ticket to the usher and took my appointed seat in the "Gods." 15 minutes later the lights dimmed, the place went quiet and a voice boomed from the wings. Ladies and Gentlemen......The Bea......." I never heard the rest of the sentence, (nor in point of fact, a single song because the screams were deafening) it didn't matter because we all knew.......
It was the best concert I'd ever seen in all my young years. The screaming and roars of approval from the audience never stopped, and before I realized, it was all over. The 4 boys took their final bow, the lights went up and we went out to regale our friends with wild tales about the Fab Four from Liverpool.
John, Paul, George, and Ringo played 11 songs during that memorable concert including I Feel Fine, Help, and the achingly beautiful, Yesterday.
Over the years I was lucky enough to see the Beatles several more times, including their 1969 impromptu roof concert on the top of their Apple Corps Office building, but the funniest happening was a chance meeting with Ringo Starr in 2010 in LA.

I'd become a musician 25 years earlier and in 2010 was nominated with my partner Laura for a GRAMMY in the 53rd Annual GRAMMY Awards for our children's album "SUNNY DAYS." We travelled to Los Angeles in February 2011 to attend the award show. We were staying at the lovely and elegant Biltmore Hotel along with other GRAMMY NOMINEES in downtown L.A. just blocks from the L.A. Convention center where the ceremony was scheduled to be that Sunday.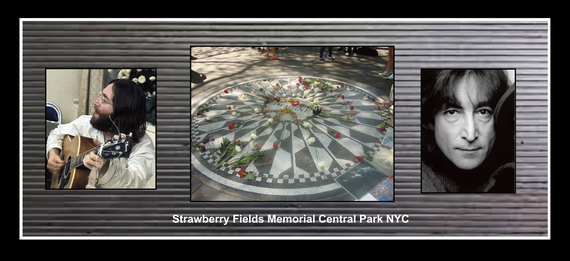 We arrived at LAX on Friday and checked into the Biltmore. That evening we had a party at a friend's house in the Hollywood Hills and had arranged for a driver to drive us around all weekend (as we had a ton of meetings, dinners and events to attend) The driver was a delightful Armenian guy with the unlikely name "Mod." It turned out that Mod's hero in real life was none other than Ringo Starr

Mod drove us back to our hotel the following morning after a morning event, so we could change our clothes and head to our next gig of the day. He drove into the forecourt of the Biltmore and lo and behold, right in front of the entrance, with his personal entourage stood, RINGO STARR.
We've never seen a guy throw a car into park so fast, and exit the vehicle in the same breath. Mod literally leaped at the poor percussionist, who, startled, put his hands up in a defensive manner to keep some personal space. Mod was SO excited, he simply reacted never meaning to frighten the Brit. He just wanted to say hello. We left Ringo chatting nervously and went and changed in our room and 20 minutes later emerged to take the elevator down to the lobby.

The doors opened and there, in the elevator, stood a girl of about 19 with tears streaming down her face. We assumed the worst, (i.e. that the "excitable" Mod had continued his rampage, and driven the poor girl to tears.)
It appears that Ringo had successfully managed to lose Mod, and had then visited a friend in the hotel. He'd travelled, it seems, on the elevator moments before we were about to descend and met the aforementioned crying young lady who'd recognized him, tried to speak and fallen apart with emotion at the very sight of this ancient Liverpudlian Rhythmist. So, twice in a matter of an hour, poor Ringo had been overwhelmed by ardent fans. Oh the perils of being a Beatle!
I was a privileged kid growing up, although I wasn't really aware of it at the time. We lived just 12 miles south of London in Esher. A quiet suburb. On July 17th 1964 George Harrison and Pattie Boyd bought a house called Kinfauns, in Esher and became our neighbors. A week later John bought Kenwood a magnificent manor house in Weybridge just 5 miles away from us and George Harrisons house.
You may remember watching the beautiful video of "IMAGINE" with JL playing a white grand piano in a sparsely decorated drawing room. That video was filmed at Kenwood. I also still remember vividly Johns psychedelic Rolls Royce rolling through town on its way with John to London. At that time, they caused quite a stir, as did the fact that pop stars had moved into our neighborhood. Horror upon horrors, but I was loving it! It was time the establishment was shaken up. The Beatles were here to stay. It's a Hard Day's Night, but "It's a Long and Winding Road."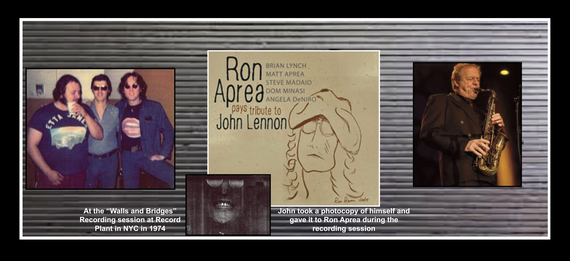 Ron Aprea is a world renowned Jazz saxophonist. He's played with legends like Woody Herman, Tito Puente, Billy May, Skitch Henderson and Lionel Hampton. While playing with Hamp, he had the opportunity to do a recorded performance at The Smithsonian Institute, where Ron's solos were taped and placed into their Archives. In 2001 he played with an All Star Band at Charlie Parker's Birthday Tribute in Harlem.
In 1974 he was invited to play on John Lennon's "Walls and Bridges album," that was being recorded at The Record Plant in NYC, with Howard Johnson on baritone and bass sax, Bobby Keys and Frank Vicari playing tenors, Steve Madaio on trumpet and Ron on alto sax as part of John's first attempt at producing an album with horns. John subsequently dubbed the 5 players, "Little Bighorns."
In 2015 41 years later, Ron Aprea recorded a tribute album in honor of his friend John Lennon called Ron Aprea pays tribute to John Lennon.
As working professional musicians we're lucky enough to belong to one of the most exclusive clubs in the world called GRAMMY. We're a huge creative family. Loving, jealous, competitive, happy, sad, angry, sometimes childish, immature. But always a family. We're thrilled when a sibling achieves something extraordinary, and similarly delighted when the praise is heaped on us, after good news finds its way into our corner of the house. LET IT BE
NARAS is our official name. And it stands for National Academy of Recording Arts and Sciences. There are over 20,000 of us who live under the same roof. Women and Men, Homosexuals, Lesbians, Trans genders. Hindus, Christians, Jains, Muslims and Jews. Buddhists, Atheists and Agnostics. We're universally one. We're a family but our main goal is to further music, by creating a song, a piece of music or a symphony that's even better than ever before.... And every one of us would help our fellow family members achieve that goal. Willingly and without question.
Many of us are Performers, Artists and Writers, and we compose the songs you listen to and hopefully fall in love with. Many of us travel to your town or city to perform live for you in concert. Many of our members are Producers, Record Companies, and Studio Owners, Sound Engineers, Booking Agents, Managers and Publicists.
By the time you read this article, The Nominees in the 58th Annual Grammy Awards will have been announced and 415 Grammy members and musicians, who've worked hard for years will have had their lives changed forever. (5 Artists x 83 categories) will now officially be known as "Grammy Nominees" for evermore. Good luck to everyone
As I lay in that hospital bed, fighting for my life, I thought back on those halcyon days where worry was invisible. I yearned to watch the Beatles play, just one more time, and suddenly Johns cryptic voice came into my head. And he said "WE CAN WORK IT OUT." And I smiled.
December 8th 2015 will be 35 years since we lost a great musician. John will always be remembered. "Strawberry Fields Forever."
Thanks to The Beatles, John, Paul, George and Ringo, for their immeasurable contribution to music and culture, and may their songs continue to be cherished for generations to come. And our deep appreciation to the hundreds of you in our nuclear and musical families who've been so kind, loving and supportive throughout my recovery.
"FREEDOM" written and performed by The Battersby Duo
Attribution to and with thanks for your immense photographic talents,
PRESSENS BILD (vk.se) [Public domain], via Wikimedia Commons
"PaulMcCartney60s" di United Press International (UPI Telephoto)
"George Harrison NY 1964" di The_Fabs.JPG: United Press International (UPI Telephoto) By The_Fabs.JPG: United Press International (UPI Telephoto)
"Strawberry Fields Forever" by Damzow (talk) - Own work. Licensed under GFDL via Commons - https://commons.wikimedia.org/wiki/File:Strawberry_Fields_Forever.JPG#/media/File:Strawberry_Fields_Forever.JPG
By PumpkinSky (PumpkinSky) [Public domain], via Wikimedia Commons
By Lennons_by_Jack_Mitchell.jpg: Jack Mitchell derivative work: TheCuriousGnome (Lennons_by_Jack_Mitchell.jpg) [CC BY-SA 3.0 (http://creativecommons.org/licenses/by-sa/3.0)], via Wikimedia Commons
By Roy Kerwood [CC BY 2.5 (http://creativecommons.org/licenses/by/2.5)], via Wikimedia Commons
REAL LIFE. REAL NEWS. REAL VOICES.
Help us tell more of the stories that matter from voices that too often remain unheard.