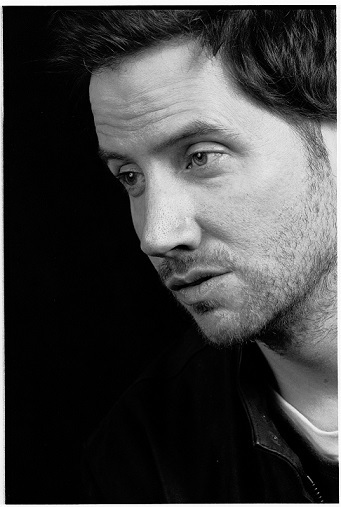 Jamie Kennedy plays Dr. Callahan on NBC's new medical drama Heartbeat, Wednesdays 8/7C.
The reason I enjoyed interviewing the comedian / actor Jamie Kennedy is because I'm funnier. So I made sure all of my questions wouldn't be able to have a funny answer. You know... just in case.
However! This Jamie character tells us the best childhood story I've heard in a long time - about his mother. And I laughed! Adorable!!
You've returning to primetime television as Dr. Callahan on NBC's new medical drama Heartbeat. What was your audition like?
Yes, I auditioned twice. One was a screen test and I had the greatest monologue I've ever gotten to do in my career. I really prepared and tried to be totally different than how people see me, because people might not think I can be dramatic. Our show is run by creatives, having them all involved coaching me through it helped me get the part.
What can you tell us about your character Dr. Callahan? Can you relate to him?
He's an eccentric doctor, very blunt; all he cares about is the best thing for his patients. His bed side manner is very prickly. Yes, I can relate to him because it's like anything in life when people are good at it, you're there to complete a task, not make friends. He would be considered difficult but exceptional and he's based on a real man.
How has the transition been from being a comic to taking on more dramatic roles?
It's been pretty easy, the hardest part is getting people to let you try a more dramatic role. Most comics are much more dramatic than they are funny. They are only funny to make things more digestible to people.
Seeing that this show is based off a true story, have you met any of the people that the characters are based off of?
Yes, Dr. Kathy Magliato, the whole show is based on her life, she's with us every day almost. She helps keep us authentic with things like holding instruments, body language and such. I used to think Hollywood women were tough until I met her. Female doctors are like MMA fighters.
You've also worked on Chris Carter's (X-Files) Amazon Drama, "The After." What's the difference between working on an Amazon show vs. a Network show?
Awwwww man, that could have been such a good show. I really loved that project and working with Chris. I have to say that there wasn't really much difference working on the two shows. Heartbeat is really driven by the creators and NBC lets them have creative freedom like Amazon did on The After. Amazon and NBC were both really generous with us and took good care of us.
You have this eye-gleam / smirky thing going. How long did it take you to perfect that?
I've been working on that my whole life. Thank you.
Tell us about the comedy tour circuit.
I'm actually doing this interview from a casino in Reno, NV where I'm doing a show. Our producers have been generous with me and my co-star, fellow comic D.L. Hughley, to let us get out to do our comedy. As far as my personal life, that may be the reason why I'm not married yet. I also have an accountant.
Do you have any crazy stories from being on set/filming or while on the road touring?
Yes, I'll give you a simple story from just this weekend... when being picked up in Reno, the limo driver was there with a sign with my name. I said hey pal that's me, and he said no I'm supposed to pick up a woman, and I was like, Sir, I've never been mistaken for a woman before, so I showed him my ID. But, no he was right, he was supposed to pick up a woman named Jamie Kennedy who is the head of some Bridge (the card game) convention happening in Reno...
During your childhood (or adulthood), would you ever play pranks on people? If so, what was your craziest one?
No, but I actually learned pranking from my mother. I'm one of six kids. She was a paralegal and her office was in the basement of our house. She had this Halloween mask collection and she would creep up out of the basement and scare us kids with the masks while we were making grilled cheeses after school. I would be so scared and she would just laugh, it gave her joy to terrorize her kids.
Between Heartbeat, and your comedy tour, what do you like to do on your downtime?
Sleep... and ever since I turned 40 I've become a bit of a self-proclaimed foodie. I enjoy all of the culinary wonders that LA has to offer, like gourmet sausages at Wurstkuche, the amazing truffle burger at Plan Check, and the week isn't complete without going to Sugar Fish. I also love Belgian beer, which explains my stomach.
What do you think about Trump as a candidate for President?
I never thought he would get this far, but I also never thought Bruce Jenner would become a woman, so what the hell do I know. #feelthebern
What kind of tech do you use?
Do you have any other upcoming projects you'd like to tease us with?
Yes, I just did a role in a movie called HEART, BABY! Written and directed by Angela Shelton who wrote TUMBLEWEEDS. It's a great cast led by Jackson Rathbone, and hopefully it makes a big stink at Sundance next year.
Anything else you'd like to share?
People can reach out to me on social media for free medical advice.
Facebook: @TheJamieKennedy
Twitter: @JamieKennedy
Instagram: @TheJamieKennedy
Snapchat: yevrahh
REAL LIFE. REAL NEWS. REAL VOICES.
Help us tell more of the stories that matter from voices that too often remain unheard.