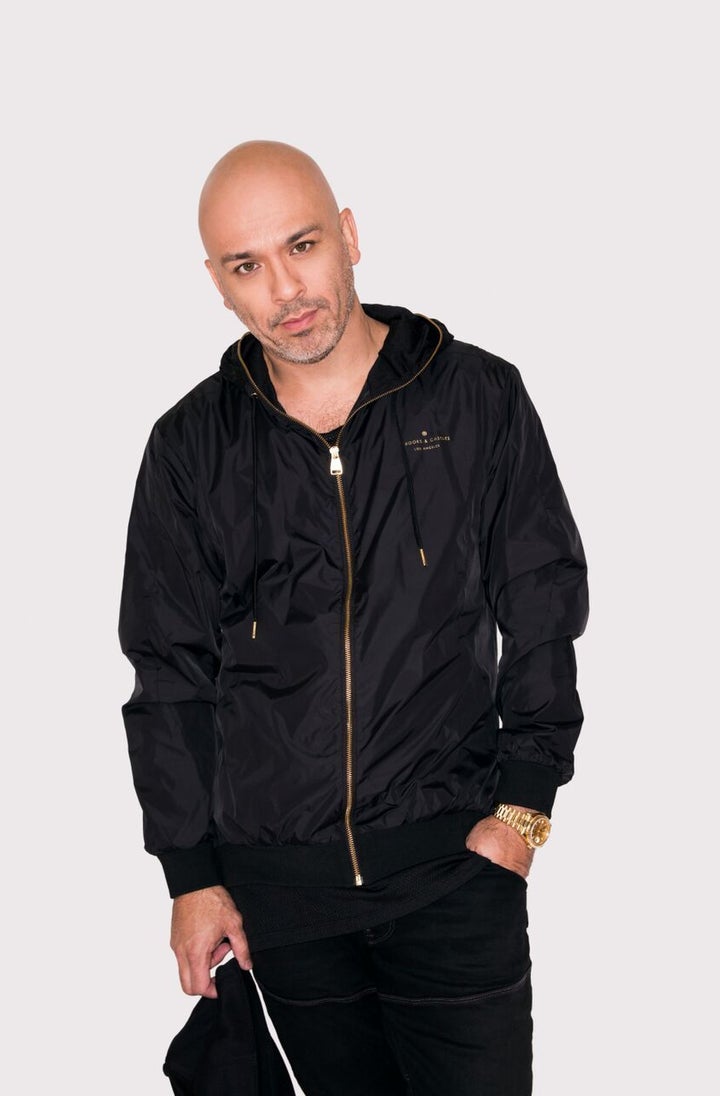 Life experiences etch the path towards fodder and inspiration for work. In short, great works of art can be derived from what one encountered.
Comedian Joseph Herbert, better known as Jo Koy, is no exception to this theory. More specifically, the funny man's family and mixed American-Filipino heritage has shaped the way for the majority of his career, from his onstage specials to even his stage name. The latter of the two can be credited to his Auntie Evelyn.
"She always nicknames everybody. Everyone in the family has a nickname…I was Jo Koy," the funny man explained. "When I started doing standup, I would go up as Joseph Herbert, and it would be nonstop people making fun of my name, the host making fun of my name. The host couldn't get my name right…It was just so annoying, especially when you start doing standup. It's just like you want to hurry up and get onstage. You don't want to worry about your damn name. It was annoying. Of course, the next comic would make fun of my name or call me 'Joe Pervert'…
"So me and my cousin Mona were just sitting around in the house, and I was like, 'Let's change my name, we got to figure out a name so I can get onstage so I don't have to worry about this.' Literally, it was like a TV movie where my aunt just came around the corner right when I said that and she goes, 'Jo Koy, it's time to eat' and literally me and Mona looked at each other like 'Jo Koy. That's your name.' And that's it. That's how I started using my name."
As for his actual funny bone, he credits his mom, a huge Cheech and Chong fan, for his success. She has also made her way into much of his material, just like his son. Regarding her favorite joke about herself, Koy replied, "I think she loves the Wii [from Don't Make Him Angry]. I think she likes it because at that time in my mom's life, it was a funny time. She's playing a video game, you know what I mean? It was so ridiculous. But she loved it. And it was just neat to hear me actually go up there and talk about it onstage. And it was my first special, too, so it was a double whammy that I was doing this personal story in my first hour special."
And his favorite? " 'Roopies' is my favorite, hands down. To this day, I get sad I can't do it onstage," he confessed. "I haven't done that joke onstage since that special and it just makes me so sad because that was something my mom said to me every damn weekend every time I went out. [Imitating mother] 'Joseph, be careful, they'll put drugs in your drinks so watch your drink. If you go to the bathroom, take your drink to the bathroom.' I'm like, 'Mom, I'm not taking my drink to the bathroom!' [Imitating mother] 'Well, then someone will drug you so leave it on the bars.' That's how she would talk to me every weekend, man…
"I also loved 'Keys', too. She would say, 'Use your eyes, not your mouth.' I love doing that joke because every weekend as a kid, I would lose something and she would constantly say, 'Use your eyes, Joseph, instead of your mouth, and you might find them, Joseph.'"
Although his comedic genes are from his mother, Koy's dad wasn't as lucky. "He's so corny but he's so outgoing," Koy said. "He's a sweet man, and I love him but man, he cannot tell a joke."
Koy's fourteen year old son is another frequent mention throughout the comedian's standups. "He loves them. I was always nervous going on stage and talking about him because I didn't know what the backlash was going to be when he got older, but it's been great because he enjoys the popularity as well as I have," Koy said regarding his son's thoughts on jokes about him. "In this last special [Netflix's Live From Seattle], I talked about how bad his breath is or how unclean he is, he's just not a clean kid. He loved that one because all his friends at school have Netflix and they all watched it and they're all just like him. They are stinky little boys, man, and they were dying. They were repeating the jokes in front of me when I go to his school…so he enjoyed the popularity when that special came out, so it's kind of cool. And then I just promised him, 'You get to go to college due to the jokes I wrote about you.'"
Though unsure if his spawn will follow in his father's footsteps, Koy called him "really, really funny", "talented", and voiced his support no matter what the career path.
Alas, there is a more somber side to the funny man's family. His older brother Robert is diagnosed with Schizophrenia. "I'm going to see him when I go up to Seattle, which is in a couple weeks or so," said Koy when interviewed back in July. "It's tough to see my bother. He's not a young man anymore, he's an old man with a very severe disability. So it's hard, it's really, really hard. I want to talk about him onstage, but it would be more emotional than funny.
"I always brag about him, I always talk about how funny my brother was when he was a teenager and in his 20's. It sucks how drugs really grabbed a hold of my brother, especially when he didn't have the mental capacity that we have to fight off the problems that came later with that abuse. It's sad, it's hard when I go see my brother. I do my shows first and then I take that day to see my son. I'm going to take my fiance and my son to go see my brother next month. It'll be a good time. He's a lot of fun, it's just, it's hard."
The lineup of the Herbert siblings is as follows: Robert, Rowena, Gemma and Jo. The eldest sister is diagnosed with Lupus, a cause Koy is heavily involved in. "My sister [Rowena], she's suffering with it. But she's amazing, she's a fighter, she's the strongest one in the family," he explained. "But man, that shit is brutal when it gets a hold of her. There's nothing more rewarding than seeing her with a smile on her face when we're doing a walk with other people with Lupus and her noticing that she's not alone. Something for her to keep her mind off that struggle and just be in that zone where there's a bunch of people fighting [the disease], a lot of families, happy…
"It's just a great, beautiful thing. Doing those walks are a lot of fun with my sister and I'm looking forward to doing another one with her."
Currently, the Las Vegas native is touring with witty woman and friend Anjelah Johnson for their BFF tour. " Anjelah and I go way, way, way, way back. We've been friends for a long time and we've always wanted to put a show together, her and I, because we are such good friends," Koy said. "Our schedules were just too crazy….it was hard for us to find dates to do anything. Whenever we find these opportunities now, where they could get just one day and we could fly in and do a show together, we're on it, man. It shows onstage, man. It doesn't look like a show that was put together. It really feels and looks just like two friends having a good time onstage. It's so much fun."
Another fun fact: Koy used to own a Tesla named Poppycock, but recently upgraded to the Model X, with phantom doors. "I. Love. That. Car.," gushed Koy. "It feels so good to drive into a Chevron gas station for my son, because he wants to get a Starbucks. It feels so rewarding that I'm not getting gas. I'm actually driving to a gas station to get coffee. And it feels so good. And I hate pumping gas, I hate buying gas, and I don't think anyone needs to use gas anymore. My car is amazing and I can't stop bragging about my Tesla. I love it."
When asked what its name was, Koy hesitated for a millisecond and christened it the Dark Knight. "I'm naming it today. It's all blacked out, it's got black wheels, black tint, all black, black interior," he said. "It's amazing. It's amazing." Just like its owner.
You can catch Jo Koy and Anjelah Johnson at Hard Rock Live in Hollywood, FL on August 26 at 8 p.m. You can also eat a piece of Koy (kidding) at his restaurant Yojie Japanese Fondue in Vegas. Visit JoKoy.com.
Related
Popular in the Community