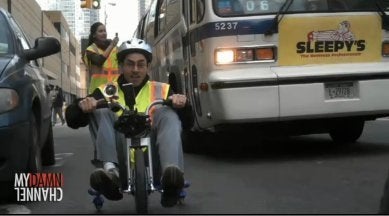 Every commuter knows that buses in New York are slow. But exactly how slow are we talking about, really?
The short, sad ending to this experiment? The out-of-shape comedian on a tricycle beat the bus. Malkoff said he defeated the bus by going the distance in 12 minutes, 42 seconds, while the bus took 15 minutes and 20 seconds.
The funnyman told a skeptical Gothamist, "I really beat the bus. I did research for a week riding the M42 from noon-2 p.m. I looked at the speed of the bus and other patterns. I then trained on my Big Wheel to prepare for the race.
Malkoff also gloated to the Daily News: "The race made me feel like I was part Evil Knievel, part Lance Armstrong and part Steve-O from the 'Jackass' movies."
Gene Russianoff of the Straphangers Campaign is not laughing. He said Malkoff's stunt is cause for concern for commuters.
"It's a fact of New York life, but it's awful," Russianoff said. "That bus is actually slower than a running chicken."
WATCH: