For a long time Neal Brennan didn't see himself being a performer. For him it was something akin to "these animals want attention." Brennan did everything but perform. The guy co-created, wrote and directed Chappelle's Show with Dave Chappelle. He was the showrunner (or person responsible for the day-to-day operation) for the wildly popular series and was nominated for three Emmys. He also co-wrote the film Half Baked and collaborates regularly with Seth Meyers and Chris Rock.
While working on Chappelle's Show he had a bit of a eureka moment about his life behind the scenes. "Being a showrunner is not thankless but it is very much like you're the Secretary of State to somebody else's president," explains Brennan. "I realized, wake up. You're an animal. I mean, I wasn't at the show watching Dave Chappelle, thinking that should be me. But when it ended, I realized I was hiding. I wanted to perform but I had been ignoring that part of myself."
So Brennan more or less began from square one--honing his material, doing gigs as an emcee at comedy clubs. "Some people think I had it easy because of Chappelle's Show. That I was able to jump the line," he says. " But I wasn't really jumping any lines. Emceeing is almost like sweeping up." He would also bomb sometimes and got rejected. "I didn't know how to do it," he recalls. "It took me a while to figure it out."
Eventually, he had his own successful stand up special on Comedy Central, Women and Black Dudes. He created podcasts and got a regular spot at the famous Laugh Factory comedy club in Los Angeles where he does a mix of old and new standup material. During his podcasts he would talk about his struggle with depression and tell moving stories about his father and being the youngest of 10 brothers and sisters. He found that people strongly identified with his serious stuff as much as his funny standup material. He also had a bunch of whip smart one-liners that he had written over the years.
So Brennan placed all three genres (his one-liners, emotional stuff and standup) into one show, 3 Mics which he is currently performing at The Lynn Redgrave Theater in New York City. Presented by John Legend, Brennan's 75-minute performance manages to be both hilarious and deeply poignant as he shares insight about family, relationships, race, technology, famous people and politics.
Now extended until April at the The Lynn Redgrave Theater, learn more about 3 Mics at 3mics.com.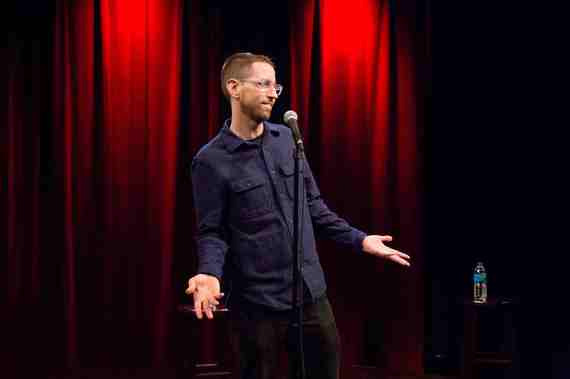 Photo credit: Christian Frarey/Photo used with permission.
REAL LIFE. REAL NEWS. REAL VOICES.
Help us tell more of the stories that matter from voices that too often remain unheard.