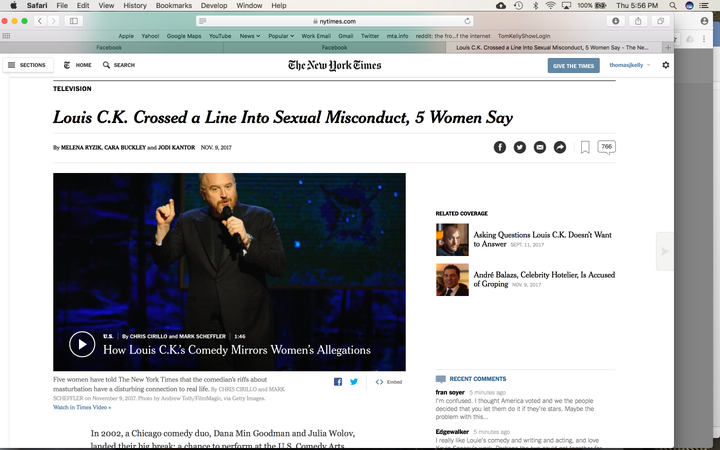 In a New York Times expose, Louis CK is accused of asking women if he could masturbate in front of them and then doing so.
I'll let the New York Times article stand on its own for the journalism. For me, I'd like to discuss the emotion. I am afraid of rambling openly for fear of being perceived as defending Louis CK's lewd behavior.
His behavior is awful and inexcusable. The institution of comedy condones it and encourages it. And frankly, we may condone it by consuming the final product.
First, let me admit I am disappointed by what may be the beginning of the demise of Louis CK. He is a "Comic's Comic."
He's become something of a role-model for older white balding comedians who have yet to have his big break.
To some he was a feminist. His show confronted his own shallowness. He produced a few stand-up albums starring women.
Louis CK produced Tig Notaro's comedy album. She told the New York Times that her fear is that "he released my album to cover his tracks." "He knew it was going to make him look like a good guy, supporting a woman."
Her reflections pushed me in one direction.
The fact that he apologized in writing seven years ago pushed me towards forgiving rumors that have been circulating for years.
Am I surprised by his behavior? No. In many ways, I'm relieved the accusations weren't worse.
The stand-up comedy scene is a sick world. Even the clubs where women are in charge, all have some form of a creepiness factor to it. Many of the male and female comedians I work with are creepy messed up people.
I've often said that I wouldn't want one of my nieces to pursue to road I did. Upon reflecting, I don't know if I want my nephews to pursue this path either.
Working in morning TV and having to publish a prep sheet late at night for morning radio shows has kept me from late nights of alcohol and perversion.
The comedy scene is a never-ending frat party. Except the frat is filled with 5th year seniors and all of the frat members with good grades and morals have graduated and moved on to better things.
Many comedy clubs are run by drug addicts and perverts. There is alcohol everywhere. Most of the club owners say "Hang out at the bar and you'll get your time on stage."
When you're drunk and surrounded by drunk men and women who are screwed up as much as you are . . . creepy things are said and done.
Frankly, when I started working at ABC after 5 years of being a "road comic", I needed help reintegrating into corporate life. I was never a pervert but I sure cursed a lot.
I identify with Louis CK's line "I misread things back then." This guy was a loser. Suddenly, people were paying attention to him.
I've never had the opportunity to confuse professional attention with sexual attention.
Also, my parents raised me better.
Louis CK's parents didn't.
But frankly, Louis CK has a show because his parents didn't raise him better. He turned his sickness into art. We consumed it.
In defense of Louis CK's he apologized in writing 7 years ago. That written apology was used against him in the Times article.
What's the point of this article being published on the day of his new movie premieres?
Was the timing of the article meant to hurt Louis CK as much as he hurt the women he harassed?
People say "Why didn't these women complain sooner?" Well, they did. These rumors have floated about for years. I have never met CK but I've heard the rumor.
If there is a lesson to be learned from Louis CK's downfall? It's never a good idea to ask a woman to watch you masturbate.
If your parents didn't teach you this lesson. If you didn't pick this lesson up in a class in human decency... well now you have it.
Calling all HuffPost superfans!
Sign up for membership to become a founding member and help shape HuffPost's next chapter