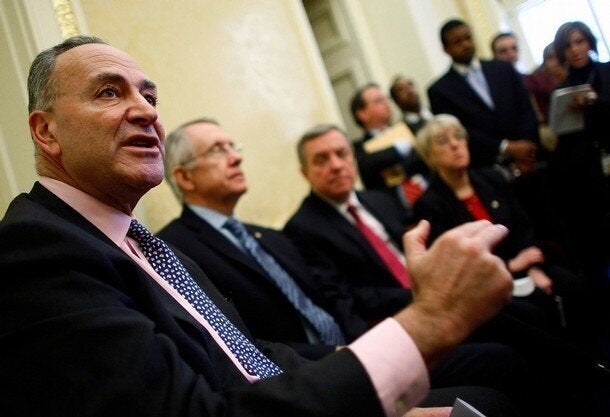 Imagine putting a New York City comedian in a political showdown against the senior senator of New York State? Well, it may happen. There is talk of such a showdown floating around cyberspace. Randy Credico political activist and the official comedian of the Fred Dicker radio show is contemplating about entering the race for Senator Chuck Schumer's seat.
This week, Credico who dressed as the ancient Greek Philosopher Diogenes, rudely interrupted a Senate committee meeting in the State Capital. Dressed in a white toga with sandals, wearing a face mask of an old man with a very long white beard, Credico walked the room back and forth while holding a lit lantern.
"I am here looking for an honest politician" he said. The startled Senators refused to answer questions that spun from the mask of Diogenes who in ancient times roamed the streets in poverty while carrying a lamp in the daylight looking for an honest man. The story is spreading far and wide and even was picked up by a Greek television station.
On it you can view his political platform which includes :
•Immediate pull out of Afghanistan•Immediate pull out of Iraq•Immediate pull out of Colombia•End Drug War at home and abroad•Repeal Patriot Act•Legalization of Marijuana•Abolish Mandatory Minimum Sentencing•Repeal 1996 Omnibus Crime Bill•Constitutional amendment abolishing death penalty
He also speaks of Senator Schumer and says, "No one is more responsible for the Nation's financial meltdown than Chuck "Pay to Play" Schumer who took millions in campaign contributions in return for gutting oversight and regulation of our financial sector. Chuck Schumer has been a prostitute for corporate America at the expense of the average citizen. Chuck Schumer has taken millions from Wall Street, Bankers, Traders and even got a check from Bernie Madoff -- although Madoff makes Schumer look honest."
Political reporter Elizabeth Benjamin of the NY Daily News recently reported that Credico was poised to announce that he's creating an exploratory committee in advance of a possible primary challenge to US Sen. Chuck Schumer in 2010."
When asked about the possibility of entering the Senate race Credico waxed poetically "It would be a great race...a comedian versus a clown...Chuckles the Clown 2! It's a humorist vs. a schumerist."
If I were a betting man I would put the ranch and maybe the barn down that I will actually make my campaign official because Senator Schumer has betrayed the progressive agenda and a become an agent for Corporate America.
Someone has to draw public attention to Schumer's track record of trading big campaign contributions to the DSCC and his own campaign committee for votes and legislation to end the regulation and oversight of Wall Street. This, more than any other single factor caused the meltdown of America's economy.
Every Democrat in the state knows this is true but they don't have the integrity to take on Chuckles the Clown...The democratic party of New York should change their symbol from donkey to sheep.
Only time will tell if Credico decides to throw his hat in the ring. Stay tuned.
Popular in the Community