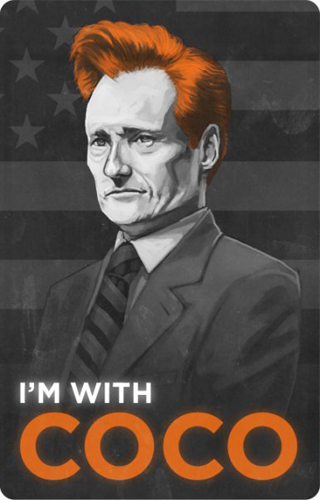 Who would have thought that a bunch of jokers could scrape together $10,000 for Haiti?
Surprising even those who planned the "I'm With Coco" Benefit for Haiti on Thursday night, that's just what happened as a group of New York's biggest comedians brought out the crowd and their wallets to the Comix comedy nightclub in Manhattan. With all proceeds from the show going to charities aiding the battered region, a surprise act of generosity at the end of the night pushed the event over its seemingly unlikely ten-grand goal.
Ticketholders to the sold-out show certainly got their money's worth. With more than a dozen comedians including Dave Attell, Janeane Garofalo, Eugene Mirman and contributors to The Daily Show and The Onion, the event's host Seth Herzog joked toward the end "we've just got eighteen more acts tonight."
Only a few jokes actually mentioned Haiti, with the comedians not wanting to be too tasteless as they tried being funny at an event for victims of tragedy.
The Daily Show's Wyatt Cenac greeted the audience by saying, "That's very nice of you--I will go fix Haiti now." Writer and comedian Jeff Kreisler offered, "I think it's beautiful that natural catastrophes bring us together as people--to fight against nature."
This tension was best captured by Onion writers Joe Garden and John Krewson, who broke out a slideshow on Haiti from their satirical Atlas Our Dumb World. As they read the headline "Haiti: Plight of the Living Dead" and started reading about "dead-eyed, shambling Hatians," the writers feigned a sudden embarrassment and changed subjects.
But being sensitive was not the goal of the night--raising money was. In between sets, Herzog and Comix publicist Kambri Crews ran several raffles and auctions, offering up comedy merchandise and show tickets, with a pair of Saturday Night Live tickets auctioning for $200 and a pair of Daily Show tickets making $250 (nevermind that they are free for everyone else).
The biggest prize of the night came from Mike Mitchell, the artist who created the now almost iconic "I'm With Coco" poster, who brought out a framed copy of his poster, signed by Conan himself.
Having brought in a little over $8,400 up to that point, Crews explained that they were aiming for $10,000 total, including sales on other memorabilia on the Comix site. As the bidding seemed to have topped off at a little over $1,000, one of the bidders threw out a surprise proposal: if Comix threw in a pair of SNL tickets, she would bid $1,600 on both the poster and tickets, closing out the bidding and bringing the night's earnings past its goal.
The offer was accepted and the audience erupted in applause, though Herzog couldn't hide his shock at the big numbers.
"You're sure you're not drunk?" he asked several of the highest bidders.
After that crescendo, final act Attell had to bring some serious energy to keep the crowd going.
"I said I'd only come down if I could follow the biggest, longest raffle in the world, of people saying they want shit when they don't even have money," he joked. "I've been waiting around so long I could have gone down to Haiti and given a rescue dog a backrub."
In the end, Attell brought the house down and the crowd seemed pleased to have helped raise some serious money for a good cause.
Popular in the Community