Jackie Beat has a twisted sense of humor. It's made the drag icon an asset to comic legends past and present and allows her to make light of the unimaginable ― from AIDS to racism. The razor-tongued diva tackles frustrations about the current state of U.S. politics with equal aplomb.
"This is like going in for heart surgery and finding a donkey holding the scalpel," said Beat of President Trump during a recent, expletive-laden interview with Party Foul Radio with Pollo & Pearl.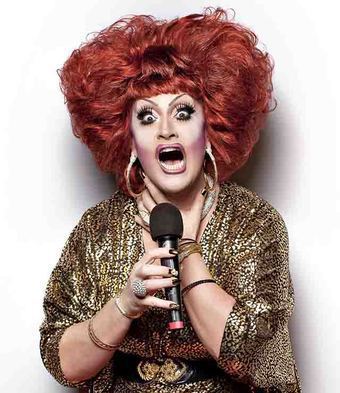 Though she jokes about the state of affairs in America today, as she does many other tragic topics, Beat notes the country's leadership woes are no laughing matter. The comedy pro expressed her extreme disgust with Trump — "He goes on late night tweeting sprees like a 14-year-old girl!" — even before the President began escalating already-strained U.S. relations with North Korea this week.
"Kids, please wake up! Get mad!" she implored. "Please get pissed off; please talk shit about the President."
Beat frequently expresses her strong political views and disdain for the U.S. President via social media. The response of some followers, she admitted, arouses concern that youth, in particular, do not recognize the gravity of what the nation faces.
"I get these comments from young kids saying 'Why are you being negative?' 'Don't you know giving [Trump] this negative energy just makes him more famous?'" shared Beat. "More famous?! We're not talking about Kim Kardashian here. We're fighting for our fucking lives!"
FLASHBACK: Watch Pollo Del Mar's 2015 Interview with Jackie Beat
During a near 40-minute chat with the weekly broadcast, Beat traced a decades-long career in drag and stand-up. Since starting her career with standard fair club gigs in Los Angeles, she has become a touring staple within the queer entertainment industry.
Over almost three decades as a performer, Beat has produced a string of lauded one-woman shows. She is also a successful recording artist, both as a solo act doing popular parody songs and half of duo Dirty Sanchez.
More recently, her wit has opened doors as a comedy writer, allowing Beat to contribute to acts by some of the biggest comic names in the business. She has penned material for everyone from Ross Mathews to legends like Joan Rivers, Elvira and Roseanne.
"I always say I get to work with all the loud-mouth bitches," joked Beat, who recently completed a string of shows in Provincetown and next travels to San Francisco for an August 16 show at Oasis Nightclub.
"I have varying degrees of bad taste and 'show humor,' or whatever you want to call it," admitted Beat of her comedy sets, where few subjects are off-limits. "Pedophiles. AIDS. Black Jews. It's just so over-the-top and ridiculous."
To those who find her comedy in poor taste, Beat claps back. Not only does she often portray a "Devil's Advocate" character onstage to showcase the absurdity of some views on sensitive subjects, she says definitively: "I don't need to make fun of sunshine, lollipops and rainbows."
"[These subject are] what I need to joke about; I need to joke about AIDS," said Beat emphatically.
"I came out of the closet and became a sexually active gay man the day AIDS gave its first fucking press conference," she stated. "If some 54-year-old queen can't make fun of AIDS, nobody can."
When Beat needs further confirmation it is acceptable to discuss taboo topics of epic consequence, she draws inspiration from a Hollywood icon with whom she worked the last 18 months of her life.
"Nobody told fucking Joan Rivers not to make Holocaust jokes," Beat closed. "This is how we fucking survive as a species."
Jackie Beat's Birthday Bitch! comedy show plays San Francisco's Oasis Nightclub Aug. 16, 2017. Click Here for Ticket Information.
LISTEN: Jackie Beat Talks Politics, Working with Joan Rivers & Roseanne's TV return on 'Party Foul Radio'
Popular in the Community