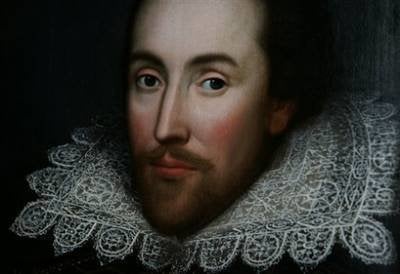 Title: FOOL, by CHRISTOPHER MOORE
Genre: BURLESQUE SHAKESPEARE
Length: 8 1/2 Hrs - 7 CDS - UNABRIDGED
Narrator: EUAN MORTON
Publisher: HARPER AUDIO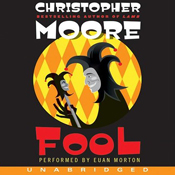 COMMENT
Author Christopher Moore is an acquired comic taste. He's irreverent, absurdist, farcical, ludicrous, deeply bawdy and often funny. Of his 10 bent novels, he has re-imagined Jesus, vampires and angels. This time it's King Lear, as told through the eyes of his cheeky and priapic jester, Pocket. Moore's plots are not the primary sell. Fool roughly follows Lear and his dysfunctional daughters but through a glass contorted. Moore's sell is his Pythonesque-meets-Austin-Powers dialogue and descriptors, delivered on these CDs with sly British sincerity and skill by Euan Morton.
Moore so understands what he's delivering that he issues a warning to listeners at the top saying, "This is a bawdy tale. Herein you will find gratuitous shagging, murder, spanking, mayhem, treason and, heretofore, unexplained heights of vulgarity and profanity." Yep, indeed it is. With lines like, "It's not proper to dry-hump the dead," you pretty much know what you're in for with Christopher Moore and his Fool.
BOTTOM LINE
Laugh out-loud ribald entertainment for people who like libidinous comedy.

Title: THE SILENT MAN, by ALEX BERENSON
Genre: SPY VS TERRORISTS
Length: 12 HRS, 12 MIN - CDS & DOWNLOAD - UNABRIDGED
Narrator: GEORGE GUIDALL
Publisher: PENGUIN AUDIO

COMMENT
Series super spy John Wells saves the world -- again. You've got your requisite Islamic jihadists, stolen Russian WMDs, CIA cut-outs, duplicitous characters and tons of Middle-Eastern names that require a cast list to follow. So, what's different here? Nothing. Hero Wells is a mash-up of Jack Bauer and Jason Bourne without any juice. Even veteran narrator George Guidall can't breathe life into this potboiler.
BOTTOM LINE
Colorless characters doing predictable things in a worn-out story.
Calling all HuffPost superfans!
Sign up for membership to become a founding member and help shape HuffPost's next chapter