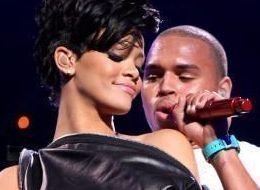 At the Comedy Central Roast of Larry the Cable Guy, that airs next Sunday, comedian Lisa Lampanelli made a joke about recent reports that Chris Brown brutally beat his girlfriend Rihanna.
The stories of domestic violence within their relationship, have been buzzing for weeks on news sites that have uncovered Brown's death threats, pictures of Rihanna post attack, and the fact that couple is back together, much to the chagrin of her fans.
Lampanelli seized on this story and said of Larry the Cable Guy's catch phrase "Git R Done":
"You've beaten that concept so hard it's now dating Chris Brown. Best joke ever."
Roasts are notoriously harsh and foul mouthed, but some are concerned that this was over the line. TMZ called it "the most tasteless, hilarious joke ever" saying:
"It's wrong in every possible way, shape and form, but when Lisa Lampanelli decided it was time to exploit Rihanna's horrible, tragic situation at the Comedy Central Roast of Larry the Cable Guy -- people couldn't help but crack up."
Two weeks ago, 50 Cent apologized for making a joke about the situation on his Website saying:
"There's a point when you're already past a woman fighting you back. You look at the picture, and it's obviously past that point. There's some issues there that definitely gotta be addressed. Not to take any shots at Chris or Rihanna or take sides in any way, but it's really not cool. It's not funny anymore, so there will definitely be no more reference to that from me in any way."
Related
Popular in the Community