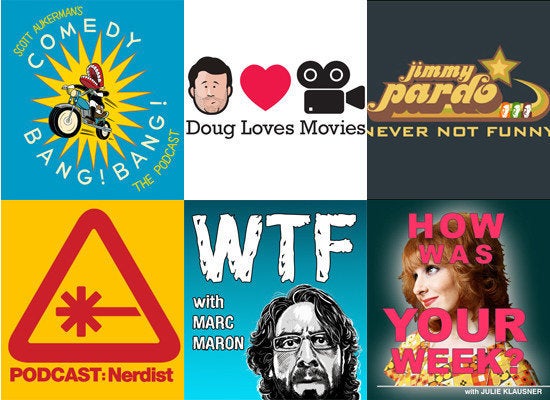 There's a moment on a recent episode of "Fresh Air with Terry Gross" where guest Jimmy Fallon, on the show to promote his great new album Blow Your Pants Off, tells a story about being a young Saturday Night Live cast member and going on morning zoo radio to promote his stand-up shows.
He told Terry that the experience was often frustrating, because he would wake up at five o'clock in the morning, drive to a crummy studio, only for some moronic duo to make uninspired jabs at "SNL." Fallon, being young and earnest, inevitably would defend the show. Then, as soon as the DJs flipped off the mic, they would compliment him on his "SNL" work. Jimmy said it took him years to figure out the radio "game" -- that the hosts would do whatever they need to do to get a reaction out of their guests, because advertisers demanded a certain type of show.
I've never felt the frustration of being a morning zoo guest, but as a listener, that sense inauthenticity is definitely palpable and gross. But the lack of any real alternative had, for years, made those shows the only game in town.
Morning zoo shows may not go away any time soon, but a threat to their popularity is starting to boil over (if it hasn't already). Just as FM radio and Billboard charts are quickly losing their relevance in the face of personally curated playlists on mp3 players and services like Pandora and Spotify, comedy podcasts, with their homegrown production values and near-absence of advertising interests, are posing a threat to traditional entertainment programming like never before. Listeners, and media, would be wise to pay attention to this near-endless universe.
And of course, many already are. A couple weeks ago, I asked what comedy podcasts HuffPost Comedy should be paying attention to for a regular round-up feature. The responses we got were immediate and resounding: Clearly, podcasts have dedicated and passionate audiences.
To be clear, I do not have much of an interest in reviewing or critiquing free entertainment. Part of the beauty of podcasting is that it's a fairly meritocratic form of entertainment, in that the success or failure of a podcast is almost totally determined by whether it's funny and compelling.
Sure, several podcast hosts like Marc Maron and Chris Hardwick had a built-in audience before launching their podcasts. But it's like what Jerry Seinfeld said about being a celebrity doing stand-up comedy: You get a grace period, but after that, an audience's attention must still be earned. And for podcasts, that grace period is as easy as hitting the "next" button on your iPod. I want to make recommendations of what I think you should be listening to this week, but I'd rather let download counts be these shows' arbiter of success to the talented individuals who make them.
This week, I'd like to share snippets of some of my favorite podcast moments I've heard lately. I should probably start with the "Fresh Air" interview with Jimmy Fallon. Like some of my favorite comics, NPR is smart enough to release most of their shows as free downloads.
LISTEN: "Doug Loves Movies." In this preview of an episode that features Michael Ian Black, Nikki Glaser, Dave Hill and Jason Mantzoukas, Doug and Jason both agree that "Prometheus" was a disappointment. Download the full episode here, as well as several others that have been released lately (including a particularly tumultuous and entertaining episode with Jeff Garlin, T.J. Miller and Pete Holmes).
LISTEN: "How Was Your Week." New York writer/comedian Julie Klausner's great podcast usually includes two interviews with Julie's pals from the entertainment world, but her opening monologue, a stream-of-consciousness riff on the last week in pop culture, is usually wildly charming as well. This week, she shares her thoughts on the new Lifetime movie of an all-black "Steel Magnolias." Download the full episode here.
LISTEN: "Comedy Bang! Bang!" This podcast has just been adapted into an IFC show, but Scott Aukerman still puts out an episode a week. In this one, he invites comedian Andy Kindler to chat, but they're interrupted by Gwyneth Paltrow (played by improviser Amy Phillips). Download the full episode here.

LISTEN: "You Made It Weird." Pete Holmes invites comedian and author Greg Behrendt ("He's Just Not That Into You") for a funny conversation about some serious topics, such as why they're so intoxicated by women, why Greg has redefined success throughout his career and the common threads between music and stand-up comedy. In this clip, they discuss why comedians borrowing from other comedians should not be looked down on. I highly recommend checking out the full episode, and also Greg's own podcast "Walking the Room."
REAL LIFE. REAL NEWS. REAL VOICES.
Help us tell more of the stories that matter from voices that too often remain unheard.