Myron Cohen was telling his greatest jokes to an audience of one: me. I had grown up in the 1950's and '60's watching him perform countless times on the Ed Sullivan Show, and now, in 1978, the aging stand-up comedian was sitting down in his living room, clad in a bathrobe (it was a radio interview, after all), and doing shtick.
"I love telling the story about the U.S. Census Bureau conducting an actuarial survey on the Lower East Side," he began. "The guy from Washington knocks on a door, and there stands this nice little Jewish man in his 80's. He says, 'Sir, we understand you've lived here for many years. What is the death rate in this area?' The man thinks for a moment and replies, "Vell, in mine opinion... don't hold me to dis, but in mine opinion... I'm pretty sure it's one to a person."
Cohen recalled how he honed his comic skills while working as a salesman in the garment industry in the 1920's and '30's, and hosting bachelor parties. "Nobody got married in the textile business unless I was toastmaster at the stag party."
I thought of Cohen and the other legendary comics I've known while watching Jeff Ross, the Friars' Club "Roastmaster General," at last month's "Just for Laughs" festival in Montreal, the glorious annual two-week tribute to everything stand-up. (Ross, the always-hilarious comedian known as a "one-man verbal assault unit," told the crowd, "There were so many comics on my plane coming up to Canada that we had to go through an insecurity checkpoint.")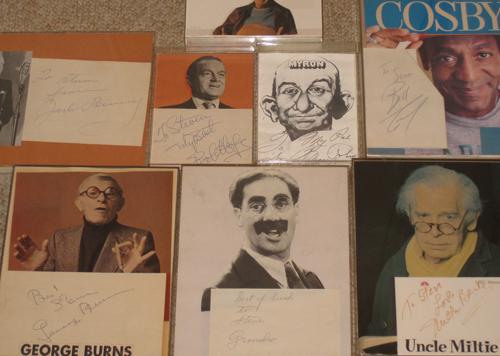 I had the immense privilege, while growing up, of meeting many of the shapers of 20th century comedy, and later, as a reporter, of interviewing some of them. My dad worked on Johnny Carson's Tonight Show in the 1960's, and on one wall of my house are notes signed to me from Groucho Marx, Bob Hope, Jack Benny, George Burns, Milton Berle, Georgie Jessel, and Henny Youngman. Nearby are mementoes of my encounters with Buddy Hackett, Carl Reiner, Bob Newhart, Joan Rivers, Don Rickles, Carol Burnett, Alan King, Billy Crystal, Robert Klein, Eddie Murphy, Belushi, Aykroyd, and Seinfeld. And if you call my house, you'll often hear the message Jackie Mason once made for my answering machine.
I'm no student of comedy, just a huge fan, and I've always been fascinated with the people who make us laugh, and their process. How did those who started on the stage of vaudeville halls transition into the world of radio and TV, and how are today's comics dealing with the seismic transformation wrought by digital media?
Speaking of seismic, Joe Smith of "Smith and Dale," who teamed up in the late 1800's, told me one of their early gigs was opening for the Marx Brothers in San Francisco. "When was that?" I asked. "Oh, 1902. Before that big quake and fire. It was a beautiful city."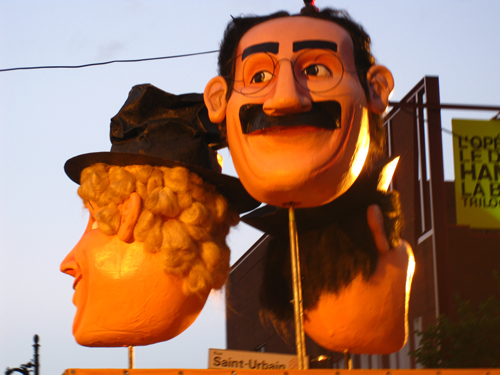 Groucho Marx & Bros. make appearance at this year's "Just for Laughs" festival in Montreal
Smith and Dale were the prototype for Neil Simon's play and film, The Sunshine Boys, and when I interviewed the then-97-old funnyman shortly before his death in 1981, he commented on the playwright's act of petty larceny. "Neil Simon didn't plagiarize us," said Smith. "He Simonized us."
The duo was best known for their Dr. Kronkhite routines ("Doctor, it hurts when I do that." "So, don't do that!"), but Smith thought some of their best material came from the odd jobs they endured while trying to make it in show biz, such as working as waiters in a greasy spoon diner.
Dale: What are we running here, a souvenir shop or a restaurant?
Smith: What do you mean?
Dale: Every time the customers get through eating here, they take knives and spoons.
Smith: They should take medicine after eating here, not silverware!
That killed in 1910, and it's still funny a century later. Also working in vaudeville around that time were George Burns and Milton Berle; I spoke with them both on their respective 85th birthdays. Burns, born in 1896, told me if he'd started out in the age of television, he wouldn't have made it. "I was bad for 20 years, from 7 to 27. I was a smalltime vaudeville actor, but there were lousy theaters that were worse than I was, so I could play those. Today, a young comedian goes on TV, and the whole world sees them, and they're a riot."
Berle, a child actor in silent films, made his stage debut in 1916, conquered radio, then almost single-handedly popularized TV when his Texaco Star Theater moved to the new medium in 1948. Sales of sets doubled after the show's debut, and water levels in local reservoirs dropped drastically every week when the program ended, as millions of Americans went to the bathroom.
"We didn't have tape then," Uncle Miltie reminisced. "If a joke died, it died. You could stand there with egg on your face and count to a hundred. You could drive a train through the silence. Now, you have cue cards and teleprompters and laugh tracks. Then, you had to know your material by heart, and you had to be good the first time. It was real and honest."
So what's the connection between the old-timers and today's comics? I spoke with the 44-year-old Jeff Ross a few days after the Montreal extravaganza, and asked if they had influenced his work. "I wasn't old enough to watch them, but I lived with people who were watching them. My parents, grandparents, aunts and uncles were all funny, and I felt that energy, that delivery, that timing, that sarcasm. All that stuff seeped into my brain."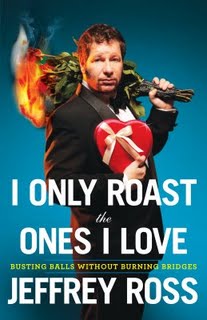 But Ross doesn't see a direct line from vaudeville to Comedy Central. "It's not linear, and I barely think of it as a tradition. It's almost closer to a species, and I'm their offspring. These guys stole from the same places I did. I feel like we speak the same language."
Ross started early enough to have known and become friends with some of the Borscht Belt leftovers, and he even gave the eulogy at Buddy Hackett's funeral.
Given that link to the previous generation, has the business of making people laugh changed?
"I don't know if I'm qualified to answer that," he muses, "but I think it probably has. We're in a different culture. Jokes are not as precious. They're flying out on Twitter a thousand times a day, spilling out on a million different channels. Everyone's got shtick, and it's trickier to entertain people now. Some paparazzi outside a restaurant last night asked me about my upcoming David Hasselhoff roast, and I bit my tongue. If I had gotten a laugh, it would have been one less joke for the show."
Ross is known for the over-the-top raunchiness of his roasts, and several of the last-century comics I've spoken to... no shrinking violets themselves... mentioned the change in language as perhaps the most glaring alteration in stand-up. Berle commented, "I don't like things being censored, but I also think certain material should be done at the right time slot."
Myron Cohen was more dismissive.
"The boys that are using foul language onstage, I could put 'em in my back pocket, when it comes to dirty jokes. You know, Ed Sullivan always wanted me to repeat a story about the adorable 8-year-old girl who walks into a bakery shop and says to the baker, 'My mommy found a fly in the raisin bread.' The baker says, 'So, bring me the fly, I'll give ya a raisin.'"
"Like I told you," he concluded, "I did all the stags for 25 years, so I used all the words and I know exactly how to say them. But to be able to get a laugh with a raisin... you know, that's something."
Yes it is, Myron. And with a little editing, it even works as a Tweet.

Steve North is a broadcast journalist with CBS News
Calling all HuffPost superfans!
Sign up for membership to become a founding member and help shape HuffPost's next chapter