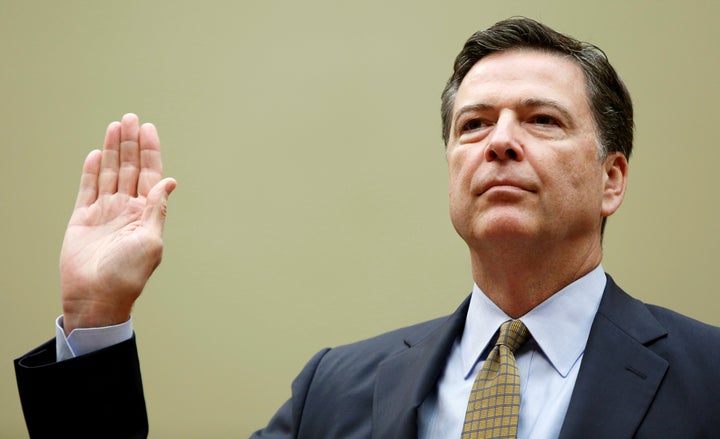 Inspector General Michael Horowitz called it "extraordinary" that Comey didn't talk to former Attorney General Loretta Lynch before his July 2016 press conference on the Clinton matter or before sending Congress a letter about the investigation just days prior to the election.
"We found it extraordinary that, in advance of two such consequential decisions, the FBI director decided that the best course of conduct was to not speak directly and substantively with the attorney general about how best to navigate those decisions," the report states, according to Bloomberg.
The report did not find that Comey, a Republican for most of his life, made any decisions as a result of political bias. But it did find that by "departing so clearly and dramatically from FBI and department norms, the decisions negatively impacted the perception of the FBI and the department as fair administrators of justice," according to Bloomberg.
"I have asked myself many times since if I was influenced by that assumption. I don't know," Comey wrote. "Certainly not consciously, but I would be a fool to say it couldn't have had an impact on me. It is entirely possible that, because I was making decisions in an environment where Hillary Clinton was sure to be the next president, my concern about making her an illegitimate president by concealing the restarted investigation bore greater weight than it would have if the election appeared closer or if Donald Trump were ahead in all polls. But I don't know."
Observers expect Trump to focus on the findings of Thursday's report to justify his firing of Comey, but to ignore the report's broader implication: that the FBI improperly helped the Trump campaign.
Ryan Reilly is HuffPost's senior justice reporter, covering the Justice Department, federal law enforcement, criminal justice and legal affairs. Have a tip? Reach him at ryan.reilly@huffpost.com or on Signal at 202-527-9261.
Popular in the Community