My definition of comfort food is that it makes you sigh with contentment at the mere thought of the dish. For my family, my mom's chicken cutlets are the ultimate Friday comfort dinner. Gathering around the table for this easy and satisfying main dish after a long week starts the decompression we crave on weekends. My twenty-something kids often request this dinner when they return to the old homestead for a visit. We never get tired of it.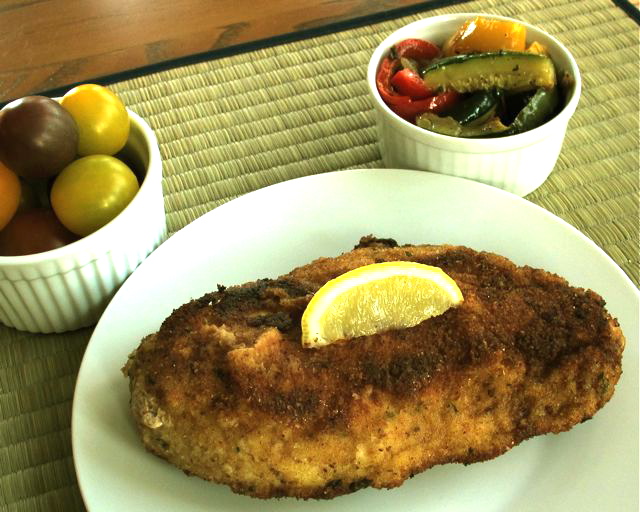 You can use any type of breading you prefer, with or without herbs, to prepare these chicken cutlets. They cook quickly and taste delicious. You can make endless variations, with side dishes that suit your mood, your pocketbook, and the ingredients you have handy. What could be better?
My best advice to novice cooks on making this dish is the same I would give for tackling any recipe; read carefully and prepare. Familiarize yourself with how the recipe proceeds, figure out what ingredients and equipment you need, and set them out before you start. There is nothing worse than getting halfway through a recipe, only to discover that you are missing a crucial ingredient.
This recipe takes me under 45 minutes from opening the package of chicken breasts to putting it on the table. I do not give preparation times in my recipes because timing is so variable. This isn't a race, and if it were, I'd typically be at the back of the pack. But the proof is in the eating, not the stopwatch results.
As Julia Child said:


This recipe does not have any time-consuming steps like chopping, but the preparation is a bit messy. So once I've organized to make it, I usually take advantage of that effort and make extra. Either I freeze the remaining cutlets (cooked or uncooked) or refrigerate them for 2-3 days in an airtight container or wrapped in plastic. Cooked cutlets (defrosted if previously frozen) taste great re-heated in a toaster oven at 350 degrees for about 10 minutes, either as a dinner or in a sandwich.
Selma's Chicken Cutlets - 2 servings (easily doubled for leftovers or if you are feeding more people)
Estimated cost - $7 for 2 cutlets ($3.50 per cutlet). The cost goes down dramatically if you find chicken cutlets on sale. Note: All measurements are approximate. If your cutlets are particularly large, you may need a bit more of the other ingredients.
It is better to start with the amount of called for and add more if necessary.
Ingredients
2 chicken cutlets - If you prefer smaller pieces you can use breast tenders, which are thin strips of breast (white) meat.
½ cup flour
Salt and pepper
1 egg
2-3 tablespoons milk or water
¾ cup bread crumbs - I like seasoned Italian, but you can use unseasoned, Japanese Panko-style, or even matzo meal. The crunchier the bread crumbs, the crunchier the coating. If you like a particular herb, such as oregano or basil, you can add it dried, mixed into the bread crumbs.
2 tablespoons of oil - for frying cutlets. I prefer olive, but canola, corn or other oil works too
½ lemon - to squeeze over cutlets after cooking and garnish (adding a wedge of lemon on the side) if you like to be fancy
Equipment
2 plates (1 for flour, other for breadcrumbs)
1 pie plate or other bowl (for egg/milk or water mixture)
spoon for pouring flour and bread crumbs over the cutlets
fork for moving uncooked cutlets through the steps of the recipe
pan with cover
serving plate (unless you are putting the cooked cutlets right on dinner plates)
tongs, pancake turner or another fork for lifting cutlets out of pan
For step-by-step directions, including pictures, click here.


REAL LIFE. REAL NEWS. REAL VOICES.
Help us tell more of the stories that matter from voices that too often remain unheard.