I try to stay healthy but sometimes there are those days. You know what I'm talking about: those days that are so demanding or so busy or so terrible, horrible and no good that even Alexander would stay in bed. On those days, all I want is to eat comfort food until my belt spontaneously unbuckles. Whether it's something covered in gooey cheese or carb-overloaded or reminiscent of home, comfort food always puts me in a good mood. We can't always get home for Mom's meatloaf but there are plenty of places around the city serving up sophisticated comfort food. I've pulled together some of my favorite spots and recipes for the next time you've got that comfort craving.
The Waverly Inn's Chicken Pot Pie
Nothing says comfort like succulent pieces of chicken, yummy vegetables and a hearty sauce all wrapped up in some puff pastry love. Chef John Delucie gets it right with his chicken pot pie. A little trick? He adds a touch of Tabasco and Worcestershire for kick that will send your taste buds soaring.

Macbar's Carbonara
Hello, cheesy carbs! (They should have their own food group as far as I'm concerned). I'm melting just thinking about this amazing dish. An adaptation of the Roman classic, this mac features tender elbows covered with a rich egg-yolk sauce mixed with salty bacon and sweet green peas. A crisp Parmesan crust tops it all off.

Rye's Meatloaf Sandwich
Okay, so it's not quite your mom's meatloaf. But here's a secret: this one is better! With a meat blend of duck, pork, veal and beef, this meatloaf is smothered in plate-licking gravy, topped with crispy onions and sandwiched between two slabs of crispy, chewy bread. This guy will turn a bad day into a great week.

Bar Breton's Galettes
For a little foreign flair, head to Bar Breton for Brittany-inspired comfort food. The standout is the menu's galettes. These buckwheat crepes are filled with all kinds of swoon-worthy combos like blue cheese, pear and pecans or pork belly with apple, cabbage and Calvados Sauce. And for dessert...a powdered-sugar dusted Nutella galette. Oh, monsieur!

Cosmopolitan Café's Gourmet Strawberry Shortcake
Sometimes a sweet treat provides all the comfort in the world. I like to dress-up the old favorite Strawberry Shortcake with a recipe from Restaurateur Craig Beró. Grand Marnier is added to the strawberry mixture to give this dish a touch of grown-up sophistication. The cake is oh so moist and just absorbs all the sugary goodness from the strawberries.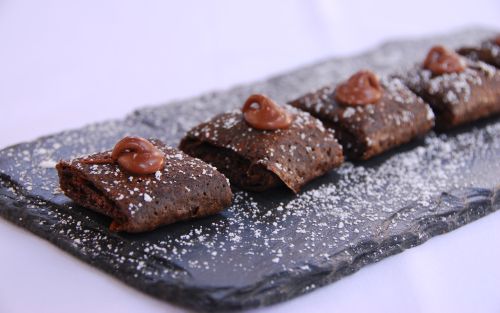 Calling all HuffPost superfans!
Sign up for membership to become a founding member and help shape HuffPost's next chapter