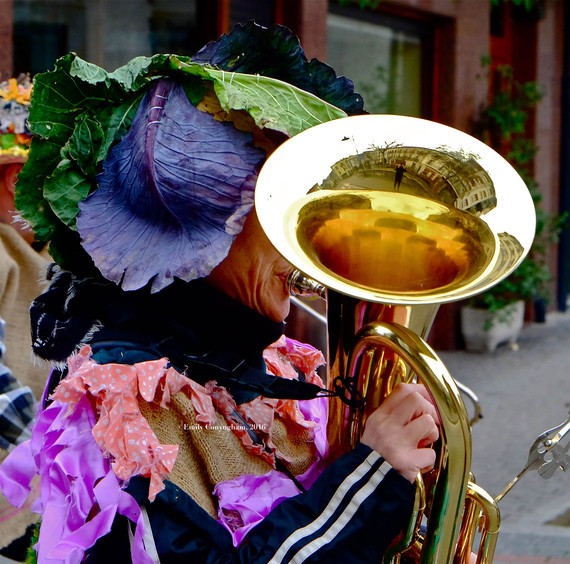 As we age, we appreciate more and more the simple joys of our daily existence, and the life we have carved out for ourselves. We've grown to accept who we really are, and cherish the people in our lives. These rewards do not cost anything; they are attitudes we have adopted.
Just as we exercise and eat right to remain healthy, there are some ways to remain flexible in our outlook on life. You wouldn't eat only peanut butter day in and day out, would you? Here are some benefits of adding variety to your experiences now and then. They don't cost anything, and add even more richness to your life.
I live in a small village made of stone, and it is February, my least favorite month of the year. Maintaining my good attitude and appreciating what I have is a challenge for the moment. So, I drove four hours to San Sebastian, the lively town on the northwest coast of Spain. This town eats well and parties a lot, plus it was carnaval, the time of celebration before Lent begins, so I was prepared for noise and joy. It was out in droves. You can see about it here.
From there, I drove up into the Pyrenees to a Basque village, one of several that are famous for highly unusual festivals featuring animal furs, cow bells, and horns. They come from an ancient, rural time, and I, for one, had never imagined anything like this in Europe. You can see my video of it here.
I'm pretty fortunate to live where I can drive to experiences that are so different from my own. You don't need wooly creatures and marching bands -- the operative phrase is, "experience different from my own."
Here's what stepping outside your normal routine can bring:
There are nice people everywhere. The smile you bring with you will always be returned, multiplied, and enriched.
Being outside of your routine requires paying more attention. You can't be on auto-pilot when you aren't absolutely certain about everything. Focusing on what is going on outside one's own head is an excellent way to stay sharp, and to redirect negative thoughts.
There may be an activity, a landscape, or lifestyle that seems custom-tailored for you. You hear yourself thinking, "So THIS is what I love to do", or "My soul is happy HERE," or "THESE are my people."
Defining what you are NOT is the other side of the point above. You think, "No matter where I am, I do not___", or "I am uncomfortable when ___." Clarity about what you are not, comes from testing your limits.
Try stepping outside your comfort zone, even a little, and see what it does for your mental health and life balance. The Februarys of life may seem a little lighter, and the home fires a little brighter.
Emily Conyngham now lives in France, after a nine-month fling with the country turned into true love. As a photographer and writer, she shares her joie de vivre in images and words.
Come along with Emily at her blog, Under France on her facebook page, Otherwise Travel, and for visual inspiration .@cemilygo on Instagram
From a lifetime of travel and rich relationships, she's come to believe every day has something to offer - a life lesson, a poetic moment, information, and often, a laugh.
Her secret to happiness is paying attention to these things.