"Everyone has a voice...even in the darkest of nights." - 1400
Comic book artist Jag Lall's new graphic novel 1400 courageously delves into the topic of rape and child exploitation, through the voice of a young Sikh girl named Sharanjeet. It is through her experience and struggle to come to grips with her trauma that the reader is given an emotional insight into her mental ordeal.
Portrayed in a black and white theme, the novel begins with Sharanjeet's recurring nightmare of being raped by the perpetrators, or monsters. A bold contrast to this theme is Sharanjeet's red headband, which symbolizes the powerful hold on her by the monsters as she struggles to comprehend her trauma.
The novel illustrates Sharanjeet's subsequent struggle with everyday life, as her parents and friends begin to notice her withdrawal and change in behavior. An important aspect of this novel is its portrayal of a Sikh girl's experience, as it shows the issues she may face when confronted with family, friends, and the Sikh community. As Lall expresses, "...I feel especially in the Indian communities there is fear of being shunned from the family or looked down upon from the community so the fact the girl involved is a Sikh will hopefully raise extra awareness."
The illustrations also serve as powerful imagery, as the reader is shown important moments in Sharanjeet's emotional battle. Sharanjeet's nightmares, scenes with the monsters, and eventual triumph provide a vivid and emotional prose of her ordeal.
The foremost feature of this novel is its empowering message to women. As the novel takes the reader through the most difficult moments in Sharanjeet's emotional battle, it also provides the reader with an incredibly uplifting and encouraging dialogue to not be afraid. While the trauma one feels may be overwhelming and suffocating, it is one's voice, or reaching out and starting a conversation that can be the first step in the healing process.
The release date for the novel is May 19, 2016 and will be available to purchase on Amazon and Lall's website: http://www.jaglallart.com
The message of the book is to help empower those who have been or are in such a situation that they can talk and that there are avenues to do this, be it through family, friends, police or organisations. The moral is to talk and not to feel ashamed, not to feel guilty even or feel that no one will believe you. The story, whilst a sensitive subject matter, is a topic I feel very strongly about and I wanted to express my thoughts and feelings through my artistic narrative in the hopes that it can hopefully make a positive difference in someone's life. I want this story to help empower those in turmoil that they can make a stand and that they won't be alone.

- Jag Lall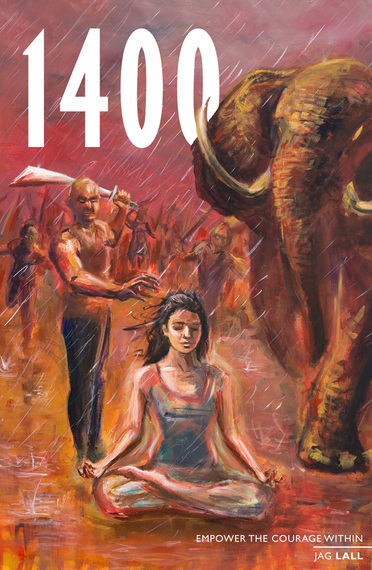 Support HuffPost
The Stakes Have Never Been Higher
Related
Popular in the Community