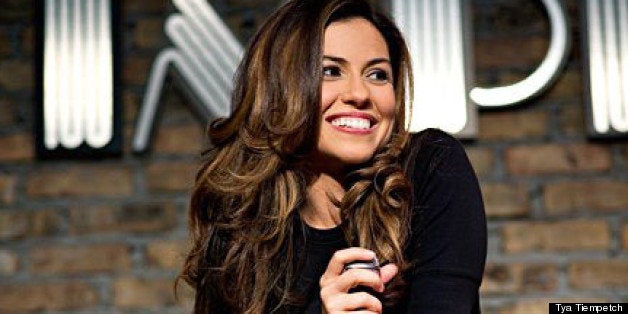 As celebrity comics like Tracy Morgan, Sarah Silverman, and Seth Meyers come to town this weekend for the South Beach Comedy Festival, Miamians should take note of the stand-up talent growing right here at home.
Lisa Corrao is one of the 305's comedy crew making the rounds at Casa De HaHa, the Improvs, and Elwoods downtown.
This weekend she'll perform at the South Beach Comedy Festival alongside other local talent.
Below Corrao tells The Huffington Post how she likely uttered the first "swastika" on Nickelodeon and why Miami definitely needs a Puppy Jungle.
Who are you:
I'm a former middle school teacher who always secretly wanted to be a stand-up comedian. One day, I realized that I'm sort-of an adult and can just do what I want, so here I am, doing comedy.
Years in Miami:
I've been a South Floridian my whole life and have spent the past year living in Miami.
Favorite childhood memory in Miami?
When I was very little, my parents took me to Monkey Jungle and Parrot Jungle. As a kid, those were two of my three favorite animals! All they needed was a Puppy Jungle to complete the trifecta.
Current neighborhood:
South Miami
Current gig:
I travel to random comedy clubs all around the country doing stand-up. I'm also the house comic at Casa De HaHa at Sweat Records, and I rotate between the South Florida Improvs as an opening act. One of my coolest gigs is that I'm the spokesperson for the Festival Flea Market Mall. They specifically wanted a comedian to do their commercials so that tells you how cool they are.
Favorite 'Only in Miami' moment?
I saw a homeless man on A1A with a sign that said, "Family kidnapped by ninjas, need money for karate lessons." I gave him a dollar because either he's hilarious or desperately needs to learn martial arts.
What's your idea of a perfect day in Miami?
My ideal day would be biking to Fairchild Gardens with my daughter, then getting snow cones at the Wayside fruit stand, and in the evening performing comedy.
395 or 195?
195 because of the palm tree halos. I'm not imagining that, right?
Where do you take out-of-towners visiting Miami?
My most recent friend wanted authentic Cuban food so I took him to Luis Galindo's for sandwiches. Of course, you also have to show your friends South Beach and during the daytime, Coral Castle is still something that you can only see here. It's a true testament what crazy people can accomplish in Miami.
What are your plans for this year's South Beach Comedy Festival?
This festival has a special place in my heart, because it's right in our backyard and they've always supported my comedy! This year I will be opening at the Lincoln Road stage on Friday and doing the late show in the VIP lounge at the Fillmore.
Any interesting encounters with big-name comics at past comedy fests?
One year at the South Beach Comedy Festival, Dave Attell was watching my set at the Lincoln Stage and then complimented me afterwards. When somebody you love and respect compliments you, it makes up for those low moments. The next time he came to South Florida, I went to see his show and said hello backstage. He remembered me and asked me if I wanted to open the sold-out show for him! Um, yes.
How do you handle hecklers?
My instincts are to light them on fire. Since, I can't do that, I just make fun of them. It's kind of great to be able to respond to a rude person when you have an amplification device. If only you could do that in real life.
Did you get any material from your days teaching?
I did, but I mostly gained the skills to capture a room full of people who could care less about what you have to say.
What's your favorite joke about Miami?
Al Jackson -- a Miami comic now making it in LA -- used to say that one of the things he misses about Miami is Brandsmart. He'd say that the prices are so low, you feel like something illegal is going on. "How much is that flat-screen TV" And the employee says "Just take it, dog, just take it." Then they send you back to that weird loading dock that seems even more shady.
Miami needs a motto. Any suggestions?
Ladies, Watch Your Drinks
Last big project you did:
I recently performed jokes about being a mom on a Nick Jr. nighttime show called, "NickMom Night Out." In fact, it's airing again on Saturday, April 20th at 10 p.m. if you want to catch it. I don't normally do so many mom jokes, so it's a slightly different feel to my comedy. A friend and fellow Miami comic, Daniel Reskin, did point out that it's probably the only time anyone has ever said the word "swastika" on Nickelodeon, so that's pretty cool.

Upcoming projects you're working on:
I am writing scripts! It's my goal to write for TV so that I can have a job that utilizes my comedy skills. I would never stop doing stand-up though.
Why do you hate Miami?
I hate Miami because all of the other drivers seem to want to kill me.
Why do you love Miami?
I love Miami because I have weak little kitten bones that need to be in warm weather.
What are three local meals you can't live without?
Falafel from Daily Bread, fish and chips from Elwoods Gastro Pub (they also have a comedy show twice a month), and I love the chicken sandwiches from Joanna's Marketplace.
In a word or two or three, Miami is...
Exciting, crazy, and funny
PHOTO GALLERY
2013 SoBe Comedy Festival Headliners
Calling all HuffPost superfans!
Sign up for membership to become a founding member and help shape HuffPost's next chapter
BEFORE YOU GO