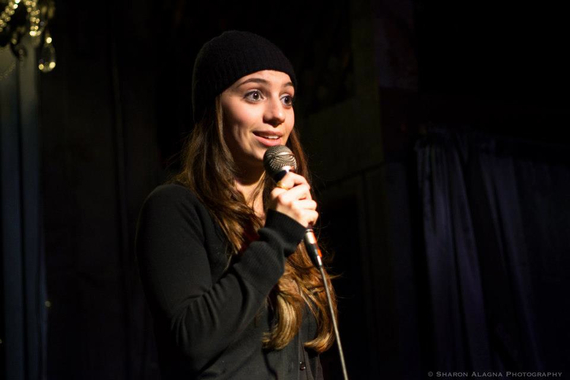 While most any comedian can now spearhead a web series, few simultaneously tackle the challenges inherent in not only animating the content, but ensuring it maintains appeal for young and adult audience alike.
New York-based performer Liz Miele's Damaged follows broken robots Emily (voiced by Miele) and TJ (RG Daniels), who are adopted by human parents (Ted Alexandro and Carole Montgomery) and struggle to understand their purpose and how to best fit into their new world. Additional vocal talents includes Maz Jobrani, Jermaine Fowler, DC Benny, Dean Edwards, Joe Machi, Carmen Lynch, Adrienne Iapalucci, Hari Kondabolu and more.
Now 12 episodes in, the YouTube series celebrated its season one finale July 21.
How does producing an animated web series compare to a live-action series like your Apt. C3?
They were both a lot more work than I expected, but were very different experiences. With Apt C3 my real roommates Carmen Lynch, Chris Vongsawat and I did everything ourselves and shared in all the responsibility. It was the most collaborative thing I have ever done. Carmen, Chris and I brainstormed and wrote everything together, acted in every video, shot, edited and promoted all ourselves. Everyone had equal say and we had to agree on what we were doing so that everyone was excited about it.
With Damaged being animated and me having no drawing skills whatsoever, I had to outsource a lot of it. I wrote all the episodes, voiced the main character, cast and recorded all the other characters, did some minor audio editing and do a majority of the promotion. The rest of my team is Adam Record, who did most of the original character design, my animators (I've had a total of six over the full season), all the voiceover actors, and I get some promotional help through Channel Frederator. I'm mostly a writer and producer with Damaged. I've had to learn how to express my ideas and needs and be a boss.
How were you able to land so many notable comedians lending their vocal talents on a DIY budget?
I don't know! I feel super fortunate. Honestly, they are all my friends. I've been doing stand-up 12 years so they are either people I started with and close to, or guys I've worked with over the years and become friends with. Everyone did it for free, but I worked with people's schedules and often did, like, "voiceover house calls" bringing my computer and mic to people's shows, apartments and hotels. I tried to not to inconvenience people, and the recordings were quick since the episodes are only two minutes long. I feel very fortunate that so many people took the time to be a part of this.
What was your reaction to the overwhelming response of the Kickstarter campaign?
Honestly, it restored my faith a little bit in myself and my career. Like I said, I've been doing stand-up 12 years. I make my living doing it, but it's hard. Every month I narrowly pay my bills, and it's a lot of putting yourself out there and being rejected. It's been a lot of nearly getting big opportunities and then not, and it takes a toll on your ego and your self-esteem, and I decided to do something creative just for me.
It was an idea I liked and cared about for some time, and I just wanted to work on something no one could take away from me. I was scared to do the Kickstarter because I wasn't sure how big my fanbase was, and I think everyone is struggling with money. So when I made my funding goal in five days and doubled it by the end of the 30-day funding period, I felt like I was doing the right thing and I was on the right path for the first time in a long time. I feel very fortunate that the friends, family and fans I do have showed up with great support and encouragement. It was a really important experience for me.
What are the greatest hurdles or surprises you've experienced in Damaged's year of existence?
I've learned so much, it's hard to sum up. First, I've heard that if you do the work people will show up and support. I think the Kickstarter funding showed that, but it has been especially shown with all the help I've received with voiceover and promoting over the last year. I'm surprised how many adults enjoy my kids' show and how invested people get into my very short-length series. I also have much younger fans than expected. I think in general I was pleasantly surprised how many people really enjoyed my characters and cared for them. It's a really cool feeling.
Hurdles have been many. My budget was small and my original animators were students when I first started this. It was something they did in their free time, but as they graduated and got real work they no longer could work on Damaged, and I bounced around from new animator to new animator because it was a lot of work for little money. I met a lot of great animators because of this, but my cartoon's style is inconsistent from episode five on. I learned a lot about being a boss, which I've never been. I've barely been an employee, to be honest. Until I did stand-up full time I was a waitress, temp and babysitter. So then to be in charge of a small staff (not all in New York, and done via email and Skype) where I coordinate meetings, give deadlines, assert myself and let people know what needs to be different was all really new and difficult.
Can you provide any hints about where the plot might head in the future?
The first season is kind of the pilot. It lets the viewer know who Emily is and what her drive is while also explaining her world. So future episodes will follow her as she tries to find her original father/designer, grow as a robot and fight crime with her newly discovered gift, as well as get to know her brother TJ and friends Kyle, Sam and Gus better.
What are your long-term goals for the series?
I'm currently putting together the show bible and editing together a reel to use to pitch the show. I'm a huge Cartoon Network fan. I love how weird their shows are and the freedom they allow. I'd love sell my show and see if I could get it on TV, but regardless of what happens I plan to develop it and keep working on it.
You first performed at age 16, and have since appeared on Comedy Central as well as in the New Yorker and New York Times. Where does Damaged fit into your career plans as a whole?
Honestly, I started writing Damaged three years ago as an alternative outlet to stand-up. I felt stuck and wanted to develop my writing and loved animation. As I've written more scripts and submitted a lot of writers packets over the years, I've really started pushing more towards a writing career. I love stand-up; it's how I pay my bills and it makes me happy and I always want to do it, but more than ever I see myself as a writer first and love creating shows and characters, and want to keep creating and hopefully sell some of my shows. I hope Damaged is the first of many.
REAL LIFE. REAL NEWS. REAL VOICES.
Help us tell more of the stories that matter from voices that too often remain unheard.