Peanuts, arguably the most popular and influential comic strip of all time, continues to flourish -- especially during the holidays. From Halloween through Christmas, Peanuts TV specials pepper the airwaves and are watched endlessly on DVD. The music of Vince Guaraldi is a constant on the radio. Peanuts-related merchandise like calendars, t-shirts, mugs and toys fill the stores. And of course classic editions of the strip continue to appear in newspapers worldwide. So it's only fitting that the late Charles Schulz would have celebrated his 87th birthday on Thanksgiving Day.
The best way to celebrate Schulz and his work is the ongoing series being published by Fantagraphics. The latest volume -- The Complete Peanuts, 1973-1974 ($28.99; Fantagraphics) -- is a lovingly produced volume that includes every strip from those two years in a handsome hardcover book designed by Seth.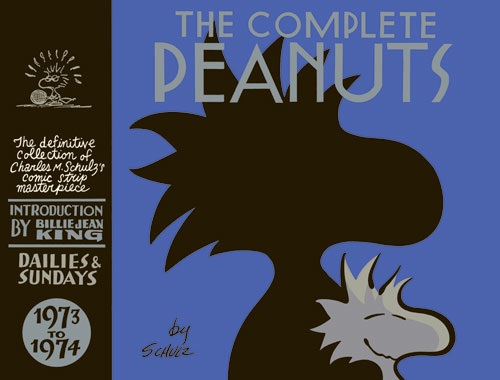 Like earlier editions, it's a thrill to read the strip chronologically and in one fell swoop. You get a far better sense of Schulz's creative zig-zagging as he suddenly and unexpectedly finds himself at the tip of a pop culture juggernaut. At this stage in the Seventies, Peanuts has become a phenomenon and will soon turn into an institution, with all the resting on laurels that implies. It's a bit of a shock to realize Schulz isn't even halfway through his run, which went from 1950 to early 2000, a remarkable 49 years in all. Yes, after 23 years, Schulz had made every artistic breakthrough that was in him and the rest was consolidation and the relaxation that comes with success. But the Seventies are the salad days, with the soft decline of the 80s and 90s (inevitable and not without their rewards) still ahead.
Schulz still has some bite, such as the brilliant story arc in which Charlie Brown wears a sack over his head to summer camp because he's got an embarrassing discoloration on his head. To his astonishment, Charlie Brown discovers that when no one knows his identity he is suddenly popular. Sports of course remain a constant, with football and baseball and ice skating all mined for laughs. But tennis -- which boomed in popularity in the Seventies thanks to Jimmy Connors, John McEnroe, Chris Evert and many more -- seems the defining sport of this period.
As always, Fantagraphics pairs each volume with a celebrity introduction and in this case it's perfect: Schulz's long-time friend and tennis legend Billie Jean King. (Her birthday, by the way, is on November 22, just four days before Schulz.)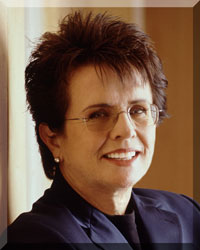 King won a remarkable 39 Grand Slam titles, including 12 singles titles and has been an ardent supporter of women's rights both in sports and society at large. So it's touching to read that while she was traveling the globe King found comfort in discovering Peanuts in the local newspapers and a special thrill when Sparky -- as Schulz was known to his friends and loved ones -- mentioned her by name. She writes:
From time to time, Sparky included me in Peanuts. A particular favorite of mine had Peppermint Patty telling Marcie, "Has anyone ever told you that when you're mad, you look just like Billie Jean King?" Trust me: my friends had a heyday with that one.

Sparky referenced me several times in Peanuts and it was his way of letting me know that we needed to talk or just catch up with one another. He rarely phoned me, but when he wanted to check in, he dropped a reference in Peanuts because we both knew I would read it every day I could. So I would call him and we would talk and then -- you know what? -- life was better.
They originally bonded over their mutual support of Title IX, the groundbreaking law that has changed the face of our society. But that was just the start of the friendship between King and Sparky.
While it may have been our mutual support of Title IX and our shared enjoyment of tennis that initially brought us together, it was a common love for life that kept us close through the years. Sparky taught me to be truthful and through his comic strip he shared his real life experiences with each of us on a daily basis.

Sparky was Charlie Brown. He was not a real talkative man, but was definitely a very deep thinker. It was when he put a pen in his hand and went to work on a Peanuts comic strip he became insightful and poetic, and truly exposed himself to the world.
In their work together and the careers they forged, both Schulz and King made an impact on society that still reverberates today. Billie Jean King's work is ongoing. Schulz's legacy is Peanuts and it's being presented beautifully in the ongoing series by Fantagraphics. And their impact on each other is captured nicely in King's warm words. It's a fitting tribute to a fellow legend.
Calling all HuffPost superfans!
Sign up for membership to become a founding member and help shape HuffPost's next chapter