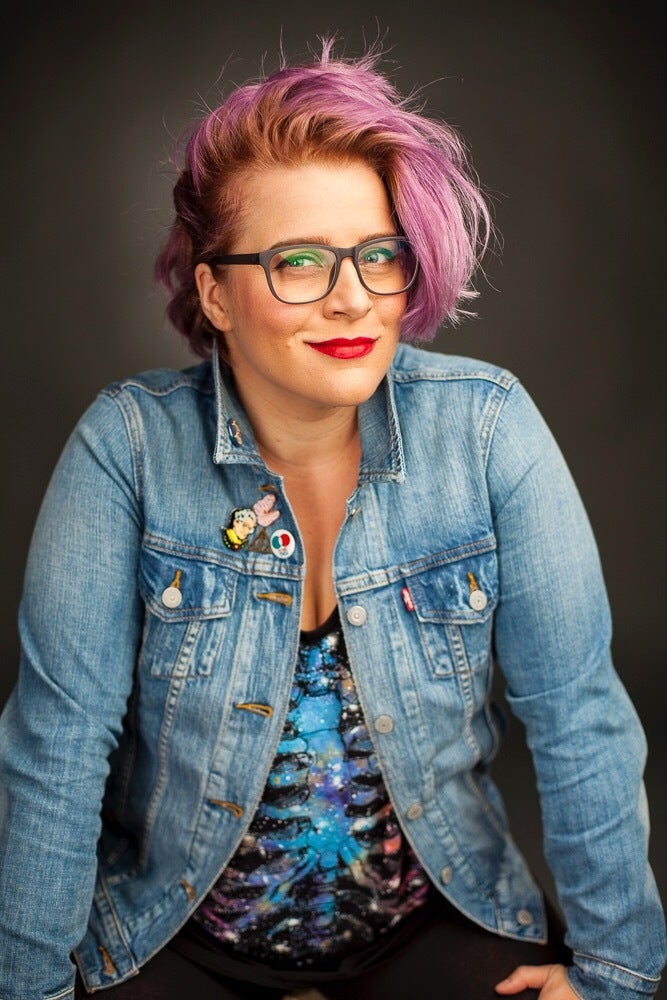 It's been a minute but I'm back with another edition of Comic to Comic, this time with podcaster, writer, and stand-up comedian extraordinaire, the hilarious Brandie Posey!
Brandie is one of those comedians that I have a ton of mutual friends with, but that I'd never actually crossed paths with. I decided to listen to her debut album "Opinion Cave" and was immediately intrigued. She's an excellent storyteller who layers silly with social commentary with such moxie that by the time the album's over, you're kinda bummed.
Johnny Taylor: You're originally from Maryland, how's the comedy scene out there?
Brandie Posey: I started doing stand-up in LA, so that's my comedy home, but I've been lucky to do a few shows whenever I'm in MD for holidays, and they've always been a blast. Maryland has 2 major scenes, Baltimore & Washington DC, and they're really different. The shows I've done in Baltimore have been really diverse & experimental - I remember a show I did a few years ago at a punk dive bar & there were some amazing comics talking about growing up in the projects & their jokes were so honest & funny & it was so great to see that point of view, I hadn't seen anything like that in Los Angeles. In Washington DC the comics I've seen there have been more polished & goofy - when everyone in the audience is a Senator's assistant, you can't be seen laughing at anything too edgy or your boss might not get reelected, ha. I haven't done a ton of shows in either city, but that's been my experience so far.
JT: You released your debut album "Opinion Cave" this year. What was the process like? You self-produced and self-distributed it right?
BP: So my mom passed away in February 2014 and I had some jokes about the grief process I wanted to record before they lost their emotional resonance - I didn't want to be trotting those jokes out forever, that would feel dishonest. I went on my first headlining tour shortly after my mom died because I am a workaholic, and I discovered pretty quickly that I had an hour ready to go. After running it all summer on tour & fine tuning the order, I got back into town & started working on my plan for the recording & releasing... I think it all came out of needing to have a project to pour myself into. After doing this first one, I don't think the rest will be as personal, but it really all came together at the right time for my sanity. I had thought a bit about labels, but only got lukewarm responses, and decided I wanted to do it all myself to learn the whole process... workaholic, like I said. I'm really glad I went the DIY route too, because I have a popular podcast, and those are loyal fans that supported me more than fans of a comedy label would... comedy labels don't really have the kind of following that music labels do. The pros of working with a comedy label are they handle all the costs up front for you - but honestly, after crunching the numbers, it wasn't so much that I couldn't do it myself & then make the money back, which I did on the first week of the digital release. A comedy album is pretty cheap to record - you need someone who knows what they're doing, and then you edit & someone to mix it down for you. I have a lot of ties to the music world, so knew plenty of engineers. Shout out to David Irish of Pot O' Gold Recording for doing mine! Then I released through CD Baby as my distributor, and can see on the back end how many copies I sell, tracks are streamed, etc. I called in favors to guest on podcasts to promote it, drummed up some press with a press release to anyone I've ever worked with in the media. I also reached out to big headliners I've worked with and got some great quotes about the album to send along to press. I don't know if a label would have worked that hard for me, or if it's stuff I would still be doing myself... I kind of feel like that's what it would be. The hard work paid off - Opinion Cave debuted at #1 on iTunes & #12 on the Billboard charts when it dropped... which also happened to be the 2 year anniversary of my mom's passing.
JT: Let's talk about your podcast (with fellow comedians Barbara Gray and Tess Barker) "Lady to Lady". Did you think it would take off like it did?
BP: I had hoped that it would, and thankfully Lady to Lady has really exceeded so many of my wildest expectations - to get to do anything with your best friends & have it hit is a total dream. Lady to Lady is the 3 of us with a 4th guest who is usually a female comic & we riff & goof off & play sleepover games & get real. We've had over 2 million downloads in just under 200 episodes & we've done some festivals around the country & toured together too. We are all really different & bring something different to the table - I'm the salty East Coaster, Babs is the secret deviant theatre kid from Salt Lake City & Tess is the quintessential SoCal surfer girl - but our sense of humor is similar & we really get each other going. Guys love our show too I should say too! We get dudes writing to us all the time saying how much they love hearing a bunch of women just going for it. We've had some awesome guests too, like Margaret Cho, Aisha Tyler, Katya from Drag Race & French Stewart... Babs had a crush on him in High School & we got him on the show to tell him on air & it's an amaaaaazing episode. We're actually going to have him back on for our 200th episode which we're recording live from a Sizzler. Fingers crossed we get French Stewart kicked out of a Sizzler! It's all I ever wanted, really.
JT: Are you working the road at all these days or do you have plans to?
BP: Oh yeah, I'm always planning my next tour. I did a 6 week tour this summer & hit 28 cities all over the country. I'm doing a bunch of East Coast dates in October, and will be in Chicago in November. I probably spend about 4-5 months of the year out on tour I think. I also do a lot of festivals as a stand-up & also hosting my animation-comedy show Picture This, which is comedians paired up with artists who draw your jokes behind you during your set & throw you off your game - it's a blast & we get really talented artists to do it too. You can find all my dates at brandieposey.com!
JT: Who are some of your faves? Doesn't have to be stand-ups necessarily.
BP: Stand up faves are Paul F. Tompkins, Jimmy Pardo, Eddie Pepitone, Karen Kilgariff, Megan Koester, Eric Dadourian. I also love ska music, Jeff Goldblum & obscure facts about presidents (Ulysses S Grant never showered in front of the other soldiers at West Point & everyone thought he was the smelly guy). Also dinosaurs, but before they were so mainstream, man. And Brendan Fraser... he was me & my friends' safe word in college when we wanted to leave a party, we would start talking about Brendan Fraser & it was time to circle the wagons & GTFO.
JT: What do you do when you're not doing stand-up or podcasting?
BP: I love planning quasi-themed movie nights with a crew of friends - I just finished watching The Fast & The Furious movie series for the first time, we did one every week for 7 weeks & treated it like a TV show and it's the most fun I've had in a while. I used to go to so much live music, and still do but it takes a little more to get me out of the house now. I wish I could say I was finally "learning guitar" but that's never going to actually happen. I have a dog that I love a lot too, so I stare at him trying to figure out how he's real a lot of the time & write little songs that only he gets to hear (sorry). Ugh, I'm going to say hiking too, aren't I? Yeah, I like hiking :-(
BP: I've got some cool stuff coming down the pipeline potentially... so taking a lot of yoga to get better at crossing all of my fingers, toes & various limbs.
Follow Brandie on Twitter by clicking here.
Calling all HuffPost superfans!
Sign up for membership to become a founding member and help shape HuffPost's next chapter
This post was published on the now-closed HuffPost Contributor platform. Contributors control their own work and posted freely to our site. If you need to flag this entry as abusive,
send us an email
.