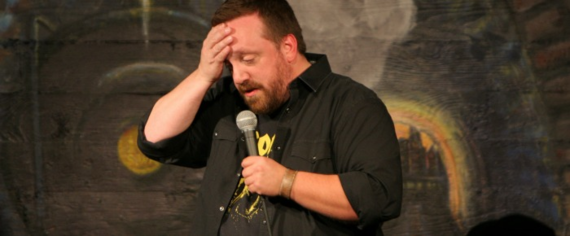 Hey there Huffington Post readers, I'm back with a new column where I chat with fellow comedians that are rising nationally about comedy, life, and whatever they have going on at the moment. I hope to make it a regular thing but don't hold your breath. I'm very flaky.
Derek Sheen is my friend and label-mate, but he's one of the funniest comedians in the country that you might not have heard about. That seems poised to change with the album and video-on-demand release of "Tiny Idiot" on Stand Up! Records. I was able to sit down with Derek and talk shop for a minute.
Johnny Taylor: You've just released Tiny Idiot, which if I'm not mistaken is your second album, but your first one with Stand Up! Records. Tell me a little bit about how that partnership came about.
Derek Sheen: I met Dan Schlissel in Seattle, two years ago, while he was recording Alysia Wood's album. She's a good friend and she brought me out to the club to introduce us. She was well aware that I was in the middle of shopping a new album and was having some trouble with my label, as they went through a huge transition. Surprisingly, Dan knew all about "Holy Drivel" (Sheen's first release) and really loved the cover. We sat in the greenroom for most of that night, just talking about bands and music and eventually started talking about the future. I identified with him right away and felt a real kinship. I felt like he got me and I immediately pitched him the album. The title was originally "Idiot", but thanks to my friend Bryan Cook, it changed to "Tiny Idiot" when he jokingly called me that in an Albuquerque paper and it became the HEADLINE.
JT: Personally I love the album, and think it captures your live performance really well. How's the feedback been?
DS: I'll be honest, I was VERY worried about the reception: my voice is a little different, my writing is a darker and the tone was definitely different from my first album. So far, it's been nothing but positive, which thrills me and I'm keeping my fingers crossed that it has some staying power. That people can still enjoy multiple listens as it ages.
JT: I perform in your hometown of Seattle a couple of times a year and that scene is always so good to me when I visit. How is it to be a local?
DS: I have a love-hate relationship with Seattle. I absolutely love the determination of the newer comics to keep performing CPR on this city's arts scene: it's not dying, but it's breathing is labored. I'm watching comedians/musicians/drag performers/actors practically WILL it back to life, despite the best efforts of the local alt-weeklies to completely ignore it. I really hate that live comedy and open mics have been mistaken for the same thing and that lazy writers continue to associate the art of standup with what happens during auditions. It's like writing off the music scene because someone butchered a song at karaoke.
JT: Any plans to make the move to LA anytime soon?
DS: I WILL be moving to Los Angeles for the entire month of July, but I have no plans to move permanently. I have my wife and my family here and I'm kinda determined to succeed on my own terms and leave ONLY when it's finally necessary (note to any industry reading this: PLEASE! MAKE IT NECESSARY SOON!! IT GETS DARK HERE AND THERE ARE OWLS!).
JT: You're on the road a lot regardless, but I imagine you'll tour in support of the special?
DS: I've been doing it on and off and just got home from, basically, four straight months of touring. I'll definitely be out there more and now I'm starting to buckle down and start working on the next thing, which means non-stop travel until I figure out what that's going to be? Oh, we just recorded the 3rd album and are starting to talk about that, as well. Pretty excited about getting as much stuff out there before my 47th birthday.
JT: Who are some of your guys and gals as far as comedy goes? Doesn't have to be stand-ups necessarily.
DS: All I have left are comedian friends. But I have some of the best! The funniest people I know and kinda my best friends are Bryan Cook and Heather Thomson. The.Best. Brian Posehn is a good friend and mentor and has made me laugh so hard it almost killed me. I love watching Keith Lowell Jensen, one of the smartest/funniest writers and man can he NAIL a point. So good. You too, Johnny Taylor! Kate Willet, Natalie Jose, Curtis Cook (out of Portland. Go look him up!), Amy Miller, Andy Miller, Mike Drucker, Phoebe Robinson. Oh, I absolutely love Nariko Ott (also from Portland) too! These are all people I would push my own mother in front of a train to go watch. And I LOVE my mom.

JT: What's next?
DS: I'm just starting work on the 3rd album and Dan Schlissel and I have just begun talking about cover art and packaging. "Tiny Idiot" is getting a limited vinyl release, so we're starting to put that together as well as somehow trying to get my dumb face on TV this year. I'm just trying to keep doing this for as long as people will allow me and I'm still learning something new every day. Comedy is the best.
Calling all HuffPost superfans!
Sign up for membership to become a founding member and help shape HuffPost's next chapter