July 8 was the day Comic-Con International 2015 descends upon America's Finest City, San Diego. This four-day extravaganza brings in droves of comic fans, celebrities, and super-hero costumes. Restaurants and bars in the surrounding downtown neighborhood have gotten into the spirit by creating specialty menus and more importantly, cocktails! Here are a few fun libations visitors and comic-enthusiasts can expect this year.
The Blind Burro, in downtown's East Village, has created a special menu to celebrate Comic-Con 2015. One of its notable Comic-Con themed cocktails is this sugar-tastic looking Pop Bam Slam Mule ($12), a tequila mule topped with blackberry liqueur and an exploding pop rock garnish.
The historic luxury downtown property, THE US GRANT Hotel, is the original location of the first ever Comic-Con, which was held in 1970. During Comic-Con 2015, guests can find the festive Bitter Yoda ($12)--a twist on the classic Melonball, it's made with Remy V. Midori, Amere Sauvage, fresh pineapple, key lime, and garnished with sanding sugar, cascade hops and honeydew, located inside the hotel's Grant Grill.
Located just steps from the Convention Center, Manchester Grand Hyatt is getting into the Comic-Con fun, by adding three specialty drinks to their menus. The Sharknado is a spin on an Adios cocktail with a gummy shark, The White Walker is made with Van Vodka, White Creme de Menthe and a drop of Blue Curacao, and the Captain America is a blue spin on a Miami Vice cocktail with Blue Curacao. Each cocktail is priced at $12, and can be ordered at each dining outlet on property.
In the East Village neighborhood of San Diego's downtown, is new Italian eatery, Bottega Americano. Known for its chic ambiance, and fine-quality foods, even they've gotten into the spirit by adding these two libations ($10 each) to their menu:
The Ecto-Coolera; a powerful blend of pressed tangerine, 44 North Nectarine Vodka and white rum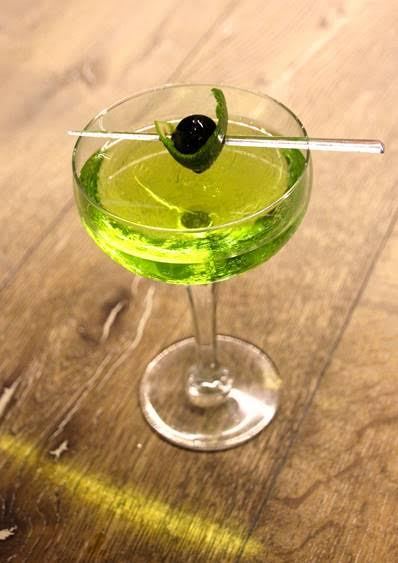 The Girl on Fire; a fiery concoction boasting Campari, dry vermouth, prosecco and soda top
RoofTop600, the rooftop lounge at the luxurious Andaz San Diego, will offer beverages inspired by the famous gaming and science fiction world. The Treky-themed James Tea Kirk includes sweet tea, vodka and lemonade. The C3PO is a nod to Star Wars, and is made with Cointreau triple sec, tequila and orange juice. For the traditional drinker, there's the Iron Manhattan. Cocktails are available at $15 a pop.