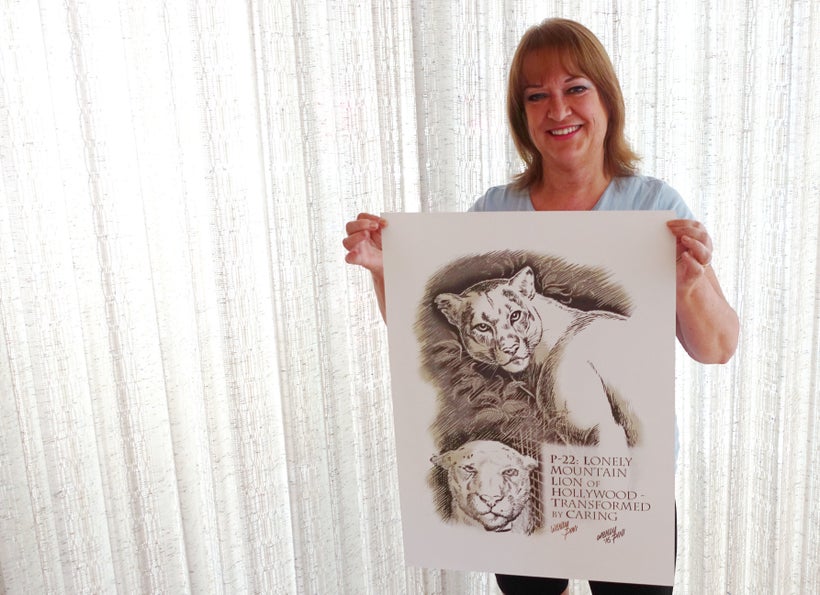 Legendary comics artist Wendy Pini has created an exclusive art print to support the National Wildlife Federation's #SaveLACougars campaign. The print features P-22, the lonely mountain lion of Hollywood and the face of the campaign, which aims to build the largest wildlife crossing in the world over the busy 101 Freeway outside of Los Angeles in P-22's honor so his mountain lion kin — who might vanish from the area because of habitat fragmentation caused by the freeway and development – can have a future in the Santa Monica Mountains. The crossing will also benefit countless other wildlife species struggling to survive in the greater Los Angeles ecosystem.
Wendy Pini and her husband Richard Pini are the creators of the ground-breaking, New York Times bestselling comic series ElfQuest and longtime supporters of wildlife conservation. Sales of her print go directly to support the #SaveLACougars campaign and the National Wildlife Federation's wildlife conservation work.
P-22 faces enormous challenges. Isolated from his kin in the Santa Monica Mountains by the urban landscape of Los Angeles, he has survived by traversing dangerous highways and learning to coexist with his human neighbors near Griffith Park. Yet despite his remarkable journey, and his ability to adapt to a landscape dominated by humans, he still faces threats. He was recently sickened by rat poison and suffered from a bad case of mange. Fortunately, he was saved by biologists who trapped and treated him, restoring him from near death back to health.
Pini's print represents the spirit of hope symbolized by P-22's recovery with the help of human intervention. Through her beautiful, sepia-toned illustration of P-22, she captures the message that mountain lions, and indeed all wildlife, can only have a strong future if humans care enough to protect them and their habitat.
Today, P-22 is healthy and thriving – but could easily be poisoned again, sickened by mange or hit by a car while searching for food or a mate. It's up to us to continue caring and supporting efforts to protect and coexist with wildlife like P-22.
A limited number of signed prints of Pini's illustration are available exclusively through the Save LA Cougars shop. All proceeds from the sale of the prints support the #SaveLACougars campaign to make sure that P-22 and the mountain lions of the Santa Monica Mountains have a strong future.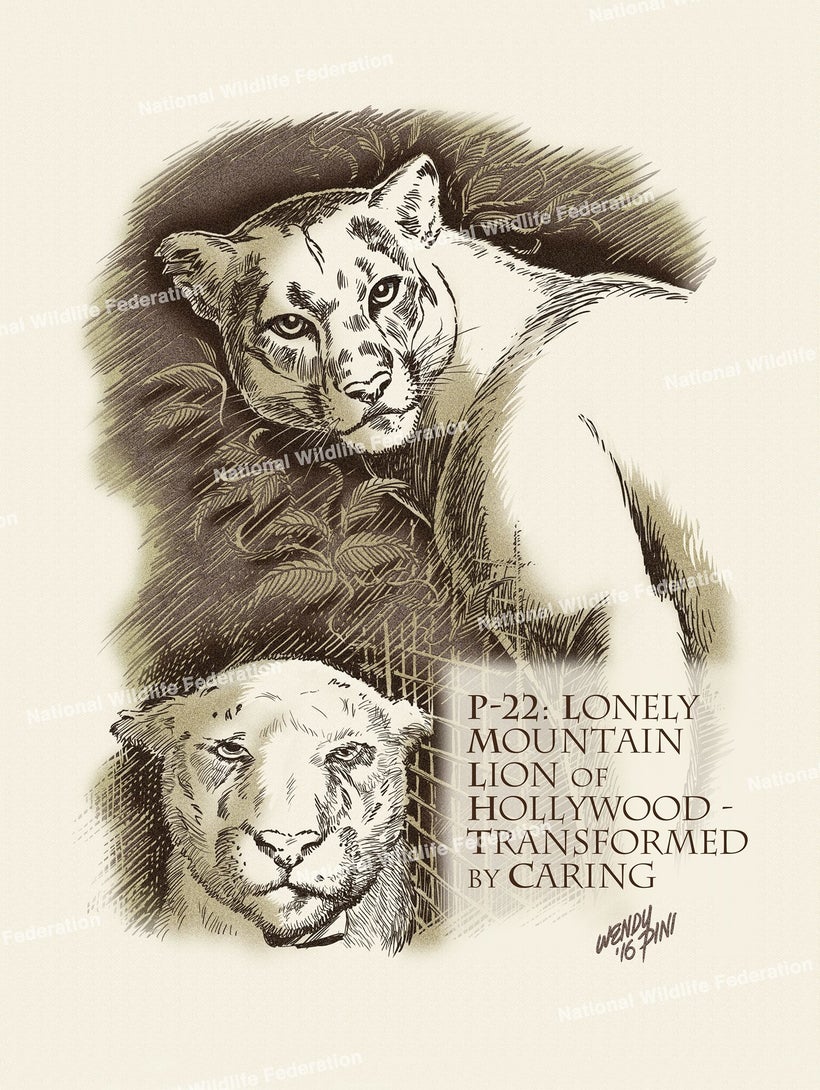 Calling all HuffPost superfans!
Sign up for membership to become a founding member and help shape HuffPost's next chapter
This post was published on the now-closed HuffPost Contributor platform. Contributors control their own work and posted freely to our site. If you need to flag this entry as abusive,
send us an email
.