NATO?! Whatever. The big news of the weekend was the three-day conference at the University of Chicago's new Logan Arts Center, "Comics: Philosophy and Practice." From Friday evening, May 18, to Sunday mid-day, May 20th, some of the greatest comics artists and graphic novelists took the stage at the impressive Gray Center For Arts and Inquiry inside the Logan Art Center.
Organized from the collaborative fellowship between cartoonist Alison Bechdel and Neubauer Family Assistant Professor of English and accomplished author Hillary Chute, Ms. Chute did an amazing job of bringing together 17 of some the biggest names and influences in cartooning.
Art Spiegelman, sometimes referred to as the Grandfather of the Graphic Novel -- although this is a term he does not enjoy -- kicked off the conference, giving a historical perspective by talking about how Mad Magazine established a baseline for self-consciousness, neo-sincerity and visual subtext, allowing the reader to question the visual information of the era. He discussed the "chicken fat" of good comics, which gives the reader so much to look at and discover that the comics can be read again and again for new sustenance, and the conundrum for this art form, once fueled by its marginality, now becoming main stream. Got all that? It was just the beginning.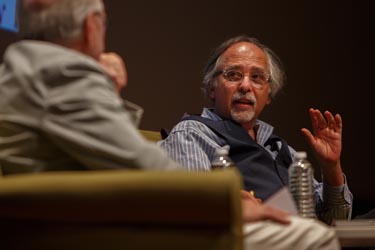 Art Spiegelman, photo credit: Jason Smith/Gray Center for Arts and Inquiry
Saturday featured conversations with Joe Sacco and W.J.T. Mitchell, Alison Bechdel and Hillary Chute, as well as Aline Kominsky Crumb and Kristen Schilt. Panels included Phoebe Gloeckner, Justin Green, Aline Kominsky Crumb and Carol Tyler on "Comics and Autobiography," Seth, Chris Ware, Dan Clowes and Charles Burns on "Graphic Novel Forms Today," and Francoise Mouly, art editor of The New Yorker spoke with Chris Ware, Dan Clowes and Robert Crumb on "Blown Covers," referring to covers that didn't make it to print in the aforementioned magazine.
Don't think you've had enough comic star power? Hold on. There's more. On Sunday, the ever-fun Lynda Barry took the stage with Robert Crumb, Gary Panter and Ivan Brunetti to discuss "Lines on Paper" and Ben Katchor finished the conference by speaking on "Halftone Printing in the Yiddish Press."
While the insightful and candid points of each panel are too numerous to mention here, there is one point that sticks out, in addition to Chris Ware's great statement that, "books are like people. They have a spine and are bigger on the inside than on the outside." It is that, through writing and drawing, these artists found a way to process their earlier years of being lonely misfits, geeks and nerds, and thus discovered entire new worlds into which they could enter. They continue this way of digesting the world today, with often alarming self-deprecation.
As a case in point, Chris Ware will be coming out with a new graphic novel entitled, Building Stories, in which he has several books stacked into a box like floors in a building, and Seth has literally created miniature, detailed cut-out worlds in his basement. Specifically from Lynda Barry, but from the conference as a whole, there was a strong sense of encouragement for those who want to find their way in comics, or even just those who want to re-connect with drawing since the days of childhood. Ivan Brunetti spoke about how even simple elements like circles and triangles can form enough of a human form to tell a compelling story. While the conference lasted less than two days in total, there was enough fodder here to continue for a week.
For full bios of all the participants, click here, and a reposting of the conversations and panels will appear on the University of Chicago Facebook page within a month. In the interim, enjoy the intimate conversation with Chris Ware, known for raising the bar of the graphic novel to incredible heights, from his home library and studio. The interview above for Fear No ART gives a look into the artist's mind, approach and perspective.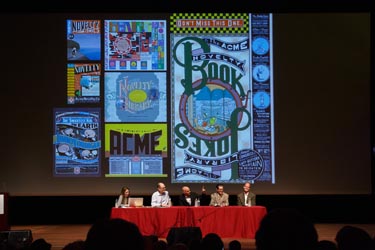 Left to right: Hillary Chute, Charles Burns, Dan Clowes, Seth, Chris Ware. photo credit: Jason Smith/Gray Center for Arts and Inquiry
Related
Popular in the Community