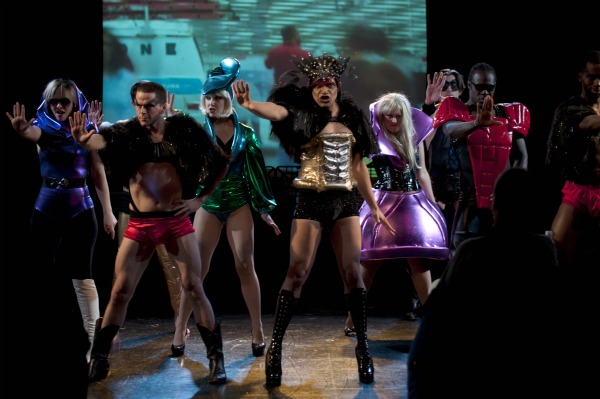 If you're unbendingly religious to the point you refuse evolution as a concept, this is not the play for you. If you have no sense of humor or can't handle religious humor, this is not the play for you. If you're against gay culture and homosexuality, this is not the play for you. But for the rest of the world, you finally have a hot new musical that will blow you away and have you Coming back for more.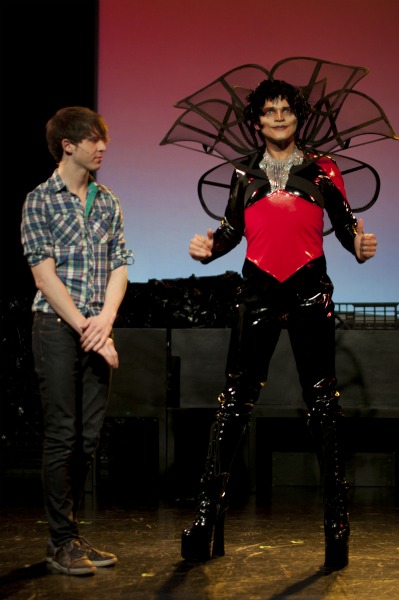 In a recession-era New York City it becomes difficult to justify spending money on a musical, and Broadway is certainly feeling the sting. Amazing, edgy plays like Avenue Q, Urinetown and the ubiquitous Rent have left the Great White Way, and the void is aching to be filled by the next big smack-in-your-face thing. Coming: A Rock Musical of Biblical Proportions is that bitch slap that will shock you and leave its impression after you leave.
A mash-up of Velvet Goldmine, Hedwig and the Angry Inch, Labyrinth, The God Delusion and The Holy Bible; Coming shows us how religion impacts love, sexuality, drive and fame. The lead character, Damian Salt, played by the playwright Erik Ransom, is the direct descendant of the King and Queen of Sodom & Gomorrah. A blending of Lady Gaga, Adam Lambert and Marilyn Manson, Damian is sin incarnate and, of course, an obsessed-over rock star living in NYC. And, since you can't have the Devil without God, in steps Josh Crenshaw -- a pious singer/songwriter from Bethlehem, PA who wants to spread his message of love and faith on American Icon.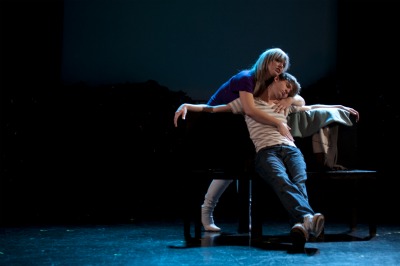 While Damian sees his star waning, Josh wins over the American Icon judges as well as the American public and finds himself under fame's microscope. With so much anger, hurt and sadness in the world, Josh appears to be the shining light that the public desperately craves. When Josh's personal life is called into question, he loses everything: American Icon, his love, his fans and his faith. Like a chapter ripped directly from The Bible, the Devil tempts Jesus, as Damian brings Josh under his wing. As Damian and Josh learn from each other, they both find that neither needs the absentee "Father" that had influenced so much of their life. Where Damian once considered no one but himself, he now finds love and beauty in others while Josh realizes having blind faith is ignorant and begins asking questions. Both are willing to sacrifice for love, and while neither abandons their original message, a compromise is made that satisfies the entire world.
Like any great play, there is tragedy and strife, comedy and love -- you will feel your face ache from laughing and your eyes water from tears. Between Coming's timely material, apocalyptic visions (birds falling from the sky anyone?), and edgy subject, New York City is the perfect venue for this next big thing. If you'd like to help invest, produce or just help out and be a part of Coming, please contact Erik Ransom at libertineidol@gmail.com.
All photographs by Clayton A. Sweeney, Jr./Sally Gardens, LP.
www.sallygardens.info/intersections

Popular in the Community