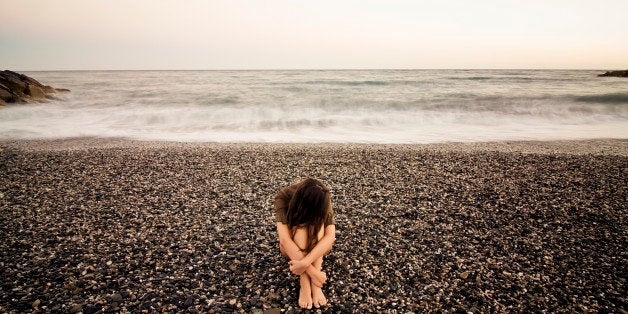 I'm terrified of deep water. I've been scared of it since I was a little kid. I imagined a lot of icky stuff lurking below, deciding whether to just nibble my toes first or swallow me whole. Even the damn seaweed scared the bejeezus out of me. I always kept my feet near the surface, thinking it lessened my chances of being attacked. Still, when I get into water, any body of water will do, the panic is still there; sometimes it's just a fluttering under my skin like a moth bumping into a lampshade while other times it hits with the force of a flock of birds ascending into flight. All that deep unknown is about as terrifying as anything I can think off.
My husband, however, is the opposite. I'm convinced he was a fish in his former life. When we were dating, I always stayed happily in the boat while he waterskied and kept my ten toes in the shallow end of the pool. However, when we got married and went on our honeymoon, he made me do something that I didn't want to do. He wanted to go snorkeling. He had heard about a great catamaran trip to a nearby island and I agreed, not realizing what I had gotten myself into. (I'm born and raised a midwesterner -- snorkeling was about as foreign as walking on the moon.)
If it's possible to die by hyperventilation, then I almost managed it. The water was about 15 feet deep where our boat was anchored and it was as crystal blue as anything I had ever seen. It looked beautiful from the boat and I felt better about snorkeling. It just looked like a giant pool. As I slipped into the water, I realized I could see EVERYTHING. As soon as my snorkel mask hit the water, I was in total freak out mode. I did more damage to my husband's arm with my acrylic french tips than any sharp-toothed fish around. I even mastered the underwater scream. I got through it, barely, and I can tell you I was the first one back in the boat.
Contrary to what you might believe, I continue to snorkel on our vacations. If I stayed in the boat while everyone else got in the water, then I knew I would feel like a quitter. But let me tell you, it takes everything in my tank of courage -- tequila helps -- to put on those damn flippers and slide into the water. But I've learned that once I'm in and focus on getting my breathing under control, the whole experience is amazing: the shimmering refraction of light, all the colors and varieties of fish, the joyful weightlessness of my body, hearing my own breath like I'm the only person on earth, and even the joy of experiencing it with the people around me. It has been a very powerful thing for me to overcome. I partake in spite of my fear.
But recently, I let that fear and panic creep in again but in a different capacity. Life had gotten deep and I had forgotten how to handle the unknown along with the fear that went with it.
You see, I became a mother 15 years ago and after working in a job that I didn't like, at all, I was able to quit so I could stay home and take care of my two children, ages four and one at the time. My new role was to make sure my kids landed in their beds with heavy doses of happy, healthy, safe and cozy. I guess, along the way, I forgot to do the same for myself.
After my third and last child was born, I struggled with my sense of identity (I know, same old Mom story) and worried that I was beginning to lose myself in the martyrdom of motherhood. This is when I discovered my passion for writing. I had always been an avid reader but suddenly I felt an overwhelming urge to put pen to paper. I started writing fiction but didn't tell anyone what I was doing. I quickly became obsessed with all things writing; I read all the "how-to" articles I could, started a blog, and joined Twitter to connect with other writers. I had found what made me feel like me again and it was fantastic.
My writing ebbed and flowed and when my youngest started full-day kindergarten, I started a freelance writing career. I got my first break in a local parenting magazine and was soon writing for three local magazines on a monthly basis. I felt an upsurge of confidence that I had never felt before as it was so different than caring for my children and I knew deep down that I was supposed to be doing this. But as my writing assignments flowed one into another with barely a chance to catch my breath, the stress of trying to balance writing with managing my household became too much. It was like one wave after another crashing over me. I couldn't catch my breath so I panicked. I backed away from the freelance work as well as my blog as I tried to find my shore. I had said "No, thank you" to the assignments that didn't interest me but before I knew it, I had no assignments at all.
I had just entered my forties and, emotionally, I started to feel like I was in a riptide, like my life was carrying me along against my wishes and I had no way out. I didn't know how to stop the overwhelming feelings of being lost and unfulfilled. What was my life all about anyway? Whatever was happening to me, I knew it couldn't continue.
As the days flew and the months whizzed by, my writing life looked like it was floating away. I started to question if I even wanted to write anymore. Had it all been just a passing fancy? I was terrified that I had been fooling myself, that I wasn't really a writer after all. Because who walks away from the one thing that was supposed to be my passion?
The fear of living the second half of my life with no direction and no compass scared the hell out of me. My eyes scanned the horizon as I tread water day after day, desperately searching for something to rescue me. I had never prayed more in my life.
It turns out it wasn't something but a someone. I firmly believe things, and people, come into our lives for a reason, whether by divine intervention or through recognizing opportunity when it comes along. Whatever it was, I'm forever grateful because I found Katie Den Ouden. She was like a beacon of light shining in my sea of darkness.
I found out about out Katie's 21-day Skinny Dip Society Challenge through a mutual friend and I signed up, not realizing it was a lifeline. I loved each day's challenges, like buying myself flowers and eating like a queen, and soon I found myself slightly obsessed with all things Katie. She came into my life at the exact moment I needed her and I didn't want to say goodbye to her after our short time together. Lucky for me, I didn't have to. Katie's 12-week Skinny Dip Society Immersion program was starting up soon and the 21-day challenge was just a taste of what her program was all about.
But that fricking fear started in again. I stood on the shore, worrying about the program, if it was going to be too deep, too cold, or just too terrifying. I mean, what was down there in all that deep inside me? Did I really want to know what was possible for me? Did I really want to test my strength? What if I couldn't keep up or worse yet, what if I failed and sunk further?
It was a moment that I will never forget. The one where I realized when that I had had enough of standing on the shore, watching everyone else frolic and play. That's when I realized that I needed to save myself. Katie taught me how to swim again, not just tread water, but swim where I wanted to go.
Out there in the "water" with 60 other women, I found out who I was again. Or better yet, who I wanted to be. I wanted to be brave, adventurous, fulfilled, mindful, inspiring, joyful, and magnetic. I wanted to be to others what Katie was to me. I wanted to live with contagious joy and a passionate soul. I now live for those moments that challenge me, that test my strength, and give my heart a little flutter. I've learned to live by desire and my own design, not by default.
Still, there are days when the waves feel bigger and the tide stronger than the one before. But now, instead of fighting against it or letting it pull me under, I float and rejoice in the fierceness of it. When I act in spite of my fear, THAT is when I feel the most alive.
I'm writing again, but with more passion and gratitude than I've ever felt before. I'm still a work-in-progress but I know I'm swimming in the right direction. I now welcome the fear of the unknown in my life, even the deep down scary stuff.