Pushing the envelope, at least in its use of images, The New York Times Magazine this Sunday features a provocative feature story on "female desire" titled, "What Do Women Want?" The cover photo (see full image below) by Ryan McGinley is a stylized profile of a dark-haired woman in what can only be described as mid-orgasm (or perhaps she is simply snoring or getting her feet rubbed).
The giant photo that kicks off the Daniel Bergner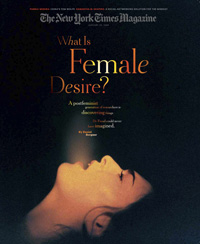 article inside shows what appears to be two women kissing, although one of them might be a young, long-haired man/boy. The next spread shows yet another orgasmic woman and after that a full page photo of two faceless interlocking nude bodies (one female, the other undetermined). And after that another full page come-and-get-it.
The story focuses on "post-feminist" sexologists whose studies are discovering supposedly surprising findings, though you may disagree. One excerpt: "No matter what their self-proclaimed sexual orientation, women in the study, unlike men, showed strong and swift arousal when the screen offered men with men, women with women and women with men."
One bit of research suggests that women, in contrast to men, in their erotic fantasies "center less on giving pleasure and more on getting it," making them "far less relational than men."
Bergner has a book coming out this month called The Other Side of Desire.
One researcher quoted in the lengthy story says she hopes the findings help others: "I wanted everybody to have great sex."
The article details how studies are conducted with an apparatus connected to (ouch) penises or in the vagina to rate "engorgement" while the subjects use keypads to punch in their feelings. One scientist says: "I feel like a pioneer at the edge of a giant forest" (as it were).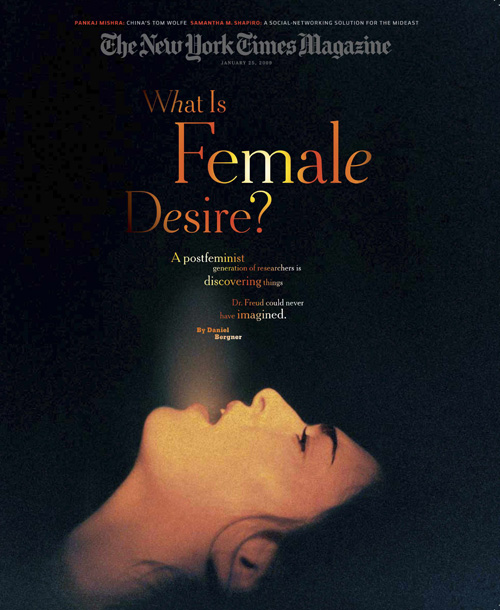 Greg Mitchell's latest book, published this week, is "Why Obama Won," and is the first "progressive" book on the campaign. He is editor of Editor & Publisher.
Calling all HuffPost superfans!
Sign up for membership to become a founding member and help shape HuffPost's next chapter