June 5, 2015. Later today I will attend one of over two dozen, year-end, in-school galas that are underway in InsideOut schools across Detroit. Each year at this time, iO students' eyes light up as they gather in their school cafeterias or auditoriums or libraries to open their beautiful books and find their words and their names for the first time. It's the pay-off of the year for me, to see kids poring over their writing, sharing with their friends, and reading their poems - loud and proud - in front of their teachers and peers.
Today's gala at Detroit Public Schools's Communication and Media Arts High School (CMA) has a special meaning though, as I say goodbye to 20 years of galas and contemplate the thousands and thousands of students who have had their words opened to the world through iO. For it's almost twenty years to the day that my students at CMA surprised me with their own in-school celebration. I was embarking on my first retirement then, retiring from several decades as a Detroit classroom teacher where I discovered the love of writing and teaching writing, a love that grew into what InsideOut has become today. It was an emotional day for me as well as for my students. They presented me with a Testimonial Resolution from the Detroit City Council and they read their poems with special fervor, punching the air and jumping to their feet over and over in what one of my fellow teachers, referencing a popular movie at the time, described as "Dr. Blackhawk's Opus." If I hadn't been sold on the power of poetry for young people before, I certainly was then.
At iO we often say that poetry builds community. It was something I saw in action that day at CMA. I have seen it all across Detroit in recent weeks, and in Oak Park where our no-bullying themed residency, in conjunction with the visionary NoBLE program from Beaumont Hospital, showed poetry's healing power as well. Middle schooler DaJuan Price's poem "Confident Little Spider" begins
I've been bullied all my life.
Since third grade, I felt
like a spider hiding from bullies.
I was scared of going to school
because I always got bullied.
I always told my mom please don't
let me go to school because I was
being treated like a spider. I wanted
everyone to stop bullying me.
But by sixth grade he learns...
Words did not hurt me as much.
I've become a confident
little spider.
The poems in Oak Park Preparatory Academy's Words Ain't No Walk in the Park express the personal pain that comes from bullying, but also confidence, sense of self, and - most happily - empathy for the bullied.
Somewhere in the mall there is
a plus-sized girl being talked about.
She's too big to fit the clothes,
but her personality is just the right size.
Last week, I was delighted by the lightheartedness and joy expressed by the children at Pasteur Elementary School under the direction of iO writer-in-residence Anita Schmaltz, and Allie Tova Hirsch and Helena Smith, MFA students sent to teach poetry with us this year thanks to our good partners from the Helen Zell Writers' Program at the University of Michigan.
it was the longest day of my life
when sand dragged my Barbie away
the sand drained her soul
like water going into a hole
I will never forget that dreamy
frightening day
when my Barbie floated away
My family is a song.
It has notes and it's slow.
It's good,
and you can sing to it.
And I was touched by the optimism of the students at Western International High School, under the direction of Casey Rocheteau, writer-in-residence in two iO high schools this year and the inaugural winner of Write A House Detroit. Here's sophomore Willie Pedroza sharing "My Dream."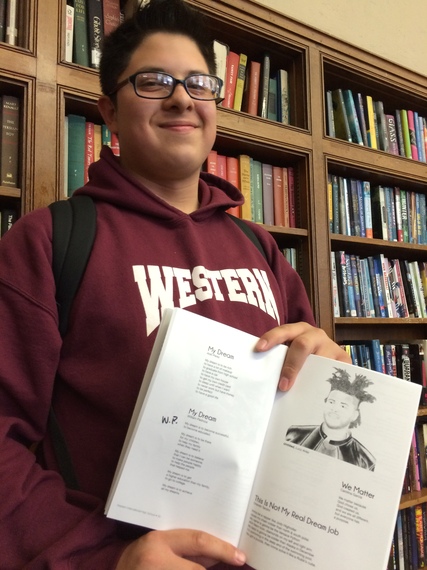 My dream is to become successful,
to become educated.
My dream is to be there
for my children,
to help my family
when they need it.
My dream is to believe
that I can be someone,
to make people happy,
to help the people
that helped me.
My dream is to get
a higher education than my family,
to go to college.
My dream is to achieve
all my dreams.
Poetry has the power to engage students and bring learning to life in myriad ways, and so do iO writers-in-residence who support and challenge and love and become partners in creativity with Detroit's young people. The words of iO writers themselves have been captured in an anthology forthcoming from Wayne State University Press, To Light a Fire: Twenty Years with the InsideOut Literary Arts Project, featuring essays by myself and my co-editor Peter Markus and twenty-one others of the great-hearted artists who have brought their gifts to iO classrooms these past two decades.
As Carol Jago, Past President of the National Council of Teachers of English noted after reviewing our anthology, "Educators nationwide are desperate for an antidote to student apathy and disengagement. InsideOut has the solution."
Or, in the words of iO's good friend Edward Hirsch, poet and president of the Guggenheim Foundation --
These truthful, celebratory, inspiring essays show us how the writers and teachers of InsideOut have been creating sparks and lighting fires for young people in Detroit for two decades. The pieces, like the kids themselves, have grit, spirit, resilience, the breath of life.
To Light a Fire is available for pre-orders now. Please order, read, and enjoy.
Calling all HuffPost superfans!
Sign up for membership to become a founding member and help shape HuffPost's next chapter