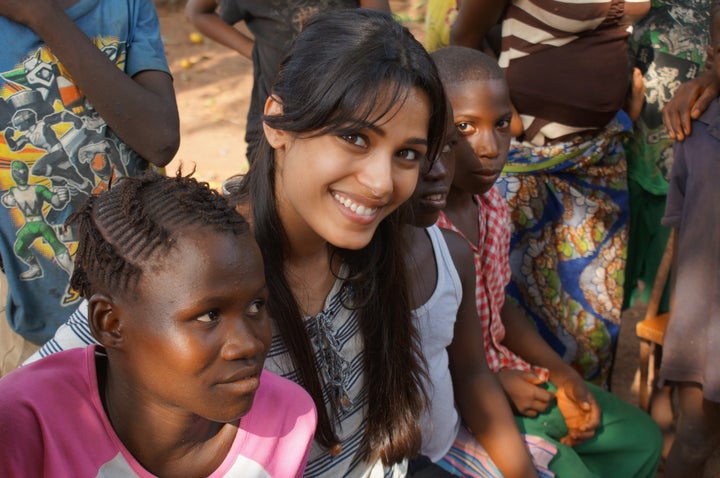 The transition from girl to woman in nomadic groups in East Africa takes place in an age-old, four-day ritual in which the girls are dressed in their finest clothes and adorned with their most beautiful jewelry. They are blessed by their tribal elders with milk and water.
The girls sing traditional songs that everyone has practiced. The mothers give them life lessons in the privacy of their huts. The rite concludes with the girls walking through a ceremonial arch formed by tribal elders as the surrounding community welcomes them as women. It is indeed a beautiful ritual.
Cutting away the clitoris and labia in girls as young as seven to 15 years of age represents the centerpiece of this most important rite of passage in the life of a Maasai girl -- at least until a few years ago. A dangerous, life-threatening and extremely painful ritual, cutting is against the law in most African countries.
However, it continues in many nomadic societies and is typically performed by a traditional healer or 'cutter' without anesthesia, in an unhygienic environment and without medical knowledge. The cutter uses the same knife for several girls and often stitches the labia over the vagina, leaving only the smallest of openings, causing untold complications in adulthood and childbirth, often resulting in obstructed labor and potential death of both mother and child.
Female genital cutting causes not only physical health problems, but as soon as a girl is 'cut,' she is considered a 'woman' and typically no longer listens to her mother. She is now ready for marriage -- no matter how young she is. As she is now a woman, she is also expected to leave school, leading to fewer opportunities for girls and creating major barriers to gender equity.
'Uncircumcised' girls are often rejected by their circumcised peers and refused marriage by men who are taught to marry only girls who have been cut.
Women have virtually no voice in Maasai society. They are subject to the intricate hierarchy of the powerful men in the clan known as Morans. For most girls, the coming of age passage represents the only real, significant moment in her life where she takes center stage and is recognized by her family, relatives, peers and fellow clan members.
So it was particularly significant and singularly courageous, for Nice, a young Maasai girl who was orphaned at age nine, to run away from home when her uncle and grandfather wanted her to be cut. She ended up living with her older sister (who is cut) and her brother. They built their own hut/home and lived on their own.
Nice eventually encountered AMREF working in one of the Maasai communities. Having long been present helping the Maasai drill water wells and delivering health services, AMREF has earned their trust and respect -- two essential conditions that underpin our current work in changing traditional attitudes towards female genital cutting.
The dialogue began with the tribal elders who were convinced of the advantages of eliminating female circumcision. With the elders' approval, the young men were approached, learning that it was alright to marry an uncircumcised girl and -- not unimportantly -- that sex is better with an uncircumcised wife!
The Maasai themselves designed the alternative rite of passage to traditional circumcision. The girls participate in a three-day long session about sex education, self-confidence and human rights, a critical part of the ritual as it promotes the girls' feelings of self-worth in view of their lower status compared to boys. In addition, girls are encouraged to continue with school and the elders, mothers and fathers, to invest in the girls.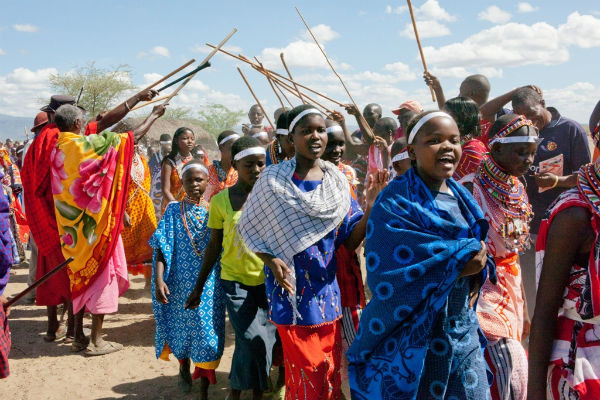 The alternative ceremony not only eliminates circumcision, but supports further schooling and delayed marriage. Together with the Maasai and with respect for all parties, AMREF has succeeded in finding a way to make tradition and progress join hands. To date, this modified ritual has taken place three times in Loitokitok and Magadi, Kenya with over 800 girls, 135 parents, 86 tribal elders and 16 female circumcisers. They celebrated the rite of passage from girl to woman without bloodshed.
And Nice? She trained as a peer educator with AMREF. Nice brings girls together to talk about their bodies and their rights. She realized early, though, that to make real progress she had to speak with the Morans as well. It took her two years to break down the barriers, but eventually, through persistence, she was accepted and they now listen to her. According to Nice, "we form a well-organized community that solves problems on its own as much as possible, in a way that everyone can agree with."
Nice has even been honored for her work with an 'oringo orok' -- a Maasai leader's talking and walking stick -- and a cultural symbol for leadership.
To find out more about AMREF's work with women, click here.
Calling all HuffPost superfans!
Sign up for membership to become a founding member and help shape HuffPost's next chapter