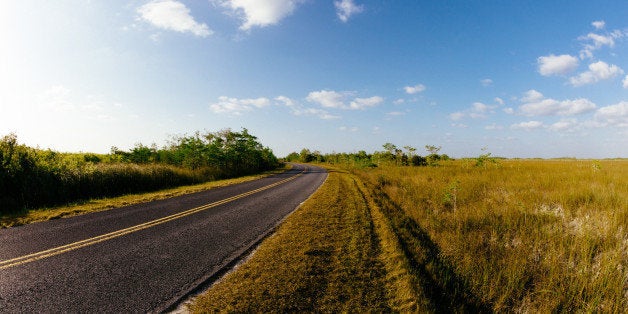 The ER was bustling, and my senior resident was needed in at least 3 places at once as we were about to sew a laceration on a young man's head. "If you're ok with it, I feel comfortable with doing this by myself," I found myself saying. It was a big change from two years ago, when I felt too shy to ask to throw in a single stitch on a repair someone else had started. I have come back to where I started this year, in the Emergency Department of the big county hospital in Seattle. At the same time I have been thinking of how I have come back around to where I started in another way: 10 years after first coming out as a transgender woman I unintentionally ended up back in the closet.
In between my first clinical rotation as a third-year medical student and this final one, I have moved six times and crossed over 3,500 miles of the American West. To say this is an unconventional year for a medical student is an understatement. The University of Washington is an unconventional medical school, being the only M.D.-granting institution covering a five -state area. Between Washington, Wyoming, Alaska, Montana, and Idaho, the "WWAMI" region makes up 27 percent of the nation's land mass, but less than 4 percent of its population. Touring the region during the third year rotations is somewhat of a rite of passage for UW medical students.
UW School of Medicine is one of the few medical institutions in the country not only progressive enough to have a dedicated course on transgender health, but also to have accepted at least one transgender student. As that student I was excited for the adventures of the coming year, but also uncertain of what it means to be queer & trans in east Idaho or Montana. People told me to be careful; urban LGBTQ perceptions of the rural American West are still haunted by the memory of Matthew Shepard.
My first stop was psychiatry in Montana, a state with one of the highest per capita suicide rates in the nation and a profound shortage of mental health professionals. I vividly remember admitting a young woman after a serious suicide attempt. She was shut down and walled off, and my best attempts at starting a conversation got me nowhere. By digging through old medical records, I learned that her girlfriend died by suicide a year before. Someone I knew had lost their life to suicide 6 months before this. Suicide is a fact of life in the LGBTQ community. The community is so connected that each death ripples outward, and they gain a cumulative weight that is very different than the sorrow for a single lost loved one. Last year was a bad year, with news of a trans woman's death in the US coming at least once every week in the first months of 2015, whether by suicide or murder. Death forms a steady drumbeat in our collective consciousness, claustrophobically feeling like it is getting louder, drawing nearer, as people more and more closely connected to you are lost. Every time we hear of a death, we fear for our friends and draw them closer.
Given all of this, my inability to connect with the young woman in the ward felt almost like a personal failure. I wondered to myself if I should come out to her - would that build trust, or is that just making the conversation about me? I decided not to at the time, but couldn't help feeling conflicted about how I had often vowed that my LGBTQ status would help me build good relationships and connect more deeply with patients in the community.
Ten years ago this spring I was self-consciously sorting out my decision to come out publicly as a transgender person and start living this life. In the years that followed I dealt with harassment, employment discrimination, and struggled to find direction in a life that felt like it was no longer valued by the world around me. I found new meaning by deciding to become a physician to serve people like me who were struggling.
Part of that choice was a commitment to being visible for the trans people who followed me, to be a "possibility model" in the words of Laverne Cox. But as I dug into my clinical years, I found myself retreating back to the closet. When people asked about family or partners, I became evasive. When my attending physicians in east Idaho asked what I was interested in, my long history of service in the LGBTQ community went unsaid. When one of my superiors said that they didn't think transitioning seemed to make trans patients any happier, I found myself silent even though I had told myself I would speak up in situations like this.
It's not that anyone made me think that I would be discriminated against, but it felt safer to hide, just in case. Could my grades be affected? What if someone on my pediatrics rotation decided I wasn't fit to work with children? Given the national conversation about bathrooms erupting right now, it felt like a tangible concern. I spent much of this year feeling ashamed, torn between self-preservation and the promises I had made to my community.
Ten years after coming out as trans, I am working on coming out again in my professional life. I plan to be out when I apply to Family Medicine residencies this fall; I can't spend another three or four years in hiding. I feel an urgency to make this move for reasons outside myself: for all the recent talk of reaching a "Transgender tipping point," it is now clear that we are in the middle of a cultural backlash. We are being sold to voters as predators so that our basic humanity can be legislated away in several states. These attitudes have real consequences. Another acquaintance and a pillar of the NYC community, Bryn Kelly, died too soon this January. The drumbeat is as loud as ever. For those of us that can afford to, we need to be seen now. Even if it may be uncomfortable at times, I see it as a necessity and a privilege to be visible at this time.
REAL LIFE. REAL NEWS. REAL VOICES.
Help us tell more of the stories that matter from voices that too often remain unheard.