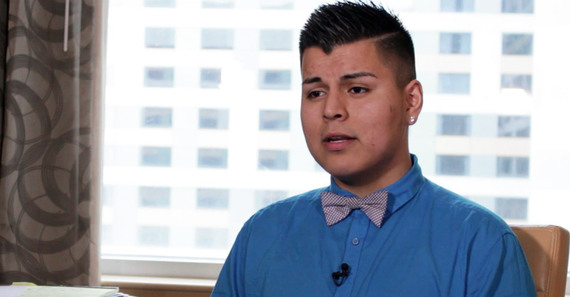 I'm From Driftwood is a 501(c)(3) nonprofit archive of lesbian, gay, bisexual, transgender, and queer stories. New stories are posted on the site every week.
When Carlos was 2 years old, his mother moved him and his family from Mexico to the United States. Carlos went on to be an all-star student and was encouraged by his teacher to apply for scholarships for college. That's when his first coming out happened:
I would always make up excuses because I couldn't really fill out those forms, because I didn't have a Social Security number. And it wasn't until one day I just decided to tell her that I really couldn't apply anymore because my immigration status prevented me from it. Of course, she cried, and she told me that all she wanted to do was to make sure that my dreams became a reality.
After working up more courage, Carlos was ready for his second coming out, as a queer man, this time to his mother, who was now living back in Mexico:
I think her biggest concern wasn't the fact that I was gay. She could care less whether I was gay or whatever it is that I wanted to be. But her concern was the fact that she wasn't there with me, and that she was afraid for me, and she just wanted to protect me.
Related
Popular in the Community