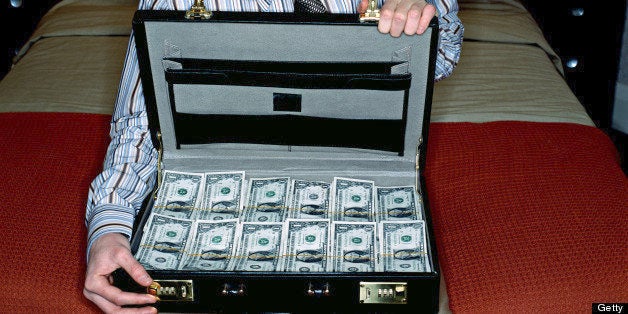 "Drew Frederick"'s bio reads like a Dos Equis commercial about the "world's most interesting man." The pseudonymously-named blogger writes that he has "graduate degrees from MIT and Georgetown Law," is the inventor of 17 U.S. patents and has been to "over 50 nations."
And now he just got a little more interesting -- Frederick is holding a "coming out" contest with a big prize.
I want to offer a $1000 Coming Out Award to someone who is being dishonest with others about his/her lifestyle, beliefs, or identity because of fear of being judged, criticized, ostracized, abused, or bullied. Why am I offering this? Because I think openness, honesty, and acceptance are good things, and I want to encourage them.
The award is available to anyone with a secret, Frederick writes on his blog: "This includes, but is not limited to, people are being dishonest about their identities, sexual lifestyles or desires, relationship style, political views, religious views, and so forth."
The rules are fairly straightforward. A contestant has to live in the D.C. area, be able to explain to Frederick in an email why he or she meets the goals of the contest by the June 16 deadline -- and, of course, be willing to be "come out" to everyone.
But the name of the award given to the contest winner is a bit misleading. The winner does not receive $1000. Instead, a check for $1000 goes to the charities of the winner's choosing.
If that's not enough incentive to enter, Frederick also plans on throwing the winner a "modest coming out party for you and your closest friends." Why? "Because you are awesome," he writes on his blog.
Yes, I realize some will find this award to be patently offensive: "Coming out," they will say, "is a deeply personal decision." I get that. Some are motivated by loving friends. Some are motivated by moving rhetoric. Some simply wake up one day and say, "Fuck it. I am who I am and it's time to tell the world." But there are some who have been on the fence for years and simply need that extra push. Let this be that push.
When we last saw Frederick, Washingtonian was reporting on his attempts, via Craigslist, to hire two socialites who would help with his "brand."
Whoever you really are, Drew Frederick, we're looking forward to seeing what you do next.
We're always excited to hear from the world's, or even just D.C.'s, most interesting folks. If you'd like to tell us about your next adventures, get in touch: dc-tips@huffingtonpost.com.
Calling all HuffPost superfans!
Sign up for membership to become a founding member and help shape HuffPost's next chapter
BEFORE YOU GO
PHOTO GALLERY
Best Marriage Proposals Of 2012