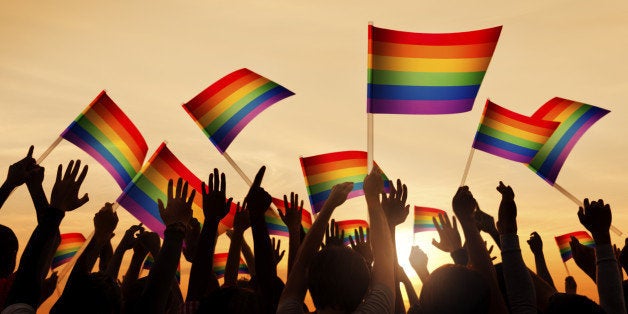 Since the disturbing event that took place at the Pulse nightclub In Orlando, Florida where forty-nine people tragically lost their lives. Many have been inspired across the globe to express their love. Some are responding to this tragedy with their ally-ship and their truths.
My mind has been conditioned to not accept who I truly am.
Growing up, I hid my sexual identity from my family, which caused a load of stress for me. I've dated various people in the LGBTQ community, a lot who would want so badly for me to express my love for them, but I was terrified. My girlfriends were my "friends" that was the lie I was holding on to. I'd make up anything that wouldn't create suspicion for my mother. I would extend invitations to my house to the people I dated, and during those visits, I would sneak a quick touch of hands with them, before anyone saw, it became a game. Being playful, with my fingers crawling up their back, was a risk.
I continued to give a little of myself to those who gave me their all. It wasn't fair, and I knew that. My mom, with her motherly intuition, found letters from lovers, even sex toys that I have to admit, weren't in better hiding places. When I confronted her, she turned away, swept it under the rug and we never spoke about my sexuality, or any relationship I was involved in. I tried explaining to her, that I dated between men and women. I thought maybe telling her this, she wouldn't think I was a complete sinner, because my attraction for men was still present. It didn't matter, she was silent and wanted me to be quiet too. I saw the obvious hurt that was on her face, it was the ultimate betrayal from me, and we never brought it up again.
In my early 20's I dated an amazing woman, but my family was still left in the dust. Like my relationships she was a mere "friend" nothing more. We had a blast together, adventures were planned for our future, but in the meantime, our adventures were parties! There were places where I truly felt safe and free, gay nightclubs, no one I knew, would be caught dead there, I was dancing with trustworthy friends and strangers that I knew wouldn't out me to anyone. It was a safe zone, my business was my business, and no one cared.
What happened at Pulse made my heart sink. I remembered all the times I had laughed and danced the night away with my friends In the LGBTQ community. Gay night clubs are sanctuaries, it's a safe landing, a quick escape from a rough day in a homophobic home.
I no longer want to hide in fear. It is the fear and hatred that has been programmed into our minds, from our homes, schools, churches, politicians and bigoted social media comments, that are stopping so many from living in their truth.
Fear, is what some people want to instill in us after this tragic event.
I am bisexual, In the shadows of hatred I will live in my truth.

With rest comes awakened. This tragedy has sparked a nation, the conversation can no longer be put aside. Whether you are coming out as an ally or queer. We are visible.
Some may say that this is the "wrong time" to come out about their sexuality, I think they're missing the bigger picture. This is EXACTLY the right time, the time for visibility, to be open, and to extend a hand to the LGBTQ community, that is in need of love, solidarity, and allies, especially Queer POC, for us to be a part of more than one marginalized community, while also carrying the pain and hardships of being oppressed.
I will no longer be intimidated by hatred. We are devastated not defeated.
To those who share a similar experience as I did, suffering internally, terrified to live their truths.
I hope you get your moment, I hope your freedom is closer than ever, waiting to escape from behind your lips, and without fear, you are able to place a kiss on the one you love.
Calling all HuffPost superfans!
Sign up for membership to become a founding member and help shape HuffPost's next chapter