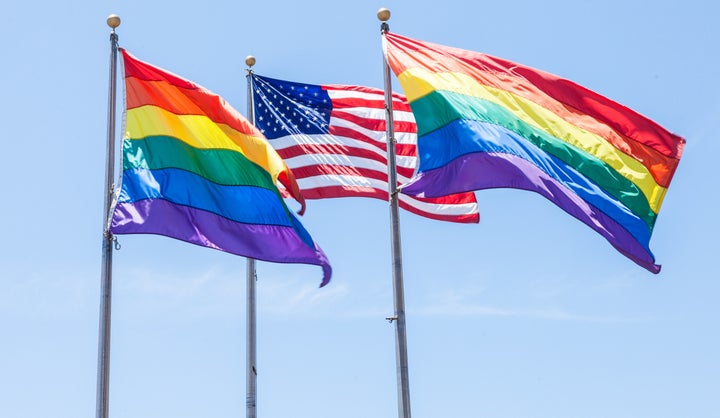 Today is National Coming Out Day. Thousands of people from across our nation will proudly come out as gay, lesbian, bisexual or transgender, and many will be supported by family and friends, celebrating their loved ones. While I came out as transgender in high school, today takes on a new meaning for me as I put my name on the legal battle to end President Trump's reckless and discriminatory decision to ban transgender individuals from the military.
I'm coming forward because too many others cannot. They are being forced to conceal their identities while putting their lives on the line for our country, fearing that doing so will be used against them, ending their military career and uprooting their lives.
Transgender stories of service begin like so many others in our Armed Forces. For me, I knew beginning in the sixth grade that I wanted to dedicate my life to serving the country that I love. I worked hard—I trained, conditioned, got up at the crack of dawn and got good grades. I was well on my path to serving. The only question that remained was whether I could serve openly as a transgender service member. And on a June evening in 2016, I got my answer: yes. Secretary Ashton Carter announced that transgender individuals could openly serve. I could now do what I most want—serve my country as who I really am. My hard work paid off, and I joined the ROTC program at New Haven University in West Haven, Connecticut, what I thought would be the first step to a lifelong career in military service.
But that all changed on Wednesday, July 26, after I read President Trump's tweets. I got a text from my best friend. He told me he heard President Trump reversed Secretary Carter's policy allowing transgender service members in the military. I didn't believe him at first. It couldn't be true. But a sea of news articles confirmed my worst fear. The future I had planned was now falling apart.
Since the president's decision, my life has been thrown into chaos as I determine what this means for my life ahead. I have been told by my ROTC commander that I cannot train with my fellow cadets. When my roommates head off to training at 6 a.m., I go by myself to the gym. My career plans are in disarray, and my opportunity for an ROTC scholarship is gone.
I'm not alone. Across our Armed Forces, thousands of qualified and trained service members, like me, have been blindsided and are now scrambling to deal with what the ban means for our families and our futures. We are facing exclusion from military education and training, denial of access to medically necessary healthcare, and the destruction of their careers.
We are patriotic Americans who have stepped up and agreed to serve. But today, we face never being able to fulfill that goal, for no military reason at all.
I'm not standing by and letting this reckless action go unanswered. I'm training to fight for our country, and I'm going to fight this unjust ban. That's why I joined seven other transgender individuals to challenge the constitutionality of President Trump's directive. Our suit, Doe v. Trump, was filed August 31 in the United States District Court for the District of Columbia and is now one of four suits taking the president's actions to court. Recently, my attorneys at the National Center for Lesbian Rights (NCLR) and GLBTQ Legal Advocates & Defenders (GLAD) asked the court for emergency relief to halt the ban that has already caused so much harm to our lives and the lives of our families, the military, and our country.
We are stronger when every qualified, talented American can serve. With the strength and character of one of our fundamental institutions, our military, in jeopardy, we need the courts to step in.
For our dedicated and highly trained service members who put their lives on the line, coming out shouldn't mean being kicked out of our Armed Forces. Coming out should bring an extra sense of pride to our service and give us strength and knowledge to fight for our country, our futures, and our dreams.
REAL LIFE. REAL NEWS. REAL VOICES.
Help us tell more of the stories that matter from voices that too often remain unheard.