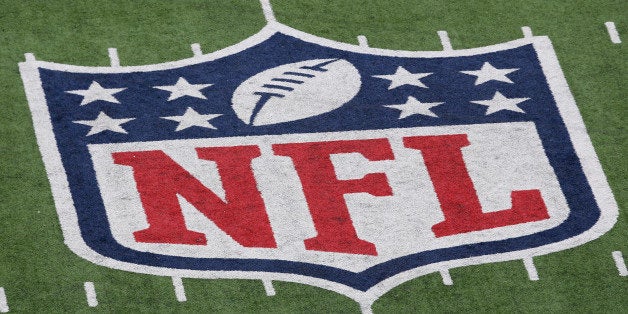 The combined Super Bowl rosters of the Denver Broncos and Carolina Panthers feature over 100 players and there is not a single publicly gay player among them. The same goes for the entire league.
Simple math suggests there are gay players in the NFL. Maybe more than you think.
There are 32 teams in the league. Each team's active roster includes 53 players. Add another 10 players from the practice squad and there are 2,016 men in the NFL. (That number jumps even higher if you count guys on injured reserve.) But for simplicity's sake, let's round down to an even 2,000 players.
In his 1948 book, Sexual Behavior in the Human Male, Alfred Kinsey concluded that 10 percent of the population is gay. A recent National Gay and Lesbian Task Force study found that somewhere between 5 and 10 percent identify as LGBT.
Applying that same range to the NFL would mean that there are somewhere between 100 and 200 active gay players, or roughly 3 to 6 players per team.
Maybe that range is too high. Maybe there are fewer gay players. I don't know.
Admittedly, I have more than a passing interest in this subject.
A few years back, I co-wrote a screenplay about a gay quarterback who gets outed by Deadspin on the eve of the Super Bowl.
That script Jody has now been produced by the Black List Table Reads as a podcast hosted by Black List founder Franklin Leonard. It was released today on iTunes.
When Jason Wilborn and I first sat down to write Jody, I would have guessed that more gay players would have come out by now.
Michael Sam became the first publicly gay football player to be drafted by an NFL team in 2014. Sam was cut and never appeared in a regular season game.
Over the years, six NFL players have come out since retiring. A seventh was outed posthumously.
Like many people, I believe a player's sexuality is a private matter and they are under no obligation to confirm or deny or share that information with us. It's also worth noting that public silence doesn't mean a gay player isn't out to his friends, family, teammates, and/or coaches.
So instead of wondering why more gay players haven't come out to the public, perhaps the more interesting question is "why would they?"
The average player's career lasts a mere 3.3 years in a league where coaches are notorious for disliking distractions, and guaranteed salaries are largely a myth. We don't even get to really "see" football players because, unlike other sports, they are usually covered from head-to-toe in everything from gloves to face masks.
Differentiate yourself with eye black that honors your late father? How about wearing a pink ribbon that honors your mom's battle against breast cancer? Ever think about lacing up a pair of purple cleats to highlight domestic violence awareness because your mother died because of it? Ask Cameron Heyward, DeAngelo Williams and William Gay. The league will find you and fine you.
Anyone regret an excessive touchdown dance? Well, you should. Penalty flag!
In other words, this is not a sport where individuality is celebrated. Football is and always has been a team game.
Whether or not Michael Jordan actually ever said it, "Republicans buy sneakers too" still resonates today. Some gay players may view themselves as a brand and fear a potential backlash from sponsors and fans. Even though polls indicate that a majority of Americans support gay marriage, it's far from unanimous.
Former NFL player Fred Smoot said in a Reddit AMA last year that he encountered "several" gay players over the course of his 10-year career and "no one cares."
Still, gay slurs and homophobic jokes (and at least one male blow-up doll) are an unfortunate part of the game. We know this from the 144-page report of the Miami Dolphins bullying investigation that was released by the NFL in 2014.
Just last month, New York Giants wide receiver Odell Beckham Jr. expressed to some ex-players that he hears gay slurs on the field on a regular basis. Reading between the lines, those words may have caused an enraged Beckham to target Panthers cornerback Josh Norman repeatedly, including a helmet-to-helmet hit.
Other sports also struggle with this issue. In December, Rajon Rondo was suspended for a string of gay slurs aimed at NBA referee Bill Kennedy. Rondo apologized and Kennedy announced in a statement that he's gay. In the past, Kobe Bryant and Joakim Noah have been fined for using similar expletives.
As for Michael Sam, he seems surprised at the attention his own story has received.
"The reason why I came out is I thought it wasn't going to be a big deal," Sam told the The Fort Worth Star-Telegram.
"Maybe I was naive," Sam continued. "Maybe I thought it was 2014, and people will understand that there's gay NFL players. There's gay athletes everywhere. But I was clearly wrong. It was a huge deal."
It was a big deal and I believe it remains one today, right along with some of the louder issues that the NFL is facing, including concussions and domestic violence.
I grew up near Boston, so I root for the New England Patriots. I can tell you all about the Ideal Gas Law because I pretty much have a PhD in Deflategate, but I can't tell you when the NFL will welcome more gay players, including its first gay superstar. Hopefully soon.
As a straight man, it was daunting for me to create a gay character and tell what is essentially a gay love story. But it's always daunting for me to create a character in any story I write, regardless of their sexual orientation.
As a writer, I hope to capture the humanity in all of my characters, characters who in most cases are ordinary people who find themselves in extraordinary situations.
Kind of like the closeted NFL player who, according to some simple math, will find himself taking the field on Super Bowl Sunday: just an ordinary guy in an extraordinary situation.
Chris Kyle is a co-writer of JODY, which is available on Season 2 of The Black List Table Reads and iTunes. Co-written by Jason Wilborn, JODY stars Matt Barr, Constance Zimmer, Ashley Greene, Ed Quinn, Aimee Teegarden, Carter Hastings, Emily Osment, JR Lemon, Michael Dempsey, and Jonathan Goldstein. The narrator is Cooper Thornton. Poster design by Benjamin Finkel. Hosted by Franklin Leonard.
REAL LIFE. REAL NEWS. REAL VOICES.
Help us tell more of the stories that matter from voices that too often remain unheard.