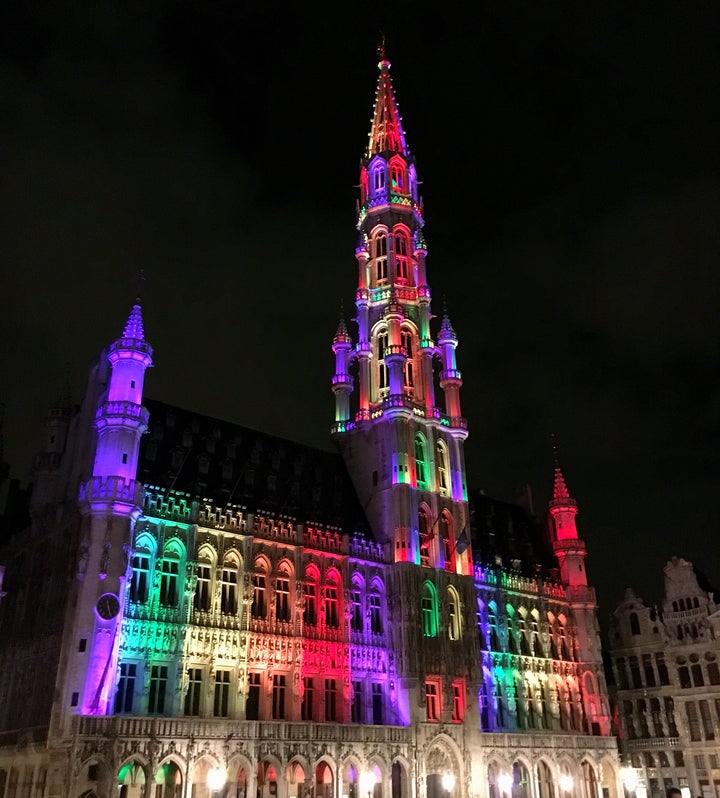 Coming Out: Preparation Is Key (Tips from a Straight Mother & Gay Teen)
It's my favorite time of year again: pumpkin spice flavored beverages, warm clothing, and barely starting to get a hang on the hectic balance between school and work. It's also National Bullying Prevention Month, with National Coming Out Day on October 11th.
The conversation around coming out can be daunting, but doesn't have to be. To make an awkward conversation (yes, it should be a dialogue) go more smoothly, prepare yourself. Although an LGBTQ teen should not come out until he/she/they feel comfortable, here are a few tips for both teens and parents on coming out:
Although every situation is different, the majority of my friends always state that they are nervous to come out, because they fear how their parents will react. I sympathize with their concerns; our parents are supposed to be unconditional lovers and supporters, so the thought of a shift in relationship dynamics is beyond frightening. If you're reading the article then it's safe to assume that you probably feel the same. Many of the coming outs that I have experienced or discussed with others boiled down to two main categories: the preparation and the reaction.
Preparing includes both mental and emotional commitment. This includes realizing that you deserve a life filled with happiness and being prepared to respond to the comments of others. Of course coming out can be a glorious experience, but it is important that you go through the pros and cons with yourself. I'd love for everyone in the world to be open about his/her/their sexuality, but sometimes it is safer to pick and choose whom you would like to tell, and how you would like to tell them. For example, I am always hesitant for other community members to come out to their families if their families have expressed intense hatred of homosexuals or are devoutly religious. Safety always comes first, and if coming out jeopardizes your safety, then it's ideal to wait until you're not living under your parent's roof or are financially dependent on them.
A common reaction to saying, "Mom, I am attracted to _____," is a response full of questions which you may not even know the answer to: "That's not possible… when did you find out? … do you want still want kids?" You're only a teen, so I'm sure that kids are not on your mind and it's not like being queer makes you unable to have children, but these random questions are often how parents respond. Before sharing the big news, it is helpful to review questions that you think your parents or loved ones will bombard you with and to prepare your responses. Of course you do not "owe" answers to anyone, but relationships flow better when communication is clear.
This part was the scariest for me. It is hard to battle the unknown. Playing a guessing game of reactions provokes anxiety. Anything is possible. Maybe your parents will hug you or maybe they will be very upset. Regardless the reaction, do not internalize it. Some people will try to change your mind, others will guilt trip you, and some may even treat you differently. At the end of the day, their reactions are not a reflection of your character, but of theirs. Remember this - we can not control the emotions of others; we are only in control of our own.
Coming-outs usually don't go well. The parents are caught off-guard. They are shocked and have little time to respond rationally. The reality of what they are hearing usually doesn't jibe with the preconceived expectations for what they have in mind for their child. Their inappropriate responses such as "You Can't Be!" "You're Too Young to Know!" reflect their own issues of denial, fear, anger, guilt, loss. To get the response you're looking for, you need to be prepared. Our son James never officially came out to us. We found out, by accident, through a note James had written.
I would have preferred an open coming out conversation between he and I. This is how I would have replied:
I'm so glad you told us about this important aspect of yourself.
We love you unconditionally. (Hug). You will always have our support.
How do you feel about being LGBT? If you have any issues regarding your sexual orientation, please let us know so you can receive guidance.
Does anyone else know you're gay? Family members? School? Doctor? Friends? Whom do you wish me to tell?
I hope to have many conversations like this with you in the future, but will also respect your privacy.
Simply keeping our ears open and allowing our children to speak freely can ultimately create a trusting bond. There are without a doubt hundreds of tips that people can give you on coming out or understanding a coming out, but ultimately thinking about communication between yourself and someone else is key. With an open heart and open ears, compassion gets so much simpler.
Co-written with Wesley C. Davidson. She is a journalist/ blogger at http://www.straightparentgaykid.blogspot and Psychology Today.Wesley lives in Florida.
She is the author of When Your Child Is Gay: What You Need To Know. Her co-author is Jonathan L. Tobkes, M.D., a psychiatrist affiliated with New York-Presbyterian Cornell/Weill Medical Center in Manhattan. When Your Child Is Gay is their first book.
Related
Popular in the Community