Whether we do so intentionally or not, many of us use clothing and makeup to express ourselves every single day. When a person transitions their gender, that notion of self-expression takes on an even deeper meaning.
For Stella Sacco, finding clothing and building her wardrobe felt daunting when she first came out as transgender in November 2017.
"I know there are people who can really pull off wearing clothing for their authentic gender right away," she told HuffPost. "But just like cis women, trans women are all different. We all have different body shapes. Some of us are traditionally feminine to start and some of us are not. I'm 6′1 and shaped like a carrot."
Finding comfort and confidence, then, was somewhat of a challenge in the beginning. Sacco, 32, had her first experience shopping publicly in the women's department when a friend and his wife gave her an H&M gift card to kickstart her new wardrobe. She recalled the experience as daunting ― but powerful.
"That first time I picked out an outfit for myself felt amazing," she said. "Even the feeling of going in and being really stressed out ― and thinking, 'Are people judging me because I'm in the girls section and people think I'm a guy?' ― was hard. But picking out the outfit and being like, this is a full outfit I picked out ― that's a feeling even now I carry with me every time I go shopping."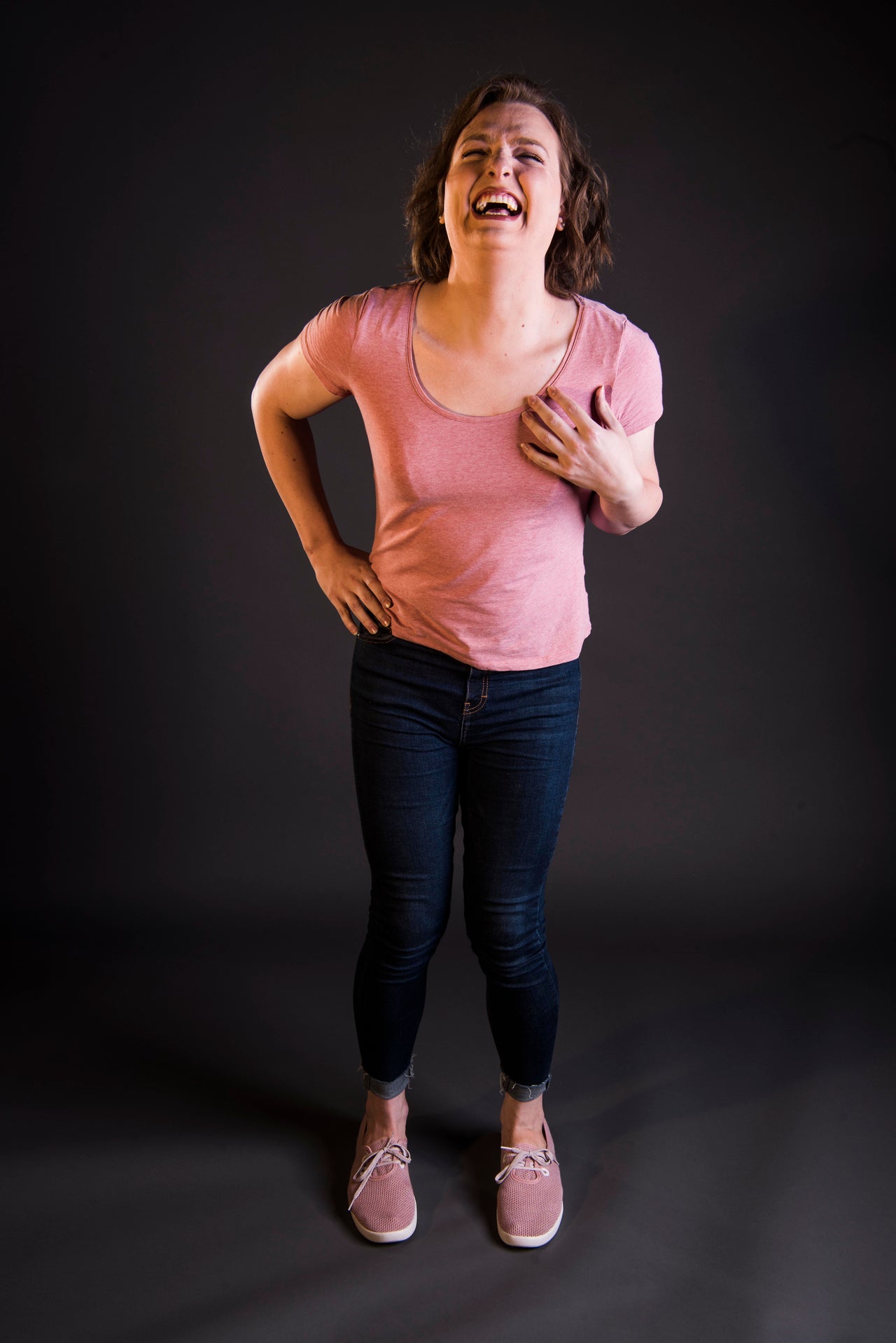 That first outfit was a plaid shirtdress with a cinch at the waist, to give the illusion of hips, she said, and a pair of black leggings.
"I felt this overwhelming surge of energy," she said. "A feeling I'd never really felt before as a guy." Sacco acknowledged that different people use different terminology to describe their lives before transitioning, but uses "as a guy" in shorthand. "Even if, you know, I was never really a guy," she said.
""I felt this overwhelming surge of energy — a feeling I'd never really felt before as a guy.""
Finances initially kept Sacco from curating an entire proper wardrobe for herself when she first came out. When she eventually had a steadier cash flow, she quickly noticed something about what she envisioned her personal style to look like.
"I found a lot of the clothes I would try to convince my girlfriends in the past [to wear] were things that I actually wanted to wear myself," she said, adding that it's not uncommon for her to wonder whether she wants to be with a given woman or just be wearing her outfit.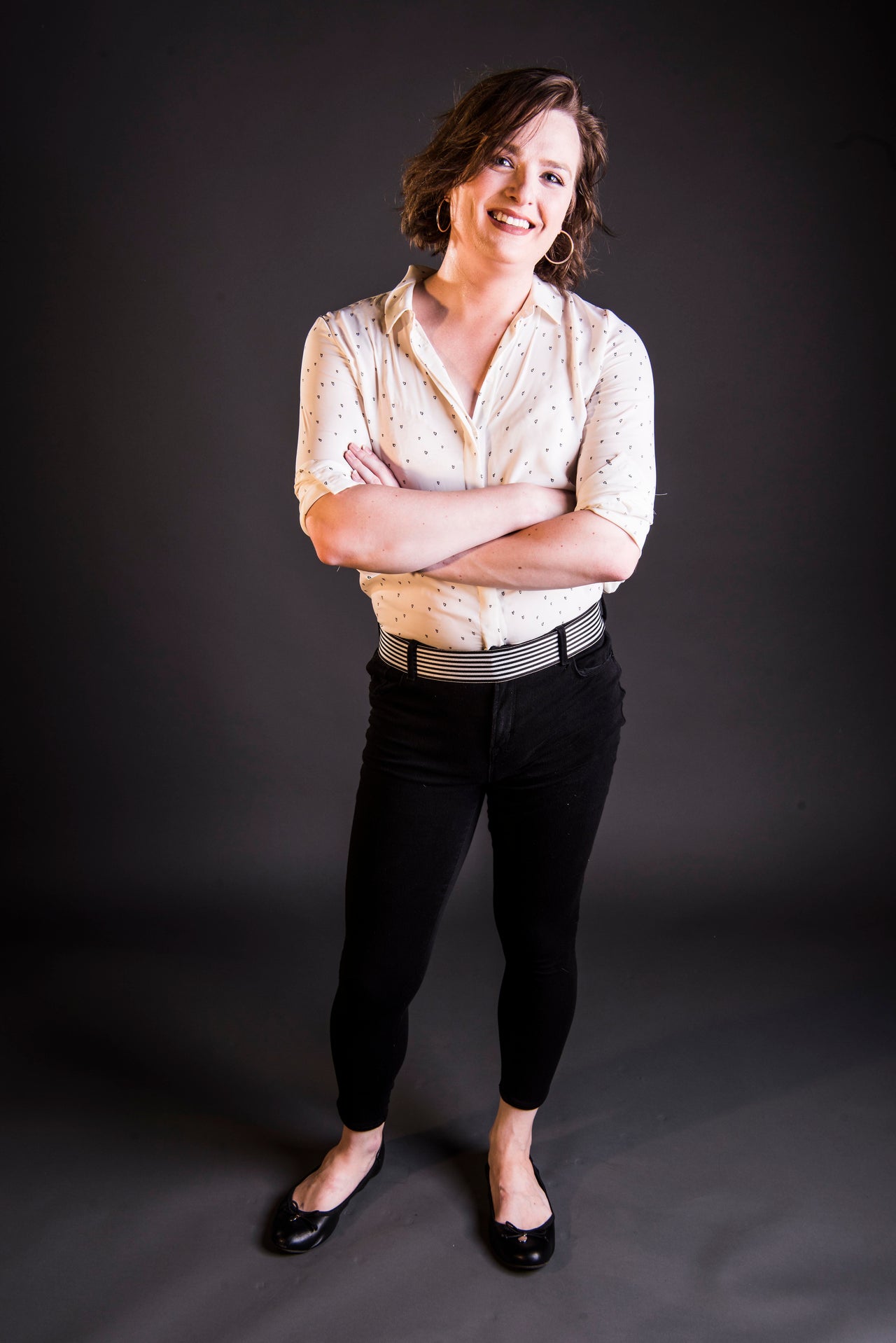 Now, about seven months after coming out, Sacco describes her ideal style as "that tall office lesbian in the office that you have a crush on," but does feel there are nerve-wracking elements to owning her style in public.
"I don't want to speak for everyone, but for me, maybe you don't want to draw too much attention to yourself because there's this whole worry, like, 'If they look at me long enough, are they going to clock me as trans?'" she said. "'Is this going to cause me to deal with transphobes on the subway?' But it's also like, I deserve to look pretty, every woman deserves that if that's what they want."
Sacco said that a turning point came about two months ago, when she was still wearing some of her old clothes out of necessity (her wardrobe was still, at that point, incomplete).
"I went out to the grocery store wearing my guy jeans and shirt and it felt like I was wearing a costume," she said. "That's when I knew I had hit a really good point where I wasn't trying to use guy clothes to hide, I was only using them because they were the clothes I had."
Now, she has a solid repertoire of clothing for different occasions, including things she can just throw on to walk the dog. She credits feeling totally comfortable to do that in part to her geographical location, but it's more than that.
"Living in New York City is definitely a luxury in that regard, but it's so much about how you carry yourself," she said. "It's not just about the clothing you wear. A while back I posted a joke on Facebook that said: 'Being trans means learning how to walk again.' Someone was like, 'Oh, that's a great metaphor' and I was like, no ― I mean you literally have to learn how to walk."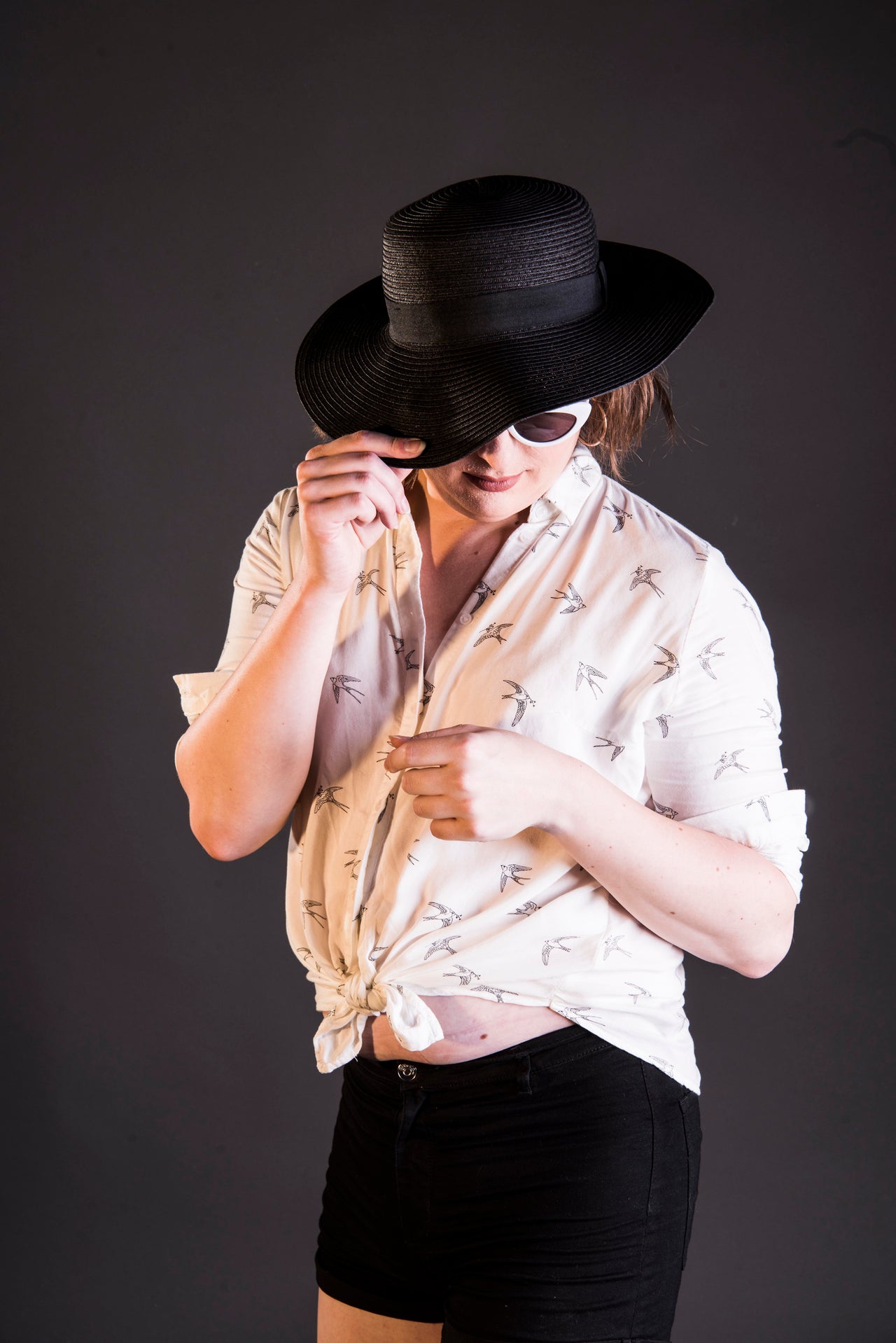 She also, before coming out, wanted to learn more about using makeup. She had some experience with it thanks to former girlfriends, but told HuffPost she didn't yet know how to do anything. She had heard about Dermablend, a high-coverage concealer that is supposed to be great for covering beard shadow. So she set out to Sephora to try and find some.
Her quest was unfruitful; neither of the two stores she visited had the brand. But she did end up speaking with two of the women who worked there.
"I said, 'OK, listen, I'm trans and I haven't told anybody yet,'" she recalled. "It's a gamble just telling a random store employee that you are trans, but I had heard really good things about the way Sephora had treated trans friends of mine, and these girls were so excited to help me."
The Sephora employees provided Sacco with a bunch of basics and spent time teaching her how to use them. She said the experience, in which the two girls hugged her and "welcomed her to the sisterhood" made her feel so good, but what happened next was even more powerful.
The two women had asked for her name, and she had originally given them her dead name (what she was called prior to transitioning), but then told them she was thinking about going by Stella.
"I had forgotten a brush at the vanity we were using," she said. "I was standing in the checkout line and I hear one of the girls call out, 'Stella, Stella.' I turned and was like, 'Oh, man! That's my name!' It was just a very powerful moment. I felt so confident, I immediately went home and started typing out my coming out post on Facebook."
Sacco explained that while she had been talking about coming out, she hadn't fully made the decision until that day. "I don't know how quickly I would have come out if it weren't for those two girls who were just so kind to me."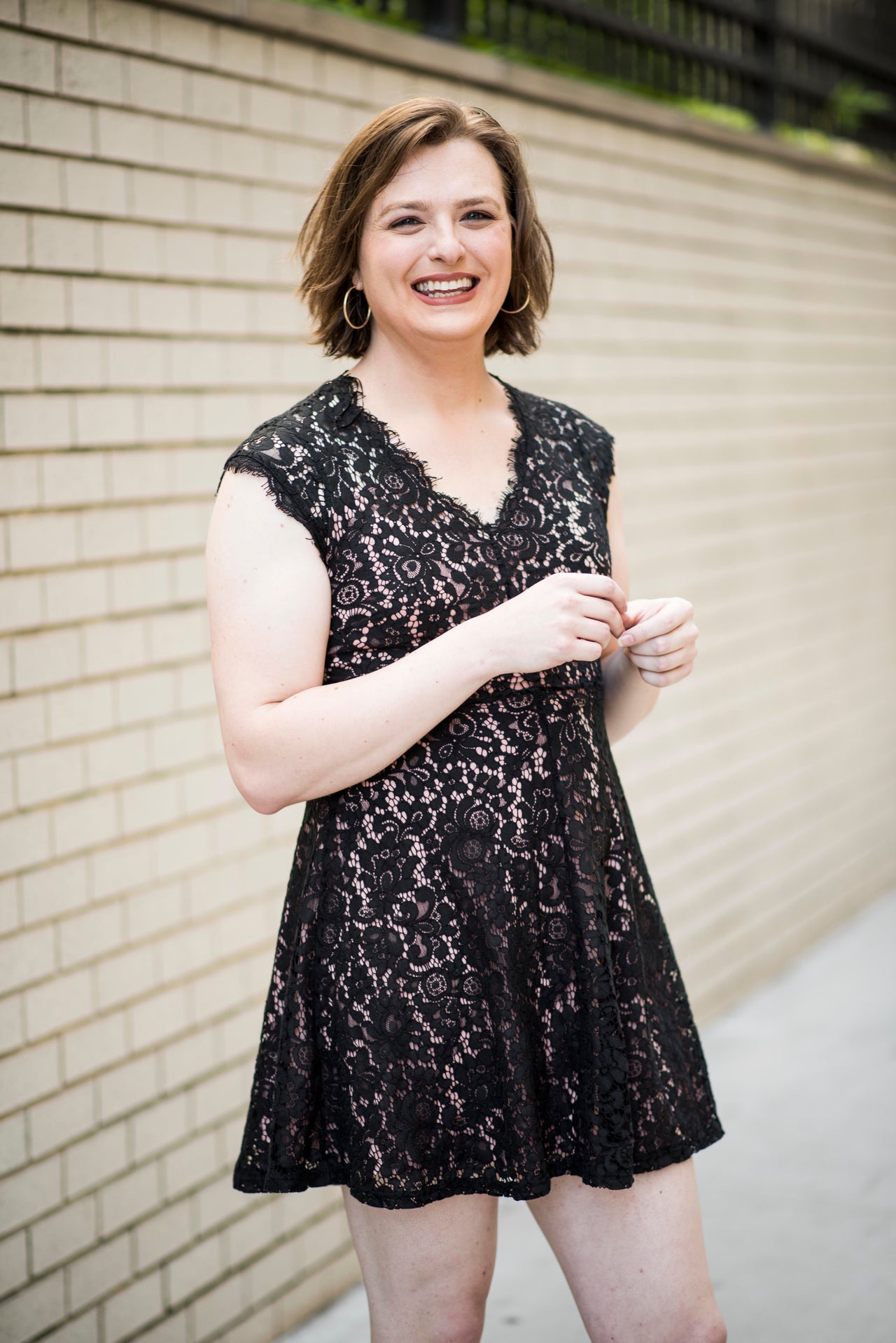 Today, Sacco confirms that she feels great ― "I don't think I've ever felt better about myself, period" she said ― and hopes that sharing her story will remind people of all ages that they are not alone, and that while the thought of transitioning can be scary, it gets so much better.
"I just want people out there ― kids and adults ― who are questioning their identity, or considering transitioning, to know that despite all the scary stories and uncertainty out there, being miserable and alienated is not an integral part of the trans experience," she said. "You can transition at any age and be a happy, complete person. And you can look amazing while doing it."
#TheFutureIsQueer is HuffPost's monthlong celebration of queerness, not just as an identity but as action in the world. Find all of our Pride Month coverage here.
Popular in the Community