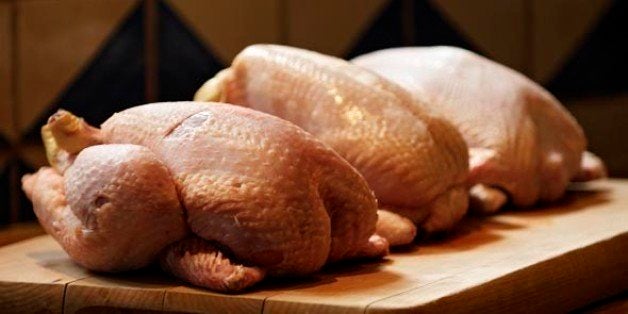 In August, 2013, the USDA made the controversial announcement that it will allow four Chinese facilities to process poultry raised in the U.S., Canada or Chile and then export that cooked chicken back to the United States.  This development was deeply troubling to many advocates due to China's terrible food safety record and the fact that (by the admission of one of its own officials) China's food regulatory system is not yet on par with that of other developed nations.
China was required to provide the USDA with paperwork certifying those four facilities and the USDA announced last week that this step has taken place.  Now U.S. companies may begin at any time to use China for their poultry processing and/or include Chinese-processed chicken in products like soups, frozen entrees, chicken nuggets and more.
While some reports have indicated that American companies won't take advantage of this arrangement due to the 14,000-mile round trip involved, my colleague Nancy Huehnergarth and I reported last March in Food Safety News that Chinese processing has already proven quite economical for American seafood suppliers which already ship salmon and crab to China for filleting and de-shelling to take advantage of China's lower labor costs.  Our research finds the same labor cost differential for poultry workers:  around $11 per hour for American poultry workers versus only $1-2 per hour for their Chinese counterparts.  There is no reason to believe, therefore, that some U.S. companies will not take advantage of this significant cost savings.
Consumers who wish to avoid Chinese-processed chicken are out of luck, since companies will not be required to label where the processing took place if the processed chicken is further processed in this country - in other words, added to foods like soups, frozen entrees or chicken nuggets.  Worse still, as revealed in an exclusive Lunch Tray report last year, Chinese-processed chicken can easily appear on school lunch trays, despite the USDA's initial statement to the contrary.  That means we may be exposing an especially vulnerable population -- children -- to potential food safety risks.
How real are those risks?   China's recent food safety record includes infamous cases of widespread adulteration, such as the melamine-tainted milk powder that sickened 300,000 children, or the more than $1 million worth of rat and other small mammal meat sold to Chinese consumers as lamb. And poultry in particular has been at the center of recent food safety scandals in China, as the New York Times reported last week:
Earlier this year, a major meat supplier to McDonald's got caught up in a food scandal after a Chinese television station broadcast video showing workers in its Shanghai plant doctoring labels on chicken and beef products and scooping up meat that had fallen on the ground and putting it back on conveyor belts for processing. The country has also had frequent outbreaks of deadly avian influenza, and the Food and Drug Administration attributed the deaths of more than 500 dogs and some cats to chicken jerky treats from China.
Here are some other troubling facts:
The USDA's last audit of the four Chinese facilities in question was back in March, 2013 - almost two years ago -- which means we are now relying exclusively on the Chinese government's assurances that nothing has changed at those plants in the interim.
These four plants will not have on-site USDA inspectors to ensure that food safety standards are met on a regular basis.
Allowing China to process our chicken is widely viewed as just the first step toward allowing that country to import into the U.S. chickens raised and slaughtered in China.  This may pose an even greater food safety risk due to widespread water and soil contamination in China.
Language is currently under consideration in Congress for inclusion in the 2015 spending bill which would prevent the federal funding of Chinese-processed chicken for school meals or other child nutrition programs.  If you'd like to support this effort, you can visit 
and scroll down to find three easy steps to take -- including joining over 327,000 concerned people who have already signed
 on Change.org.
REAL LIFE. REAL NEWS. REAL VOICES.
Help us tell more of the stories that matter from voices that too often remain unheard.