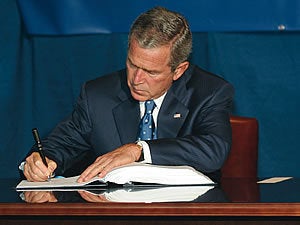 In a feature piece coming this Sunday in The New York Times Magazine, James Traub explores the uproar over the soon-to-arrive "Freedom Institute" established by former President George W. Bush at Southern Methodist University in Dallas, which will sit astride his presidential library there. Critics on and off campus have denounced it for various reasons, including the fact that it has been set up to pursue and defend his policies and record, not for scholarly research.
It will begin operating this fall and the George Bush Foundation which runs it will name an executive director soon. Some profs at the school are half-convinced that Bush will appoint Karl Rove to the post. With that in mind, some there see Condi Rice as an acceptable alternative.
Another historian there charges: "The Bush circle has done so much damage to every institution they've touched, it would be naive not to worry about the damage they could do to SMU."
It came into being at the school with a free hand only because a faculty resolution failed to pass by one vote.
Traub points out, "the prospect" of being identified "in perpetuity" with Bush's agenda "freezes the blood of some of the university's leading academics. Everything about the planned institute reminds them of what they detested about the Bush administration. It will proselytize rather than explore: a letter sent to universities bidding for the Bush center stipulated that the institute would, among other things, 'further the domestic and international goals of the Bush administration.'"
Also it will report to the Bush Foundation rather than to the university, as other such institutes - even ones associated with former presidents - do.
Students, too, are alarmed. Susanne Johnson asked in the school paper: "Do we want SMU to benefit financially from a legacy of massive violence, destruction and death brought about by the Bush presidency?"
*
Greg Mitchell's new book is "Why Obama Won," which includes a good deal of HuffPost-related material. He is editor of Editor & Publisher.

Popular in the Community