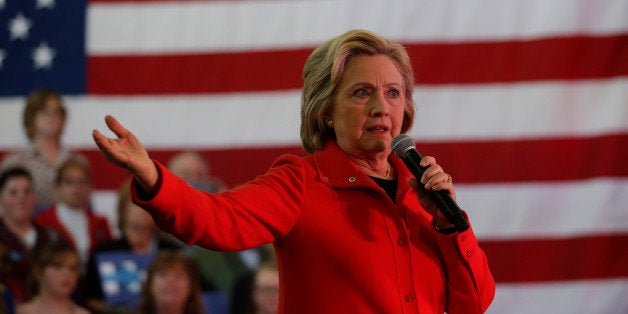 Coverage of the presidential race lurches from crisis to crisis. Emails; Dirty Words; Robotics; Socialists. The latest issue-to-end-all-issues is the death of Antonin Scalia and the filling of the vacancy. Don't let the serial hoo-hahs blind you to the truth. Sooner or later, the old reliables will re-emerge. Americans aren't stupid. They eventually return to enduring truths. They want a President who can manage the economy, and someone to decide if and when to go to war.
The economic lines will draw themselves. Democrats will be pro-minimum wage and tax-the-rich. Republicans will be for cutting taxes and spending.
But the Commander-In-Chief issue is up for grabs. One reason for the uncertainty is that character is more important than policy. It's less about bombing Syria, or Iran and more about what kind of human being do you want to make the decision. Loud mouths, bullies and weaklings need not apply.
In this area, Americans are more conservative than their leaders, and more firm. Especially in a post-Iraq world, there's little political advantage in hawkish rhetoric from the various newbies. It's one thing when Colin Powell talks about use of force. It's another when it's Marco Rubio or Bernie Sanders. Every Republican but Jeb and Kasich has a problem about temperament. Do you really want the Donald or Cruz or Rubio deciding when to go to war? And Bernie's lovable crankiness bumps into the traditional picture of what a Commander-in-Chief looks like.
This should work for Hillary and Jeb. Both fit the mold of sober and reliable personalities. Both have looked more in command and tough in their debates. But both have significant problems that have undercut their apparent advantage.
Rightly or wrongly Hillary has been tagged as less than honest, and a character risk. Jeb has been stuck in the teens because the Bush name is not an asset and because he's, well, low-energy. It won't be easy to persuade the country to ignore the character doubts.
Interestingly, there's little correlation between the electoral politics of military leadership and the winner's policies. LBJ ran as the sensible peacemaker against war-mongering Barry Goldwater. The opposite was true. Reagan was the guy who would push the Russkies to the wall. He signed more arms agreements than anyone. But in political season, it matters.
In the end, if Trump or Cruz is the nominee, Republicans will have a problem. Mercurial and aggressive characters are not what the country wants. Hillary will be able to challenge them on character and temperament. The very thing that makes them strong in domestic conflict will be used effectively to disqualify them from access to the nuclear button. Even Bernie can make that case. After all, who do you prefer as President, your grouchy uncle or your loudmouth cousin?
It's a real sign of progress that the only woman in the field has the best chance of claiming the mantle of Commander-in-Chief. Hillary can project strength and calm, even to folks who don't trust her. But in a year of uncertainties, she's got a lot of work to do before it drops into her lap.
Popular in the Community