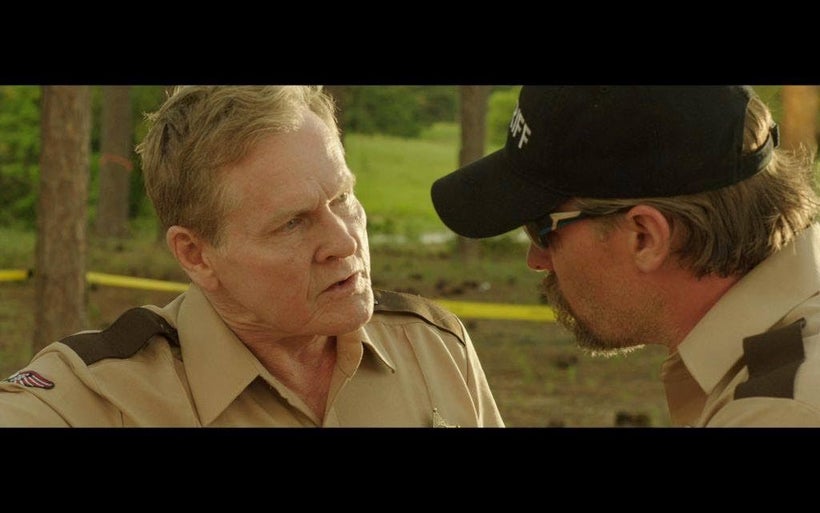 If audiences have ever looked at the screen and seen a certain authoritarian figure that they know they've seen before, there's a very good chance that it's William Sadler- a man who has made an extremely praise-worthy career out of playing characters who hold high ranks. Seemingly the go-to guy of Hollywood when it comes to playing law enforcement officials, politicians, and military men, the amazingly gifted actor has been a part of some of the best game-changers of film and television, in a wide range of roles that show a broad versatility that helps set him apart from the rest, starring in a great array of titles like Homeland, Machete Kills, Iron Man 3 and The Pacific- just to name a few.
Salder is perhaps best known for two vastly different works; Bill & Ted's Bogus Journey and Roswell, two projects with huge fan-followings, but not nearly as much acclaim as they respectfully deserve- particularly Roswell, which is easily the greatest "teen show" of all time (so much so that it really was far too sophisticated to truly be a teen show.) Even more notable about these individual projects, taken side by side they truly show just how magnificent of an actor Sadler is as he can ping-pong from outrageous, off-the-wall comedy, to subtle drama without skipping a beat. Again, there is a reason that the actor is so frequently cast in roles where he holds positions of power- he commands attention.
Now, the brilliant performer straps on his sheriff boots once more for The Hollow, which opened this weekend. Described as a bit of a murkier Twin Peaks, the film noir written, directed and starring Miles Doleac tells the story of a tiny Mississippi town that is investigated once a triple a homicide happens there, and the corruption in the police department surrounding it. A film that dives deep within its characters psyches as it explores the twisted power-plays of the town's residents, The Hollow explores the ugly underbelly of the quaint simple life, exposing it's grittier and more kinky sides- and Sadler couldn't be more delighted to throw himself right into the tangled web the script offers him.
Having worked with Doleac before on the film The Historian, the extremely skilled actor already got a taste for his writing and was hungry for more. A seasoned veteran who has performed with the likes of Al Pacino and Susan Sarandon on Broadway, Sadler is an incredible talent that is very capable of anything a script throws at him- and that is precisely why he is so well-suited for Doleac's complex work.
Sadler took some time to talk about working with Doleac and what fans can expect from The Hollow, as well as reflecting on some of his hits of the past, and what he would like to do in the future. Read below for more!
So, why don't you tell fans a little bit about the plot of "The Hollow" and what they can expect from the movie? It's been said that it is a bit of a cross between "Blood Simple" and "Twin Peaks"- would you say that's accurate?
That sounds right. So, this triple homicide happens on a steamy, hot Mississippi night, and one of the people who are killed is the daughter of a congressman, and because of that a major spotlight is put on this very small town that has this utterly corrupt police department. Without giving away too much else, there's a bit of a romantic connection that happens between the two FBI agents that come in to investigate the murders, there's subsequent murders, it's a very tangled web of sex, drugs and rock and roll. [chuckles] And, again, this is all in a town where there is nothing but alligators and mosquitoes. So, it's a bit of a whodunit?, the movie starts with the murders and then we get to meet all the people involved. Miles Doleac, who directs the film, plays an extremely crooked cop. It's very dark, very sexy, and a great film noir.
Talk a little bit about your character; Sheriff Beau McKinney. In this corrupt sheriff's department, is he more on the right or wrong side of things?
Beau McKinney finds himself dragged into all of this! He is knocking on the door of retirement- he's almost out of dodge. [Laughs] Another couple of years and he can go fishing for the rest of his life. He knows about the corruption, but he really wants no part of it, while Miles' character is really up to their eyeballs in it. But- there's nobody that is clean. There aren't any innocents in this town, that I can see. It's a kinky little place. [Chuckles once more] It reminds me of this movie I did once with Dennis Hopper called The Hotspot. That was set in a town of Texas, and it digs beneath the surface of what is going on in that kinkiness and corruption.
Of course, this is not your first time playing someone in law enforcement. You have been cast as a man of the law over eighteen times, as well as a man in government and even president several times! Do you enjoy material having to do with government, law and patriotism?
I think it's more a case of that they like to cast me as an authoritarian figure. Like in Roswell, if you're the sheriff than you are directly engaged in all the crimes that are happening. You are forced to be either an antagonist or protagonist. I've never even really noticed it though! I guess I do play a lot of authoritarian figures- sheriff's, colonel's, military figures and what have you!
And your writer and director here is someone you also act alongside; Miles Doleac. Talk about him a bit.
Miles and I met on his first film; The Historian. He also wrote that film as well. He's a fascinating creature, I really enjoy working with him. He's a historian, as well as a filmmaker. Very intelligent. The Historian was a sexy love triangle and power struggle that went on in the history department inside a university, entangling a young professor, a graduate student and the head of the department- which I played. So, I guess the power struggle is something that fascinates Miles. But, I enjoyed it a lot. I really like him and have tremendous respect for the fact that he has the courage to put himself out there in that regard. Mounting a full-size motion picture is one thing, but he writes it, directs it, produces it and stars as well. I just find him to be such a fascinating and creative partner. So, when he called about The Hollow, it was really so interesting- such a different genre of film. Much more film noir, much darker subject matter- but also something he knows a fair bit about. He plays a pretty amazingly dark cop, and he does it very well. So, I really do admire him, his creativity and his skill as a director. And I love that he gives me an opportunity to make it so collaborative- I can really get my creative juices flowing.
You've worked with some of the top names in Hollywood from Robert Rodriguez, to John Goodman, to Laurie Metcalf, to Claire Danes, to Susan Sarandon, and been on seriously the best shows of all time from "Roseanne," to "Homeland," to "Roswell." Are there any shows currently on that you would love to be on, or any actor or director you would love to work with that you haven't yet? Or, maybe someone you would like to work with again?
There are a number of people I would love to work with, and work with again! One of the repeat directors would have to be Bill Condon- I think he's one of the best directors I've ever had the pleasure to work with. He did Gods And Monsters, and Dreamgirls. I did Kinsey with him, and it was such an amazing experience. But, different directors have different strengths. I love working with Frank Darabont and Walter Hill. But, I have been lucky to work with so many talented people. I have never gotten to work directly with Steven Spielberg, and I've been a great admirer of his for ages. I did an HBO miniseries called The Pacific, and he was an executive producer on it, but he never directed the episodes, so I never got a chance to be directed by him. So, that has become a bit of a personal goal since I've admired his work for so long. As far as TV shows that I would love to be a part of, there are a handful. I love Mr. Robot. I worked with Rami Malek on The Pacific, and he's just marvelous- truly wonderful. But, I don't know, as I get older I just want to do more and challenge myself. I used to fret about things a lot more, but now I have a lot more fun these days. [Chuckles once more]
You also have a phenomenal theater background. You have done Shakespeare and been in "Julius Caesar" as the title role. You've also worked with Al Pacino, John Goodman and Billy Crudup in "The Resistible Rise Of Arturo Ui." Talk about your love of theater a bit.
I don't do enough theater. Theater is where I started. The first eleven years of my career I did almost nothing but theater. I don't think I did my first film until Project X, so theater really always feels like home. There's not enough time in this life [laughs], and tons more projects left I would love to do. Theater is more work than film or television, more hours, and more discipline- but, I do love it. The only piece of advice I always give young actors is to get as much theater under their belt as they can because it's a great place to learn their work ethic. You don't keep the other cast members waiting, and you have to know your stuff. And the show working that night is on your head- there's no re-takes. If it works, it works because of what you and your teammates brought to it. There's nothing like that in the film industry.
And since you really have worked on the best shows on television and some of the greatest films, and the biggest game-changers, if you were given the opportunity to go back and revisit any of those worlds, which show or movie would it be?
I had so much fun on Bill & Ted. That really sticks out. That was such a fun character. And there's talks of Bill & Ted 3- which would make me very happy because I had a blast playing The Grim Reaper. But, I enjoyed Roswell very much and was sad to see that series go as well. I think it takes a while for a series to get its legs up and to grow organically. So, I would easily revisit that also, if given the opportunity.
Oh, from Sadler's mouth to God's ears- please let Hollywood hear fans prayers! If the genius actor could potentially get either project greenlit; a Roswell reboot or a third installment to Bill & Ted, audiences everywhere would rejoice. But, with the knowledge that everything Sadler seems to touch turns to gold, in the meantime, fans will follow the tremendous talent wherever he will go- including down the dark, and twisty town he is facing in The Hollow.
The Hollow is now in theaters everywhere.
Calling all HuffPost superfans!
Sign up for membership to become a founding member and help shape HuffPost's next chapter
This post was published on the now-closed HuffPost Contributor platform. Contributors control their own work and posted freely to our site. If you need to flag this entry as abusive,
send us an email
.