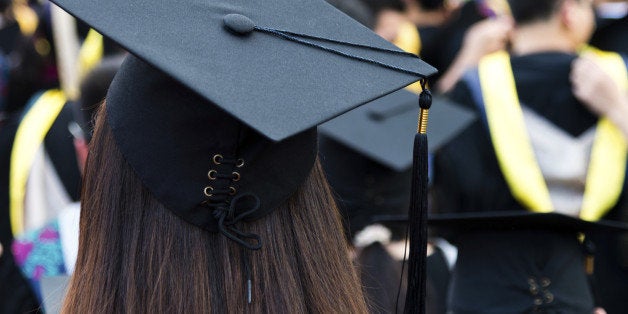 "The willingness to accept responsibility for one's own life is the source from which self-respect springs." -- Joan Didion

Here are my thoughts after recently attending several commencement ceremonies.
Commencement is not only the day your diploma or degree is conferred, but the start of you using the knowledge you've gained to advance yourself and create more than income but a fulfilling life. To a create a fulfilling life, make good decisions. Just as important as learning is, it to take time to ask, "What is my heart and intuition telling me to do?" Listen to your own inner voice. Be courageous enough to not let other's opinions drown out your inner voice.
The path to happiness includes listening to yourself and liking yourself. And the way to like yourself is to do only things that make you proud. Be honest and humble in all your endeavors. If you do not like yourself, you are going to be in poor company for a very long time.

Education is not just a means to financial gain but it provides opportunities to enjoy learning. Learning is for a lifetime and gives you opportunities for independent thinking, collaboration with other thinkers and application of knowledge. Over time and with experience, you gain wisdom. You have spent a great deal of time and effort on your education. Do not stop here. If you search for the lessons buried within your experiences and view every challenging event as a learning experience, your positive perspective will propel you forward. Doing the opposite will only stop you from growing.

Never stop your self-improvement efforts. Every day offers opportunities to learn, grow and develop your strengths. Let go of all past regrets and move forward. Every day gives you a chance to reinvent yourself, and build on the lessons you have learned. It is never too late to change things that are not working in your life and choose a different path.
Appreciate life's precious moments. Your life isn't perfect, but it does have precious moments. Don't let the little things get you down. You have plenty of reasons to look up at the sky and say, "Thank you, I will do my best to make to bring someone happiness."
Today, make the decision to give someone your smile. It might be the only sunshine he or she sees all day. Sometimes just a single genuine smile or compliment can lift a person's spirit to new heights. A kind word from a stranger or unexpected encouragement from a friend can make all the difference in the world. Kindness is not only free, it is priceless.
Spend time with positive people who genuinely care about you. Life is too precious to waste with negative people or those mistreating you. Surround yourself with people who make you happy, make you smile, and those who lift you up when you're down. They are the ones worth keeping in your life, and realize the rest are just passing through.

What are your next steps? Whatever you want them to be. Ask yourself questions and listen to your inner voice, make decisions can be proud of, keep learning, appreciate life's precious moments, and share your smile. Do not fear failure. There are plenty of people who will tell you that you cannot accomplish your goals and dreams. What you need to do is turn around and say, "You just wait and see!"