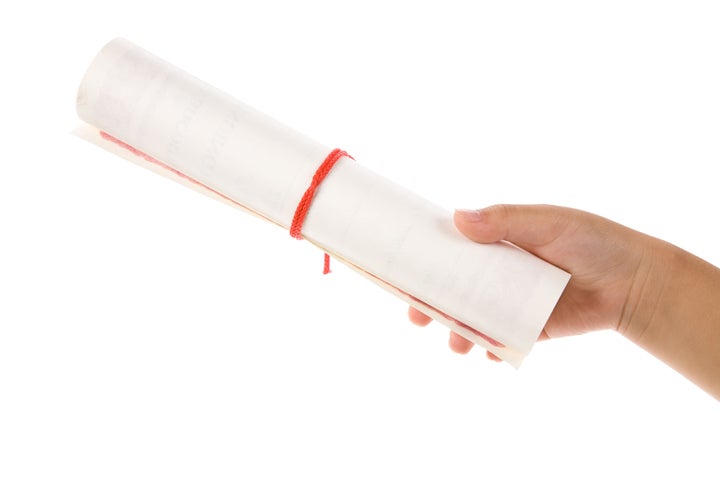 It's June again, and graduation season is upon us. As graduates don their caps and gowns and listen to the sage words of commencement speakers all across the country, I find myself thinking how much the country needs these young graduates, and many, many more.
But these young graduates -- those who finished college via the "traditional" route, from high school straight through college -- represent just the tip of the iceberg. Only about 25 percent of college students today are considered traditional (18-25, attending brick-and-mortar universities). We cannot forget the 37 million American adults who started, but didn't finish, college.
These Americans -- who need degrees to advance their careers -- have jobs, family, and financial obligations that make going back to school seem impossible. But it is possible, and we need to let them know that it's never too late to go back to school and finish their degrees.
There is some real urgency to this mission; we need a more educated American workforce now more than ever. The Georgetown Center on Education and the Workforce tells us that by 2018, 66 percent of new jobs will require a college degree. Today, only 40 percent of adults have completed college.
That means we need roughly one million more graduates every year -- 40 percent more than we are producing today -- to ensure that we have the skilled workers we're going to need. Working adults are the key to closing the gap.
So how can we help these working adults go back to school and finish their degrees? Adult learners don't want to sit in classes with 18-year-olds. They also don't want to spend time or money learning something they already know. They have work and life experience, and when they come back to school, they want to focus on learning what they need to know and completing their degrees as efficiently as possible. They can't afford to waste time ... or money. And they need relevant degree programs that will help them advance their careers.
That's why so many adults choose online universities. Online options can make it easier for busy adults to fit their studies into their busy lives, but most still deliver the education in a fairly traditional way -- classes meeting online, led by a teacher, based on a set timeframe. While a busy adult may not find herself sitting next to an 18-year-old in class, she'll still probably have to spend a set amount of time going over material she already knows.
To effectively and scalably improve access to education for these non-traditional students, a truly innovative online university -- or traditional university, for that matter - -must pioneer new, 21st-century solutions. A new approach to education that is making great strides and producing accomplished graduates is the competency-based learning model, which allows students to move quickly through material they already know so they can focus on the things they still need to learn. At a competency-based university, students move through course material at their own pace, guided by faculty members who provide guidance, support, and subject matter expertise. When students graduate from a competency-based school, they -- and their employers -- know that they have mastered what they need to be successful in their degree field.
As another college year comes to a close, my wish for our 2012 graduates is that they will not only be inspired by their education but inspire others -- their parents, their aunts, their uncles, their older siblings, their neighbors -- to go back to school and finish their degree. It's not too late.
Calling all HuffPost superfans!
Sign up for membership to become a founding member and help shape HuffPost's next chapter