A good commencement speech gets graduates motivated about their futures; a great commencement speech gets cited as a source of inspiration for years after and resonates with more than just college students.
Winston Churchill telling those at the Harrow School never to give in. Steve Jobs telling Stanford students not to waste time living someone else's life. Stephen Colbert encouraging graduates to say "yes" to everything. That whole "Wear Sunscreen" thing that got so big it was set to music and played on radio in a a seemingly endless loop. Okay, so that one wasn't even a commencement speech -- it was an article by Mary Schmich about what she would say to college graduates -- but it feels so much like what an unforgettable commencement speech sounds like that for years it's been misattributed to Kurt Vonnegut speaking at MIT.
Either way, the best commencement speeches -- actual or aspirational -- garner tons of attention. That makes top-notch speakers hot commodities to schools around the country. And those schools employ a variety of tactics to secure the right speakers to send their graduates off into the world.
Here's how ten universities landed some of this year's biggest names:
Sometimes, it's who you know.
1. Goucher College -- Ira Glass
"It's funny actually because [Ira Glass] has come up a few years in a row now," said Wendy Belzer Litzke, vice president for government and community relations at Goucher College in Baltimore, who explained that the school solicits of a wish list of speakers from the senior class every year as they begin the search process.
Glass is a native of Baltimore and his grandmother is an alum, so he has some connections to the school. But it was an old work colleague who was able to seal the deal: the school's president, Sanford J. Ungar.
"Sandy, our president, used to work with Ira at National Public Radio a long, long time ago," Belzer Litzke said. "He's become a huge hit and Sandy knew him back in the day."
By "back in the day" Belzer Litzke means the early 80s, when Ungar was a host of "All Things Considered." Glass started interning at NPR in 1978 and over the years, the two kept in touch.
2. Santa Clara University -- Steve Wozniak
"Steve recently spoke on campus as a part of our president speaker series, which was done in conjunction with the 100 year anniversary of our School of Engineering," said Rob Gunsalus vice president of university relations for Santa Clara. "He really enjoyed his time and said he'd be open to coming back."
It also didn't hurt that a board member at Santa Clara knows Wozniak personally.

"Mike Markkula was one of the central figures in the founding of Apple and worked very closely with Steve Jobs and Steve Wozniak, and they're personal friends," Gunsalus said. "I'm sure that relationship helped."
3. University of Massachusetts Amherst -- Ted Koppel
"We have a faculty member who is very close to the family, so he helped us with the invitation and we were delighted when he said yes," said Nancy Buffone, executive director of external Relations and university events at Amherst. "And my boss used to work at ABC News, so he knows him as well."
Other times, it's not who you know, but to whom you're related.
4. Princeton -- Steve Carell
The president of Princeton gives the actual commencement speech, but there's a notable "Class Day" speaker as well. If past commencement speeches by guys like Stephen Colbert, Will Ferrell and Jon Stewart are any indication, the school is likely to hit a homerun with this year's catch, Steve Carell.
"Class Day speakers usually have a connection to the university," Martin A. Mbugua, a spokesman for the University, told The Huffington Post in an email. "Steve Carell has a relative graduating in the Class of 2012."
5. Oregon State University -- Michelle Obama
"We think we have two novel connections to the first lady," said Steve Clark, vice president of university relations at Oregon State University. "One is that her brother is our university's head men's basketball coach, Craig Robinson. She's been on national television declaring that she's a beaver."
The other convincing argument for a visit from the Mrs. Obama, according to Clark, was the school's dedication to public health research.
"We wrote the first lady and said 'We're all about what you're all about,'" he said. "The fact that her brother's here, she probably spent a little more time reading that letter but really, if it weren't for the public health connection, I think she might have gone somewhere else."
Occasionally, the big names come to you.
6. Virginia Tech -- Michelle Obama and Senator Mark Warner
Virginia Tech doesn't typically have two commencement speakers -- they've only done so once in the school's history –- but according to Mark Owczarski, a university spokesman, there were some unusual circumstances this year. In January, the school was all set to have Senator Mark Warner give the speech, but in March, they got an unexpected phone call.
"The White House called and said the first lady would like to be one of our speakers," Owczarski said. "The first thing we did was to call Senator Warner and say, 'We have an interesting situation.'"
According to Owczarski, Senator Warner said he'd be more than willing to share this honor with the first lady.
"If the White House, or the president or the first lady says we like to come to your campus, I think its incumbent upon us to say absolutely," Owcazrski said.
Having a prominent alumni base to choose from doesn't hurt.
7. University of Virginia -- Katie Couric
"We have always looked on the graduation ceremonies as kind of a family affair, a UVA affair," said Alexander Gilliam, a university historian and chair of the commencement and convocations subcommittee. "What that means is that, practically speaking, we have to try to find someone who is an alumni, or who is the parent of a graduating student, or in some other way fits the definition of 'friend of the university.'"
Katie Couric's ties to UVA are strong: She graduated from there in 1979 and the Emily Couric Clinical Cancer Center at UVA is named after her late sister.
9. Syracuse -- Aaron Sorkin
Aaron Sorkin graduated from Syracuse's College of Visual and Performing Arts in 1983.
"He is still very connected to the University," Erin Martin Kane, an associated vice president for public relations, said via email.
There's even a "Sorkin Week" through the school during which the screenwriter hosts a group of drama and film students in Los Angeles where they meet with professionals working in the entertainment industry.
And then there's going about it the old fashioned way.
10. Arizona State University -- Tom Brokaw
"We do this pretty far in advance," said Christine Wilkinson, senior vice president and secretary of Arizona State University.
Arizona State University originally invited Brokaw to speak at their 2011 commencement. When they found out he wasn't available, they asked him about 2012 instead.
"We knew he couldn't make it, so we sent another letter right away," Wilkinson said.
CORRECTION: A previous version of this article incorrectly stated that Katie Couric's late husband was also a graduate of UVA.
Check out this year's line-up.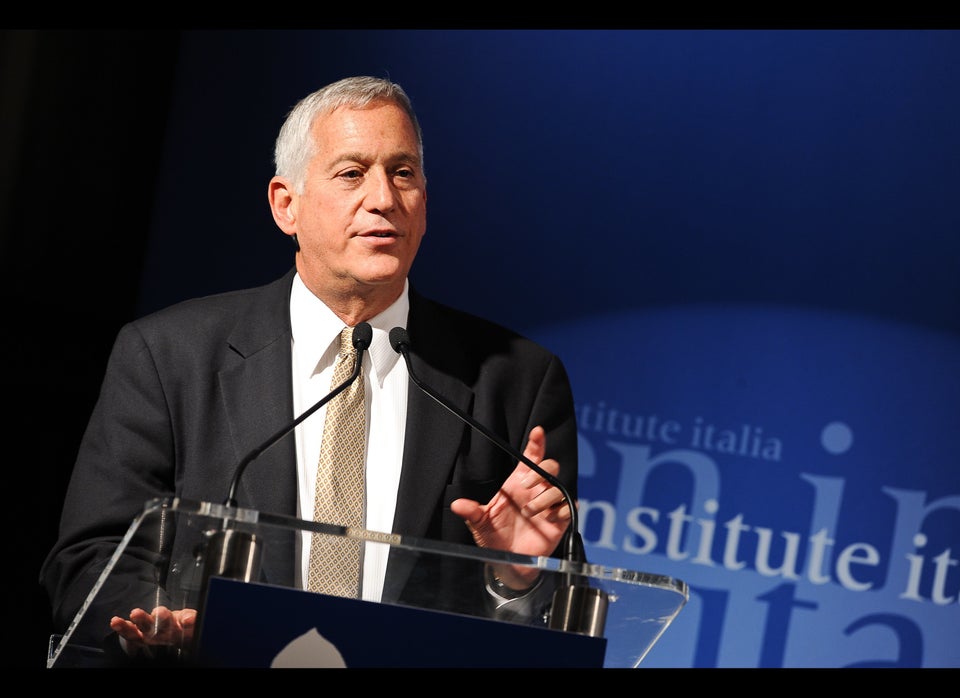 round 2 of commencement speakers
Popular in the Community