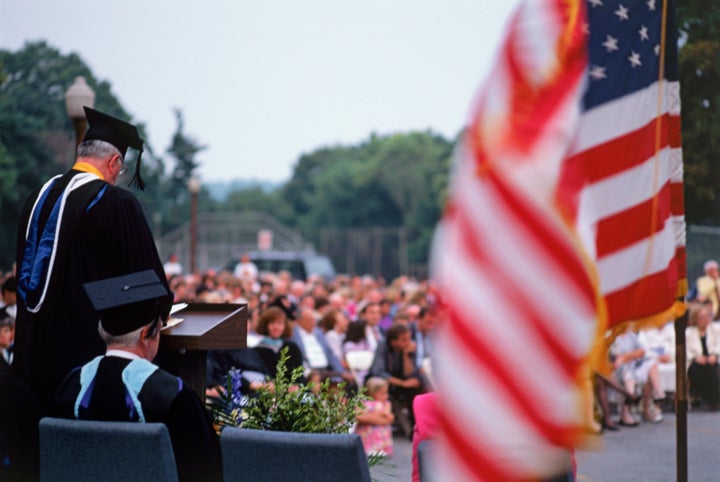 April showers bring... commencement season in May. Ah yes, that annual rite of passage when thousands of graduates and their families will gather to (hopefully) hear words of wisdom from some of the most prominent politicians, celebrities and business leaders.
As someone who works to create opportunities for high achieving college students -- and not that far removed from commencement myself (or so I like to think) -- I have developed a good sense of what works and what doesn't when it comes to these college send-off addresses. As I know many speakers are now working on their remarks, I offer these helpful tips:
1.) Be Different: Make your words unique. I realize many busy, important people give the same speech at every occasion. They are sometimes booked through a speakers' bureau and feel comfortable reciting the lines they know best. But students only get one graduation. Please have the remarks and thoughts that fit the audience.
2.) Be Relevant: Yes, young folks understand the Internet did not exist when you were a student. They are aware you had to type your papers without the benefit of a MacBook Pro. Don't waste time in your speech recapping how much different college is today from when you attended (They already know... and don't care. I know, the truth hurts). Tell students instead about the vision you see for the world and their place in it. How they can make a difference and leave an impact.
3.) Don't Be "Ann Curry": This is a tough one, because personally, I adore Ann Curry. I literally shed a tear when she was "de-throned" from her anchor position next to Matt Lauer. But I digress, girl crush or not, you definitely don't want to pull an "Ann Curry."
The former Today show anchor once gave a commencement speech praising the famous alums of Wheaton College of Illinois. Unfortunately, she was at Wheaton College of Massachusetts. (Ouch!) When she was told of her mistake she apologized. But, let's be real, too little too late. (Sorry Ann.) Don't let this be you. Do your research and like many rock stars who play to different crowds on multi-city tours, triple check where you are; that new fangled Internet may prove especially helpful.
4.) Be Aware: It's nice to thank the moms and dads who paid for college. Yet two-thirds or more of students are on financial aid. These young, and sometimes not so young, people will be paying off loans for many, many, many years. Some of the grads are veterans who have returned from the war front to earn their degrees or non-traditional students who went back to school after/while raising a family or spending a few years in the workforce. Again, it's great when parents have the means to pay the full bill; just don't forget most college students aren't in that situation and they deserve a pat on the back, too.
5.) Be Naked: Not literally!!! I'm referring to the incredible commencement speech Steve Jobs gave in 2005 at Stanford. He said, in part:
"Remembering that you are going to die is the best way I know to avoid the trap of thinking you have something to lose. You are already naked. There is no reason not to follow your heart."
Remember, you were asked to speak because of who you are. So when you get out there, speak from the heart about what you know and what you've experienced in a way that helps these new graduates navigate the ever-changing world ahead. In short, the most important thing to "be" is yourself. (You're welcome.)