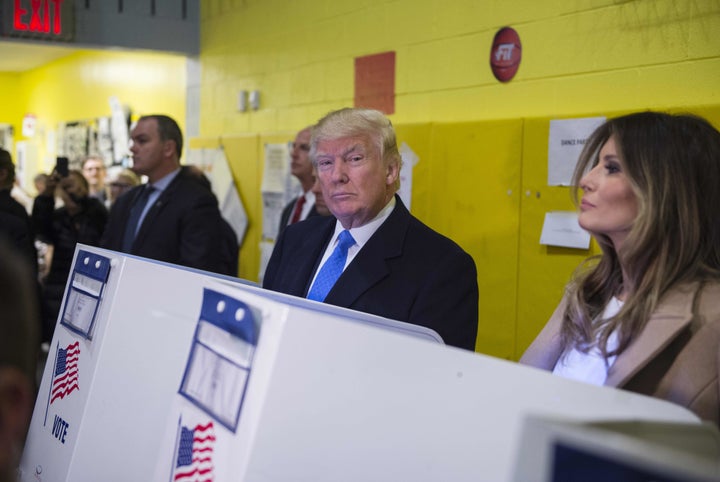 On the night of June 27, 2008, I was in Kandahar, Afghanistan. My truck was upside down in a river.
I was trapped under ammo cans, and the water was rising. I fought to free myself. After a few minutes, the water rose to our necks. The truck was fully submerged. I could hear my heart pounding and I knew we'd soon be totally underwater.
Then I felt a hand. It unfastened my seatbelt and released my body armor. It was my teammate, Sergeant James Treber. He picked me up and pulled me to a small pocket of air. I could breathe again. But there wasn't enough room for both of us. So James went back underwater, searching for another air pocket. I blacked out.
I awoke in the dirt, being revived. I let out a violent cough of dirty river water. The first thing I asked: "Where's James?"
Trump's disrespect should disgust every service member, veteran and military family.
I am a U.S. Special Forces soldier ― a Green Beret. I did three combat tours in Afghanistan. I was almost killed three times: once, by a roadside bomb that destroyed our vehicle and killed everyone else in it; once, when my vehicle was ambushed and flipped into a river; and finally, when, during an interrogation, I wrestled a grenade out of a suicide bomber's hands. (The grenade detonated.)
My service earned me two Purple Hearts. It also gave me post-traumatic stress. I'm not going to lie — it's been hard. There are times when things have been really dark, and I've contemplated suicide. I've survived only because of people who have been willing to drop down into my fighting hole, and fight alongside me. People like Judge Lou Olivera, who showed compassion and support.
That's why I was so saddened by an article that recently appeared in the New York Times. The article described how some veterans, feeling abandoned, are planning to vote for Donald Trump.
I want to speak to them now, directly, as my brothers and sisters in arms.
Brothers and sisters: Donald Trump will never be in your corner, let alone your foxhole.
When it was his time to fight — while you or your fathers or grandfathers were sweating and bleeding in the jungles of Vietnam — Donald Trump dodged the draft five times so that he could fight his "personal Vietnam": avoiding STDs in the New York party scene. And yes, he bragged about it later.
When disabled veterans came home from war and tried to earn a living, pounding the pavement on the streets of New York as vendors, he threw them off Fifth Avenue and tried to put them out of business. He even called them a "deplorable situation." Donald Trump thought those disabled veterans were good enough to fight and be wounded for our country overseas, but not enough to work near his fancy apartment building — he thought they'd reduce property values.
Brothers and sisters: Donald Trump will never be in your corner, let alone your foxhole.
But you don't need to go back that far to see that Donald Trump is a goldbricker who will never fight for you. You can just look at this campaign. His disrespect for veterans has been disgusting.
He skipped a primary debate to host a "benefit" for veterans, saying he'd donate $1 million to veterans' charities — but then didn't donate a cent until he was called out on it by the press. He disrespected John McCain and other prisoners of war, saying they aren't heroes. He compared his business to the sacrifice made by service members who lay down their lives for their buddies and their country. He bashed Gold Star parents whose son died saving his squad from a suicide bomber in Iraq. Trump said our military is a "disaster." When a supporter gave Trump a copy of his Purple Heart, Trump said he "always wanted" one, and then waived it around like a toy. And then there's the moment that most enraged me: when he said veterans suffering from post-traumatic stress aren't "strong" and "can't handle it."
And to top it all off? He has no plan whatsoever to help veterans.
Trump will never get down in the mud to fight for us. We were too dirty for him to have outside his fancy building — why would he help us now? He says he's going to "drain the swamp," but he's lying. He is the swamp.
Trump's disrespect should disgust every service member, veteran and military family. Brothers and sisters: If you care about veterans, Donald Trump should not receive your vote.
Sergeant First Class (ret.) Joseph Serna is a decorated former soldier in the U.S. Army Special Forces. He works for Mission 6 Zero, a performance enhancement company comprised of former U.S. Special Forces soldiers. He lives in Fayetteville with his wife and seven children.
Calling all HuffPost superfans!
Sign up for membership to become a founding member and help shape HuffPost's next chapter
BEFORE YOU GO
PHOTO GALLERY
ABCs of Trump