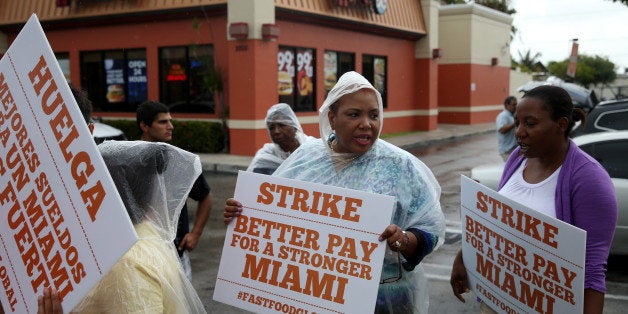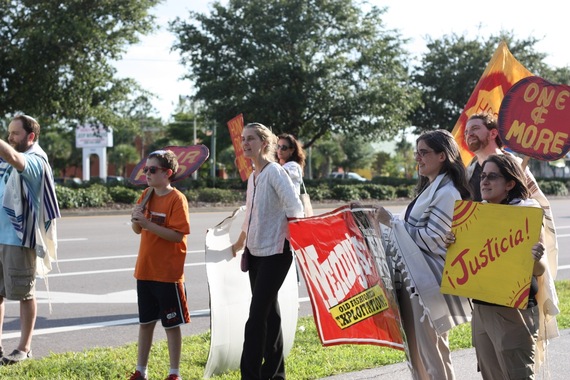 Seven rabbis gathered in a Wendy's restaurant in Southwest Florida and began to pray.
Last week, T'ruah: the Rabbinic Call for Human Rights hosted our sixth rabbinic delegation to the small town of Immokalee, FL. These rabbis who had flown in from around the country -- from California to New York to Saskatchewan, Canada -- came to stand with the Coalition of Immokalee Workers as they seek to strengthen and expand the Fair Food Program, their groundbreaking social accountability program ensuring never-seen-before protections for the human rights farmworkers. Lauded by the White House as "one of the most innovative and successful programs" to end modern slavery today, the unique collaboration between farmworkers, growers and food retailers changing the lives of some 100,000 workers has been joined by Walmart, the world's largest retailer, as well as the largest fast food chains in the U.S. -- all of them except Wendy's.
So why not Wendy's? Why not join a proven solution to abuse in your supply chain? That's the question that T'ruah rabbis and others around the country have been asking over the past year. We asked it in person at the Wendy's shareholder meeting in May 2013, with 15 rabbis present at a press conference outside the meeting with the CIW, Kerry Kennedy and other concerned consumers. We asked it with a private letter to Chairman Nelson Peltz in the fall of 2013, signed by rabbis who had participated in delegations to Immokalee, just like the group this week. When Mr. Peltz hadn't responded by Human Rights Shabbat in early December, we took the letter public, and rabbis led actions in 15 cities across the country. A month later, 150 rabbis nationwide asked the same question again to CEO Emil Brolick. Through all of our attempts, we heard only a resounding silence.
It has been exactly one year since we stood outside of the Wendy's shareholder meetings and started seeking answers. This week, as Wendy's holds its shareholder meeting in Dublin, OH, we republish our letter to Chairman Nelson Peltz and inform him that the chorus demanding human rights for farmworkers in Wendy's supply chain has only gotten louder in the year past. Participating in a widely recognized and proven solution to abuse is not only an opportunity for Wendy's, it is a moral imperative.
May 28, 2014

Mr. Nelson Peltz
Chief Executive Officer
Trian Fund Management
280 Park Avenue
New York, NY 10017
Dear Mr. Peltz,

We are writing to invite you to meet with the Coalition of Immokalee Workers (CIW) to learn how Wendy's can join other leaders of the fast food industry in creating safe and fair conditions for workers in the Florida tomato industry by joining the Fair Food Program (FFP).
All of us have traveled to Immokalee, FL, where we have seen firsthand the tangible difference the Fair Food Program makes in the lives of the people who pick the food each of us eat every day. We've witnessed the powerful partnerships between workers, growers and corporations, whose collaboration is transforming an industry once mired in slavery to one now founded on dignity and respect. Back in our own communities, we have heard from our congregants and students how important it is to them that the tomatoes they eat are picked by people who are not at danger for slavery, sexual assault, wage theft, violence, or other forms of exploitation.
Wendy's is a large buyer of Florida tomatoes. Given its market power, Wendy's participation in the Fair Food Program is not an option but a moral obligation. Of the five largest fast food corporations in the country -- McDonald's, Subway, Burger King, Taco Bell (Yum! Brands), and Wendy's -- Wendy's is the only one not participating in the Fair Food Program.
The Fair Food Program is a widely acclaimed corporate social accountability initiative forged in collaboration between workers, growers and retail buyers to ensure human rights for farmworkers within the supply chain. The program consists of a wage increase supported by a price premium paid by corporate purchasers of Florida tomatoes and a human-rights-based code of conduct applicable throughout the Florida tomato industry. Both aspects of the program are overseen by a third-party monitoring and investigative body, the Fair Foods Standards Council. This unique mechanism provides an opportunity for corporations to bring their own market influence to bear in order to help establish a structural solution to a human rights crisis that has persisted on U.S. soil for far too long. A White House report issued in 2013 cited the Fair Food Program as one of the most successful programs for ending the root causes of human trafficking.
As Jews and religious leaders, we believe that our faith calls on us to work for justice. The Torah insists that every human being is a creation in the image of God, who therefore deserves to be treated with dignity and honor. The Jewish laws governing relationships between employers and workers mandate paying a fair wage and protecting workers from danger. And our collective narrative of slavery and liberation obligates us to end slavery in our own time.
We ask you to sit down with the CIW to learn more about the Fair Food Program. If Wendy's hopes to continue modernizing its image, it must first leave behind the old fashioned way of doing business that allows for slavery and other forms of exploitation.
We know that Wendy's prides itself on its leadership in the fast food industry. By joining the Fair Food Program, Wendy's can continue this tradition of leadership. Since CIW routinely applauds and showcases the corporations who are part of the Fair Food Program, this partnership will benefit both Wendy's and the workers who pick your tomatoes.
We would like to request a meeting between you, T'ruah, and the CIW where we can further explain the Fair Food Program and respond to any potential concerns. We would like to request a meeting by July 8th in New York at your offices. Please contact us at 212-845-5201 or office@truah.org to set up a meeting.
Sincerely,

Rabbi Anna Boswell-Levy, Tzedek V'Shalom, Newtown, PA
Rabbi Ayelet S. Cohen, The JCC in Manhattan, New York, NY
Rabbi Robert Dobrusin, Beth Israel Congregation, Ann Arbor, MI
Rabbi Hector Epelbaum, Beth David Congregation, Miami, FL
Rabbi Charles Feinberg, Adas Israel Congregation, Washington, DC
Rabbi John Franken, Bolton Street Synagogue, Baltimore, MD
Rabbi Susan Goldberg, Wilshire Boulevard Temple, Los Angeles, CA
Rabbi Rachel Goldenberg, Congregation Beth Shalom Rodfe Zedek, Chester, CT
Rabbi Jeffrey Goldwasser, Temple Beit HaYam, Stuart, FL
Rabbi Lauren Grabelle Herrmann, Kol Tzedek Synagogue Philadelphia, PA
Rabbi Debra Hachen, Temple Beth-El, Jersey City, NJ
Rabbi Sharyn Henry, Rodef Shalom Congregation, Pittsburgh, PA
Rabbi Linda Holtzman, Philadelphia, PA
Rabbi Jill Jacobs, T'ruah: The Rabbinic Call for Human Rights
Student Rabbi Marisa James, Romemu, New York, NY
Rabbi Claudio Jodorkovsky, Congregation Agudas Israel, Saskatoon, Canada
Rabbi Rachel Kahn-Troster, T'ruah: The Rabbinic Call for Human Rights
Rabbi David Kaiman, Congregation Bnai Israel, Gainesville, FL
Rabbi Jonathan R. Katz, Temple Beth Israel, Longboat Key, FL
Rabbi Jonathan Klein, Clergy and Laity United for Economic Justice, Los Angeles, CA (CLUE-LA)
Rabbi Claudia Kreiman, Temple Beth Zion, Brookline, MA
Rabbi Michael Adam Latz, Shir Tikvah Congregation, Minneapolis, MN
Rabbi Joshua Lesser, Congregation Bet Haverim, Atlanta, GA
Tikkun Olam Chair for Jewish Reconstructionist Communities
Rabbi Lev Meirowitz Nelson, T'ruah: The Rabbinic Call for Human Rights
Rabbi Jesse M. Olitzky, Jacksonville Jewish Center, Jacksonville, Florida
Rabbi Barbara Penzner, Temple Hillel B'nai Torah, Boston, MA
Rabbi Louis Rieser, Boca Raton, FL
Student Rabbi Arielle Rosenberg, Congregation Ahavat Shalom, Traverse City, Michigan
Rabbi Michael Rothbaum, Beth Chaim Congregation, Danville, CA
Rabbi Gila Ruskin, Temple Adas Shalom, Havre de Grace, MD
Rabbi Brian Schuldenfrei, Congregation Ner Tamid, Rancho Palos Verdes, CA
Student Rabbi Amanda Schwartz, Park Slope Jewish Center, Brooklyn, NY
Rabbi Sid Schwarz, Clal: The National Jewish Center for Learning and Leadership, New York, NY
Student Rabbi Jessica Shimberg, Hillel Director, Ohio Wesleyan University, Delaware, OH
Rabbi Moshe Silver, Highland Park, NJ
Rabbi Suzanne Singer, Temple Beth El, Riverside, CA
Rabbi Eric Solomon, Temple Beth Meyer, Raleigh, NC
Rabbi Marc Soloway, Congregation Bonai Shalom, Boulder, CO
Rabbi David Spinrad, The Temple, Atlanta, GA
Rabbi Toba Spitzer, Congregation Dorshei Tzedek, West Roxbury, MA
Rabbi Susan Talve, Central Reform Congregation, St. Louis, MO
Congregations and organizations listed for identification purposes only